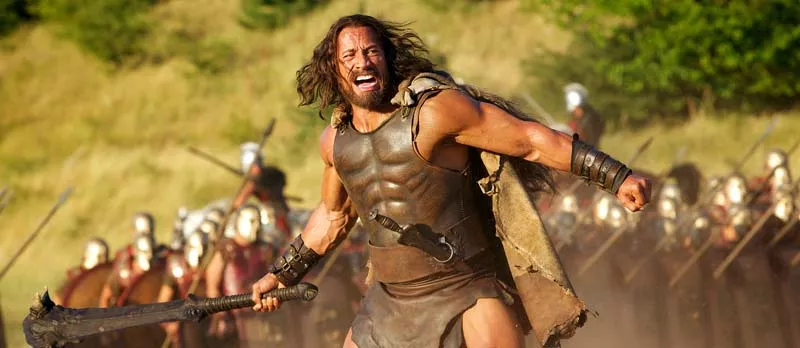 Kerry Brown
FOR FIRST USE WITH 3/24 SNEAK PEEK Dwayne Johnson in the title role in a scene from the motion picture "Hercules." CREDIT: Kerry Brown, Paramount Pictures [Via MerlinFTP Drop]
The guys who cast The Rock to play Hercules had it easy. The former professional wrestler turned Schwarzenneger redux — known now simply by his birth name, Dwayne Johnson — has become the face of silver screen masculinity after starring in the last few Fast & Furious installments and G.I. Joe: Retaliation.
Hercules pits Johnson with director Brett Ratner, who rose to relative prominence with his Rush Hour movies and X-Men: The Last Stand, and the finished product is about what you would expect from this not-at-all-unlikely pairing: all brawn, no brains.
For those unfamiliar with the myth of Hercules, the movie begins with a brief primer. The son of Zeus, head honcho of the Greek gods, and mere mortal Alcmene, Hercules embodied strength and power even as a toddler, crushing snakes that tried to invade his cradle and the like. So when he became a full-grown man, the guy could really do some damage. Unfortunately, as the story goes, Hercules did quite a bit of damage to his wife, Megara (played by swimsuit model Irina Shayk), and three children, whom he murdered after Zeus' wife, Hera, drove him insane.
Fast-forward a few years, and Hercules has amassed a band of henchmen who helped him complete his Twelve Labors. The film follows them on their next project after Hercules is summoned by Ergenia (Rebecca Ferguson, TV's The White Queen) and her father, Lord Cotys (John Hurt, Snowpiercer), who offer Hercules his weight in gold (so a lot of gold) to train their army and defend them from overzealous warlord Rhesus (Tobias Santelmann, Kon-Tiki).
This version of the Herculean legend (there was actually another that came out this year, albeit to less fanfare: The Legend of Hercules) is based on the Radical Comics series, but if it sounds like an epic in the vein of Gladiator or 300, think again.
Hercules is filled with quippy one-liners and the kind of quasi-cartoonism that has come to define so many of the Marvel and DC comic book movies that run rampant throughout Hollywood. But much of that humor is awkwardly placed, resulting in more of an identity crisis than anything resembling a cohesive creative vision. Hercules can't quite determine if it wants to be a comic book movie or a historical saga (two very different things), and it suffers mightily as a result.
However, it does have its strengths. The set designs are immaculate, creating an ancient Greece that's as dazzling and extravagant as the gods would have hoped. And seeing Johnson with long, curly locks is endearingly bemusing. But that's about the extent of its intrigue, as even its action sequences and special effects seem insipid and dated. We're living in the age of the 3-D epic, and Hercules is decidedly empty and weak by comparison — a shame, given the power of its mythology.