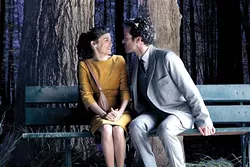 I will say this for Mood Indigo: It does not lack for imagination. Writer-director Michel Gondry got his start in the attention-span-challenged realm of music videos, where he learned that less is not necessarily more — especially when you have only a few minutes to let your inner madman out for a run. As a maker of feature-length films, Gondry has not modified that penchant for excess. If anything, the bigger canvas has simply provided him more elbowroom to flap his arms about and really cut loose.
And cut loose he does. In this adaptation of Boris Vian's 1947 French novel, L'Écume des jours, Gondry indulges his dreamer heart and lunatic brain. Mood Indigo, which screens Thursday through Sunday at the Oklahoma City Museum of Art, 415 Couch Drive, conjures up a hallucinogenic Paris. It's a place where doorbells scuttle around on spidery legs and apartments are inhabited by tiny men who wear mouse costumes. Petits fours are literally served in tiny ovens, stop- motion animation breathes life into bizarre-looking meals and couples dance on oversized, rubbery legs. The fancifulness is by turns delightful and exhausting, if not exactly compelling.
Romain Duris (The Beat That My Heart Skipped) portrays Colin, a carefree Parisian bachelor with enough means that he does not have to work. He spends his time hanging out with best friend Chick (Gad Elmaleh, Midnight in Paris), listening to Duke Ellington records (hence the movie title) and imbibing with the help of a "pianocktail," a piano that doles out cocktails to match the music being played. Chick begins dating the niece of Nicolas (Omar Sy, The Intouchables), Colin's full-time cook, which sparks Colin's resolve to fall in love with someone. Luckily for him, he soon meets the lovable Audrey Tautou (Coco Before Chanel), here playing a young woman named Chloé but who is essentially a version of the quirky nymph she was in 2001's Amélie.
Silliness and twee prevail until the inevitable crisis: A water lily drifts into Chloé's open mouth one night while she is sleeping and lodges inside a lung. The movie darkens literally and figuratively, as Gondry trades in his candy-coated color palette for a monochromatic scheme.
Mood Indigo is inventive and often visually sumptuous, no doubt about it. But it is somewhat like gorging on cake frosting; momentarily enticing but likely to induce nausea. In Gondry's most successful works — particularly his sole masterpiece, 2004's Eternal Sunshine of the Spotless Mind — his irrepressible surrealist impulses are tethered to substantive themes and provocative ideas. There is no such weight to temper the whimsy overload of Mood Indigo, a film as pretty as it is pointless.