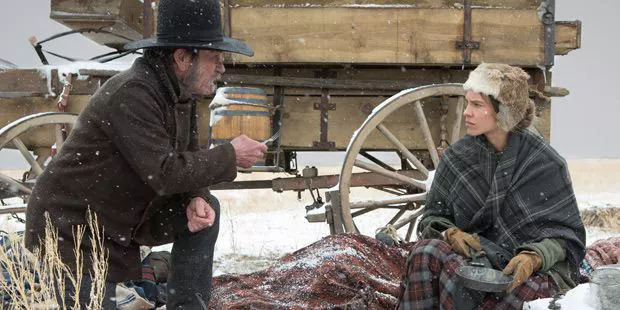 Provided
The Homesman
At the climax of an ultimately futile night of romance, a lonely and classically western woman unsuccessfully serenades an apathetic suitor by means of a faux piano. Similarly, Tommy Lee Jones' The Homesman briefly puts forth an image of a majestic and romanticized west, only to be swiftly countered by a grotesque reality. Taking the reigns both on and off screen, Jones steers the narrative into a riveting, yet exhausting region. Likewise, a strong performance from Swank; the beautifully chilling cinematography of Rodgriego Prieto; and a moving score from Marco Beltrami places this film on the brighter side of a critical prairie.
Based on a novel from the tail end of Glendon Swarthout's literary corpus, The Homesman follows Mary Bee Cuddy's (Swank) mission to transport three severely traumatized women across the bulk of the Great Plains with the aid of George Briggs (Jones), a crooked and desperate wanderer. In a last ditch effort to preserve the faculties of the three, Cuddy's city council opts to leave the victims in the hands of a wealthy Iowan reverend.
The women — Arabella, Theoline and Gro — suffer greatly from the tolls taken by a harsh environment and a sometimes even harsher familiar structure. Arabella (Grace Gummer), for instance, loses her children to an infectious disease. Theoline (Miranda Otto), on the other hand, combats the cataclysmic guilt of infanticide. Finally, Gro (Sonja Richter) snaps after the death of her mother and years of gradual, sexual abuse from her domineering father. Unfortunately, what could be the focal point for this film - the development and mending of this broken trinity - is set aside for a prolonged focus on Cuddy and Briggs.
The synergy between the pair of leads is initially commendable: A back and forth on the notion of dependence, emotional and otherwise, is dissected throughout the films opening movements. However, as what would be the pivotal point of the two characters approaches fruition, emotional stakes waver, and one's ability to care becomes aggressively challenged. Rather, Swank and Jones appear to be on parallel trajectories that only occasionally brush one another, too distinct to achieve a true on-screen convergence. In other words, the figures' relationship quickly shifts from that of a True Grit's Rooster Cogburn and Mattie Ross, and more into the realm of Pale Rider's Preacher and Megan Wheeler, or a one sided interaction that ceases to be didactive long before a significant trial of strain begins.
That being said, Swank and Jones compose excellent vessels independently, although the latter compounds upon a trope that, at this juncture, grows tiresome. Cuddy, a woman of both firm conviction and a harsh reliance upon transcendental values seems to be only offset facially by a slight anxiety in her eyes that only Swank seems to convey. Jones, in contrast, plays upon a method of performance seemingly identical to Jeff Bridges' role in the remake of True Grit a few years prior. Belching, dismissal, and abruptness emerge in spades, but unlike the aforementioned Cogburn, a sense of nobility it entirely omitted. Perhaps this does aid in illustrating the objective and violent nature of the world Jones himself attempts to construct, yet something about it seems a bit stagnant. Though his role largely satisfies in retrospect, very little is left to the imagination with his ironically "nameless" character.
Rodriego Priesto's cinematic eye awards this film the majority of its staying power. From the early, symmetrical shots of an open prairie, to the dim-lit intimacy of the film's many fireside, Priesto aids in conjuring an aesthetic that both pays homage to classic westerns and stirs the genre's pot. For example, the massive expansives will often linger momentarily with the soft glow of a fleeting sun just prior to being darkened by the shadow of an oncoming storm. Similarly, these minute depletions in color mark the proverbial turn from something like Lynn Riggs' Oklahoma! to the nightmarish landscape described in Cormac McCarthy's Blood Meridian.
At its heart, The Homesman appears to be just that; a rebuttal of a genre that of which until incredibly recently failed to illuminate the troubling reality embedded beneath good ol' skin of western films. However, the piece sets out to do this a little too aggressively, desensitizing one to a commentary that is frequently gutted from period pieces such as this. In essence, The Homesman is a rough (though adequate) polymerization of the classic west's romantic aspiration and its violent, misanthropic underside, and a fusion of grit and grandeur.