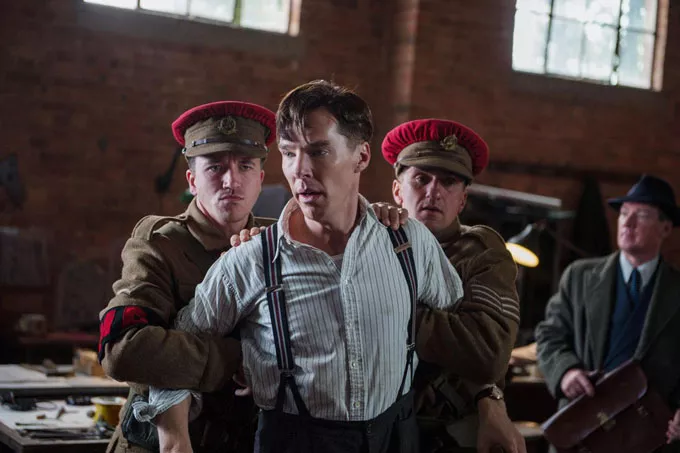 It's impossible to overstate Alan Turing's role in shaping the world we know today. During World War II, the brilliant mathematician led a small cadre of British cryptologists in cracking Nazi Germany's supposedly unbreakable Enigma code. In so doing, Turing is estimated to have saved 14 million lives, with no less an authority than Winston Churchill crediting him with shortening the war by at least two years. And the machine Turing used to decode Enigma would serve as an early prototype for the computer.
But Turing was neither knighted nor celebrated with parades. His heroic accomplishments remained secret for decades, long after the British courts had persecuted him for the crime of being homosexual. He committed suicide in 1954 after being forced to undergo chemical castration.
Turing's story needed to be told, and that alone makes The Imitation Game, which opens in Oklahoma City on Christmas Day, worth seeing. Based on the Andrew Hodges book Alan Turing: The Enigma, the film's subject and lead performance are captivating, even when the narrative lapses into the tired conventions of the Prestige Biopic — or, to be precise, the subgenre of Socially Awkward Genius Who Battles Mental Illness (think A Beautiful Mind or Shine).
Benedict Cumberbatch (TV's Sherlock) is superb as Turing, whom we first meet in 1951, when he is a college professor in Manchester. Through flashback, Alan recounts his story, beginning with his recruitment in 1939 by a crusty British commander (Charles Dance, HBO's Game of Thrones) and an MI6 spook (Mark Strong, Zero Dark Thirty) to join a top-secret intelligence project at Bletchley Park. The team — played by Matthew Goode, Allen Leech, Matthew Beard and a scene-stealing Keira Knightley — is tasked with decoding Enigma. The German code has baffled British forces despite their being able to intercept them.
The Imitation Game is straightforward storytelling, but it does not follow a linear path. It zigzags from Alan's bullied childhood to his quixotic quest at Bletchley. The Imitation Game often feels rote and oversimplified, and that seems unworthy considering Turing's complex and troubling life.
Graham Moore's screenplay brims with wobbly plot contrivances. How the secretive Alan reveals his sexual orientation stretches the bounds of credibility. Similarly implausible is his only-in-the-movies "Eureka!" moment that spurs Enigma's eventual decoding.
A handful of important plot points are hurried along with such perfunctorily ham-handed dialogue. The thing is so glossy and scrupulously old-fashioned, all that's missing are montages of newspapers with huge headlines spinning in circles — although Tyldum does manage to trot out a couple of retro montages complete with WWII newsreel footage.
Print headline: Code cracker, Benedict Cumberbatch dazzles decoding in the biopic The Imitation Game.