Shannon Cornman
10 Acre Woods in Norman provides a large crop of heirloo0om tomatoes, peppers and an assortment of other produce.Photo/Shannon Cornman
Have you ever stopped to consider how far the produce at your local grocery store has traveled? Most of it is imported or is shipped across the country.
Enter the locavore movement, filled with people who usually only eat food that's grown within 100 miles of where it's purchased or eaten.
With the growth and popularity of area farmers markets and farms, being a locavore is easier than ever.
"By buying here at the market, you're getting fresh and more nutritious vegetables. The flavor doesn't seem to develop when the mass markets have to pull the vegetables and fruits early to be stored for shipment," said Bud Leatherwood, owner of Leatherwood Farm in Yukon.
According to the USDA, local foods affect health and nutrition in two ways: they are fresher, less processed and retain more nutrients since they had far less distance to travel, and the availability of locally grown foods and seasonal produce encourage healthier options for consumers.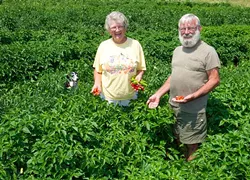 Shannon Cornman
Barbara and Robert Stelle with their dog Dolly in their lush pepper field at Sunrise Acres.
Leatherwood's customers at the OSU-OKC Farmers Market are interested in where the food is grown and how it's handled as well as the fertilizers and pesticides that are used to grow it.
Together, Leatherwood and his wife Leita grow and sell several different vegetables, including a few heirloom and Asian varieties.
One of their favorite recipes includes a few of their homegrown seasonal and heirloom vegetables and their yardlong beans, which are similar to green beans.
"Yardlong beans have a taste similar to snap black-eyed peas. We pick them at about 14 to 18 inches and cut the long beans to about an inch long. We add sliced onions, tomatoes and garlic and sauté it all together and add a bit of soy sauce," Leatherwood said.
Heirloom varieties should be considered when buying seasonal produce.
"Heirloom varieties are more than just tomatoes," said Robert Stelle, owner of Sunrise Acres in Blanchard. "Varieties include carrots, beets, squash, lettuce and more. Most people don't think of lettuce as an heirloom vegetable, but a popular salad variety of heirloom lettuce is the Black Seeded Simpson."
Stelle said there are different opinions on what is considered an heirloom variety of a vegetable. One is that the seed must be handed down to the next generation and stay in the same family. Another is the seed must be at least 50 years old to be considered an heirloom. Either way, each vegetable is different.
Dustin Green with 10 Acre Woods in Norman said there are a few companies and many small farmers who work to keep viable seeds. They are all open-pollinated plants, as most hybrid seeds are sterile or would not reproduce the same quality of produce the next year.
"I grow heirlooms because I love the history of each plant. I like to think about which families are responsible for saving the seeds in the little envelope I wait for every year," Green said. "You can taste a difference from one variety to the next."
He said okra has many varieties and his mind goes wild every time he sees a new one. One of his favorite ways to prepare okra is to heat the oven to 450 degrees, cut the okra tops off and split the vegetable in half. Then he tosses them with olive oil, salt, black pepper and Panko breadcrumbs and roasts them in the oven for about 20 minutes. He said sometimes he adds sliced eggplant to the mix and always adds cherry tomatoes.
Transform ugly into delicious
"As with all produce, not all of the vegetables are pretty. We use the ugly, weird-shaped vegetables for our own consumption. We recently made 30 pints of our Sunrise Salsa, which will make great holiday gifts," said Robert Stelle of Sunrise Acres.
SUNRISE SALSA
Makes 3 to 4 pints
5 lbs fresh tomatoes 4 jalapeños 4 serrano peppers 4 cloves of garlic 2 medium onions 1/2 cup of vinegar 2 teaspoons of sugar 1 teaspoon of salt 1/2 cup cilantro, chopped
Finely chop all vegetables in a food processor. Place in 4- or 6-quart pot, stir in remaining ingredients and bring to a boil. Simmer 45 minutes or until desired consistency. Pour into containers with lids and store in refrigerator.
Print headline: In the family, Heirloom vegetables are frequently found at local farmers markets and grown fresh at metro mom-and-pop farms.