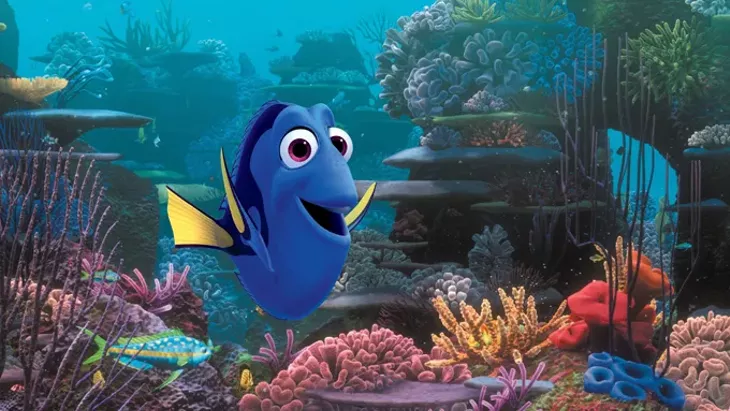 Pixar
(Pictured) DORY. ©2013 Disney•Pixar. All Rights Reserved.
Finding Dory is like an aquatic Forrest Gump, with its lead (Ellen DeGeneres) stumbling from adventure to adventure and meeting various colorful side characters along the way, not without its charms but empty of the heart that made its predecessor, Finding Nemo, a mainstay for anyone with children.
Much of this can be attributed to the series of increasingly jarring dei ex machina that shake loose any fledgling attempts at emotion or character growth with sheer volume of unlikely occurrences.
Things just happen to these characters to keep the story moving rather than because of their quest.
The film is far too light and flighty to build up to anything.
Loss or fear are undone randomly and rapidly, leading to a much happier and inconsequential adventure than we're used to from Pixar. And for some viewers, that's fine.
The new side characters we meet along the way — including a pair of friendly, if territorial, sea lions (Idris Elba and Dominic West), a nearsighted whale shark (Kaitlin Olson, It's Always Sunny in Philadelphia) and a grumpy octopus (Ed O'Neill) — almost make up for the film's lack of depth.
Pixar
FINDING DORY. ©2016 Disney•Pixar. All Rights Reserved.
Pixar
DO I KNOW YOU? -- In Disney?Pixar's "Finding Dory," everyone's favorite forgetful blue tang, Dory (voice of Ellen DeGeneres), encounters an array of new?and old?acquaintances, including a cantankerous octopus named Hank (voice of Ed O'Neill). Directed by Andrew Stanton (?Finding Nemo,? ?WALL?E?) and produced by Lindsey Collins (co-producer ?WALL?E?), ?Finding Dory? swims into theaters June 17, 2016.
Each new encounter allows the creative minds at work to flex a new unique angle on sea life and the continued lesson of self-love present throughout the two Finding films.
Pixar has had consistent success establishing a world and its inhabitants, but less so in developing it in a sequel.
Nowhere is this ability more apparent than in the opening short, Piper.
A feat of technical wizardry starring some of the best animated water and feather physics I've ever seen, Piper brings us into the silent world of sand-hunting birds on the tidal edge.
In a few brief, gorgeous minutes, we understand the baby bird protagonist and the various social lessons it learns in an elegant display just a bit too perfect for us to believe it was lifted from an Animal Planet special.
Finding Dory often flounders without this pristine confidence because its protagonist is unreliable — not because she can't remember, but because she's not consistent in her traits or her flaws.
At some points, she seems lost, helpless and completely incapable while at others she makes plans and commands her compatriots in an elaborate scheme (of her own construction) to, say, stop traffic on dry land.
It's frustrating when a character's personality seems to flit between two extremes. These traits undermine Dory's power as a symbol of impotence. The main point is that Dory succeeds despite her handicap.
When she discards it in order to prevail, what does that say to the relatively powerless kids watching her?
In the first film, Nemo was able to work with his father to prove he was worthy of trust while his father proved his devotion. In this one, Dory remembers things whenever it is convenient for her to do so.
Since most of the action takes place in the human realm, inside an aquarium/sanctuary, the focus on the ocean contrasts to the dreary.
This might have been exasperated thanks to lackluster 3-D effects, but with the original film's lush reefs and dangerously inviting jellyfish lingering in recent memory, Dory wastes much of its oceanic potential.
However, the sanctuary scenes look great and creatively involve the co-stars (each of which allows DeGeneres to shimmy her happy-go-lucky voice work into our hearts).
The sequel revisits many of the jokes of the original in an inoffensive yet ultimately unfulfilling way, making the case that Pixar should stick with originals.
https://youtu.be/3JNLwlcPBPI
Print headline: Floating Dory, Pixar relied too heavily on the success of Finding Nemo in its Finding Dory followup.