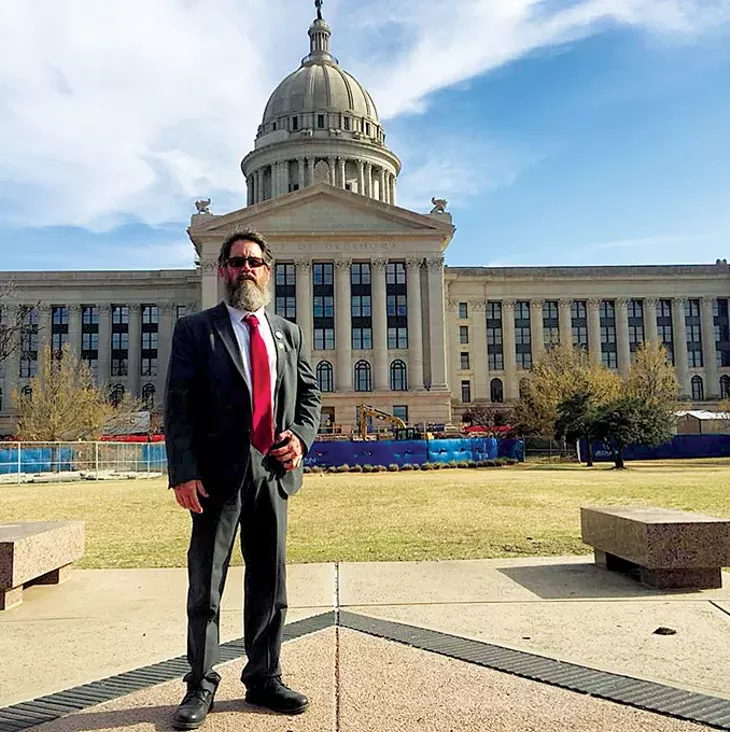 Photo provided
Medical marijuana advocate Chris Moe, known for his Uncle Grumpy YouTube channel, has been vocal about the sentencing reform measures within SQ788.
Lost in June's eyebrow-raising voter turnout numbers for the approval of medical marijuana and the controversial amendments to the law added by the Oklahoma State Medical Board days later is much talk of the provisions for decriminalization of marijuana possession outlined in State Question 788.
Chris Moe — a vocal SQ788 advocate who works closely with the pro-cannabis Oklahomans for Health groups and posts videos encouraging political engagement and action on his Uncle Grumpy YouTube channel — makes it his mission to ensure it is not an aspect that goes forgotten.
"I think it's being extremely overlooked by everybody," he said. "Everybody is concerned about the patients getting their cards — and I am, too. But no one was screaming, 'Let's look at this!'"
Moe prides himself on being the voice of the outsider, those who are most likely to face possible arrest for possession crimes. He said decriminalization is vital because any arrest can have a devastating impact. Moe knows people who have never been able to recover financially after an arrest.
"They lose their families; they lose everything," he said. "Even if they're never found guilty of anything; even if charges are dropped. People who are living on the edge, who live paycheck to paycheck, when you make them come up with $500 or $1,000 bond someday between paychecks when they didn't expect it, you destroy lives."
788's decriminalization
Oklahomans are still waiting to see how the implementation of medical marijuana pans out in the state, but the decriminalization described in SQ788 is not something affected by any recent regulations or amendments.
"No one put a freeze on 788," Moe said. "They put a freeze on regulations as they smooth things out."
Under the current law, the punishment for illegal possession of marijuana is a misdemeanor offense punishable by a maximum fine of $1,000 and up to a year in jail. SQ788 states anyone caught by police possessing no more than 1.5 ounces of marijuana without a license can be punished only with a maximum misdemeanor fine of $400 as long as they state a medical condition — even if they have never even applied for a license. Under the new law, there is no jail sentence attached to possession within the legal limit.
"It's an enormous difference," said criminal defense lawyer Brian Jones, "and it shows you a lot about how Oklahoma's criminal justice system handles any kind of simple misdemeanor marijuana possession."
Jones is an attorney for Ball Morse Lowe and vice chair of the Oklahoma Democratic Party. He said decriminalization under SQ788 will not take effect until Aug. 4, which is 30 days after the Oklahoma State Election Board certified the election results.
Jones does not expect a ban on the sale of smokable products to affect whether a medical condition would be deemed valid, even if the marijuana a person has on them is intended for smoking. He also does not believe a diagnosis is necessary because the law says a person only needs to state a condition.
"If a person who is arrested for possession of marijuana — and it's less than an ounce and a half — says, 'I have anxiety,' or any medical condition that they actually have, that would satisfy the statute," he said.
Jones believes there is some question about when in the process a person would need to state a medical condition. Is it only when they are first pulled over? Could they claim the condition in court or perhaps even later?
These questions are things Jones believes will be answered by the Oklahoma Court of Criminal Appeals through litigation.
"That's not going to happen until there have been some arrests that fall under the decriminalization provision of 788," he said.
Law enforcement
Oklahoma City Police Department (OCPD), in a statement to Oklahoma Gazette, said until medical marijuana permits are made available to the public, it will continue to observe the existing law on possession.
"Possession of marijuana is still a crime unless a person has a valid permit," the statement reads. "The department will enforce the law as written."
In the lead-up to the vote on SQ788, some opponents argued that the law's decriminalization component would complicate the job of the enforcing officer by putting them in a position where they would have to determine whether a given medical condition is valid. The OCPD statement said officer determinations on those issues will be determined after the rules have been finalized.
Training programs are currently being developed for OCPD officers in partnership with the Municipal Counselor's Office and, according to the statement, will be provided to personnel in the near future.
OCPD spokesman Capt. Bo Mathews said the bottom line is that possession is still a crime for those without proper licensing.
"The people who are permitted to have medical marijuana will be able to do so," Mathews said, "and we will make sure the people who aren't supposed to have it don't."
Existing sentences
There is nothing in SQ788 providing automatic or retroactive sentencing relief for those currently incarcerated for misdemeanor marijuana possession. Jones said that would take legislative action, which is something he believes needs to be addressed.
"Regardless of where you stand on 788," Jones said, "there is a fundamental unfairness in continuing to incarcerate people for behavior that has been legalized in one form or another for other people."
The attorney said legislative action could come in the form of an expungement measure, as the state has a strong expungement statute. He also said any decriminalization efforts, including the release of those currently held on possession charges, would be aided by the passing of statewide recreational marijuana through SQ797, which is currently in petition phase. If the measure meets its signature requirement, it could come before voters as soon as November.
Moe said another route to releasing those serving sentences for possession would be through governor's pardon. It is unlikely that Gov. Mary Fallin would support widespread marijuana pardons, but Moe said he thinks there could be momentum toward electing a new, pro-cannabis governor in November.
"It's all in that chair," Moe said. "Our cannabis problems are solved with the right governor."
'Playing chess'
Some law-enforcement questions on SQ788 are still waiting to be answered. For example, Jones said there is some uncertainty about whether a person could be jailed pre-trial that will likely need to be played out through the court of appeals.
Another question is whether a person could be put on any kind of probation instead of a prison sentence. Jones said a large amount of the revenue that helps municipal courts, county courts and district attorneys operate comes from court costs and probation fees.
"A lot of probationers in Oklahoma are on probation for simple misdemeanor possession," Jones said. "So, if you can no longer give a person a jail sentence for this offense and you can no longer put someone on probation for this offense, then it really could have tremendous impact on how our municipal and district court systems are funded."
Moe, who describes himself as a generally conservative Republican, said the need for decriminalization should not be seen as a partisan issue. His criticism is aimed at people in positions of power who do not hold the law up to people on an equal level.
"I'm not saying all law enforcement is bad," Moe said. "We have great law enforcement, and we need them, for sure."
Moe has had seven surgeries in the last 14 years. He said at one point, doctors had him on 9,855 pills a year. He has drastically reduced his dependence on opioids and prescription pain medicine through the use of medical marijuana.
Personal investment and a deep-seated desire to save lives is what motivates Moe's advocacy. He is willing to sit patiently through setbacks while keeping his eyes on the prize: full recreational and decriminalization.
"Too many people are playing checkers, and I'm a chess player," he said. "Checkers is a one-moment-in-time game. Arguing over one thing or another — whether it be people being arrested or what the health department is doing — all of that is extremely necessary, but I'm looking at playing chess. I'm looking at the long game."