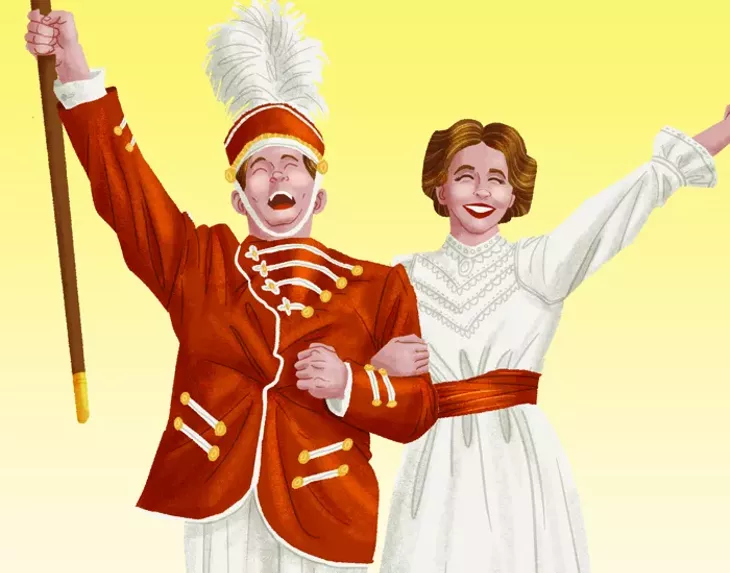 provided
Oklahoma City Repertory Theatre's upcoming concert production will feature the classical musical The Music Man.
It will take more than just 76 trombones to stage Oklahoma City Repertory Theatre's (CityRep) upcoming concert production of the classic musical The Music Man.
The story, set in 1912, follows a smooth swindling salesman as he attempts to con an entire Iowa town into thinking he can train a boys' band. He's in it for the money but finds love and a community instead.
CityRep is a professional regional theater in its 17th season, and its version of The Music Man will lean heavily on artistic collaboration. Partnerships with local arts groups and theater programs are helping the theater bring in diverse Oklahoma talent and foster a strong sense of community.
This type of collaboration is inspired by the Public Works Public Theater Initiative, which was first developed through The Public Theater in New York City and Dallas Theater Center.
CityRep founding artistic director Donald Jordan described this initiative as "an effort to intentionally blur the lines between audience and professional artists."
Local performers joining the CityRep team include talent from RACE Dance Company, Ambassador's Concert Choir, Painted Sky Opera, The 405 Quartet, University of Central Oklahoma (UCO), University of Oklahoma and OETA. Because of these partnerships, amateur performers will be onstage with well-known stage actors.
"And so you have many people that may never have been in a professional play before alongside these leading actors," Jordan said.
The principle players are native Oklahomans and graduates of Oklahoma City University. Jonathan Beck Reed will play fast-talking Professor Harold Hill. Jordan said Reed has done more than 500 performances in this role alone.
Teri Bibb, a Broadway veteran who spent over 1,000 performances as Christine Daaé in The Phantom of the Opera, will play River City's spirited town librarian Marian Paroo. She is also returning to the role and said she is excited to be "coming home" for the part.
Bibb and Reed have played together before, and during their first rehearsal with most of the company, they displayed a comfortable chemistry onstage and a deep familiarity with the characters.
Other local talent joining the show includes stage actor Justin Larman and soprano Barbara DeMaio (executive director of Painted Sky Opera).
Oklahoma City native Harry Parker will direct. He is joining the production while on sabbatical from leading the theater program at Texas Christian University. He said that he hopes the company will build relationships while telling a hopeful, joyful story.
"I think the theater is one of the most important things in the world," Parker said. "I don't think it's some kind of frivolous, extra thing you do with disposable time and money. I think we need this more than we've ever needed it ever because of the proliferation of electronic media. We need to be in a room with live people telling us a story."
Impactful production
provided
Oklahoma City Repertory Theatre teamed up with various local performance companies to produce The Music Man.
Jordan said this is the first time a Public Works project is being undertaken in Oklahoma, and they happen to be doing it on a very large scale. He estimated that over 100 individuals will be involved in the production.
For perspective, that's seven times larger than The Music Man's traditional company size.
"This is really about five musicals," Jordan said, joking about the production's scope. "We're asking [Parker] to direct five musicals and put them all together in concert form in about two and half weeks of rehearsal. It's a ridiculous idea! Our artistic eyes are much bigger than our production tummy."
It's a tight timeline for any team, especially when rehearsals usually last closer to six weeks. Jordan said their group of dedicated professionals is allowing them to "microwave" the show.
Bibb said she has never been a part of anything like the Public Works initiative, but knows it has the potential to be very impactful.
"To engage the whole community, to make them feel like they're a part of something, rather than just buying a ticket and sitting in the audience," Bibb said. "And to feel like their art is just as much a part of this community as people that come in professionally from other places. It's hugely important for the livelihood of the art itself."
DeMaio, who is playing Mrs. Paroo, said she is glad to have Painted Sky Opera partnering with CityRep, and she even has a few of her students in the chorus.
"I walked in," DeMaio said on their first night of rehearsal, "and I said, 'My God! Most of Oklahoma City's community theater crowd is here!'"
The concert format means they are staging a hybrid production, where an orchestra will be onstage with the performers and costumes will be limited to the principles. Dance numbers will feature choreography by Hui Cha Poos at RACE Dance Company.
Diverse perspectives
Jordan said the musical feels particularly timely today and its uplifting message should resonate with modern audiences even 61 years after its first opening.
Thematically, the story is about a jaded man seeking to take advantage of small-town Iowans, but because of love and music, both he and the townspeople become more open and compassionate.
"Even he thinks he's not really that powerful," Jordan said, "but a flimflam man. But in the end, it transforms the lives of everyone for the better, including himself. And that's a really lovely message."
Jordan said the company is carrying over the desire for openness and collaboration into CityRep's season, with an overall theme of community. The company hopes to foster understanding and awareness of diverse perspectives.
"Your job sometimes with the theater is to tell stories that comfort the afflicted and afflict the comfortable," Jordan said.
Upcoming performances include Stephen Lang in one-man show Beyond Glory, the musical Hair in partnership the UCO music theater department and the play The Curious Incident of the Dog in the Night-Time, which features a character on the autism spectrum.
On Oct. 11, CityRep will also hold a fundraising night at Tower Theatre with members of The Second City improv group in attendance.
"You build a sense of community every time you do a play," Jordan said. "The lovely thing about the theater as a sport is when we play well, everybody wins. There's a gold medal for everybody because we did our job."
Visit cityrep.com.