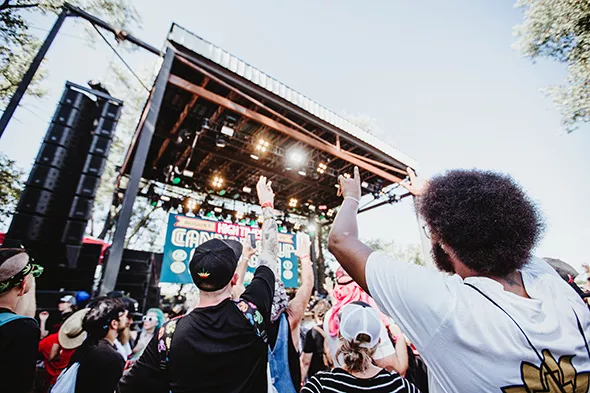 Alexa Ace
Festivalgoers at the High Times Cannabis Cup stage
This is a tale of two festivals. One was disastrous and the other was a well-oiled machine, depending on the day you attended.
On Saturday, Oklahomans arrived at their first High Times Cannabis Cup. By mid-afternoon, memes comparing the event to infamous Fyre Festival were popping up on social media. But by the time the gates opened on Sunday, the majority of the issues were mitigated.
The two-day event, announced in mid July, was highly anticipated in the weeks leading up to it.
"Are you going to the Cannabis Cup?" became the standard greeting between members of the cannabis business community and patients alike.
Everyone did, and then some.
The atmosphere Saturday morning on social media was jubilant and excited, with everyone taking photos of themselves and their parties heading out to the event.
I was offered a seat by Chase O'Grady from Ringside Medical on the maiden voyage of Oklahoma 420 Tours. It was an impossible offer to refuse, so I trekked to the Quail Springs dispensary and met Ty Saner, chief executive officer of Mary Mechanix, outside. Saner and I had not seen each other in nearly 20 years, since we attended high school together. The reunion set the tone for the morning. After signing the disclaimer and boarding the limo, the half dozen or so of us broke out our stashes, queued up a playlist and hit the road.
Alexa Ace
Thousands attended Oklahoma's first Cannabis Cup.
By the time we hit the turnpike, the limo was filled with smoke, a mobile hotbox in which multiple prerolls, dab rigs and pipes provided the ambience. The smoke kept billowing as we exited the highway and made our way toward Lost Lakes Entertainment Complex, 3501 NE 10th St. About a mile out from the venue, the vehicle stopped.
The window to the driver was rolled up, so the only views were from the side of the vehicle. We crept forward a few yards at a time every few minutes for a while until we suddenly started seeing vehicles on either side whipping around in the middle of the road and driving up curbs. Reading lips and gestures, we discerned that the parking lot had already filled. It was 30 minutes after doors had opened for VIP ticketholders.
Over the course of the next half hour, we snaked our way up to the gates, passing throngs of festivalgoers on foot, eventually coming to the end of a line that was already several hundred yards long. The smoke roiled from the vehicle as we disembarked.
Thursday evening, a torrential downpour hit the metro, dumping rain on the area. While temperatures hovered in the mid 80s on Saturday, the humidity was about 70 percent, making the air a humid soup that immediately began pumping sweat out of the pores of the attendees. Within minutes of arrival, all of our party had beads of visible sweat on their faces and shirts were already beginning to dampen with perspiration.
Seconds after our feet hit the dirt, a woman was running toward us, screaming for a medic. An attendee was having medical issues while waiting in line.
"We were in the line for about an hour, and there was this girl that was like four or five people ahead of us, and she kept having to kind of get out of line and she wasn't looking too good and her boyfriend really wasn't doing anything about it," said a witness who agreed to speak with Oklahoma Gazette on condition of anonymity due to her profession. "It got up to about 30 minutes later when she just couldn't take it anymore, and we started, like, screaming for medics or somebody for help, and most people didn't do anything except for crowd her and make it worse, but we just happened to get out of her boyfriend that she was asthmatic and didn't have her inhaler, and so we gave her my husband's inhaler and she took a puff off of it and actually seemed to bounce back pretty well because she was, like, rolling on the ground, not being able to breathe. And we were still screaming, 'Medic! Medic! Medic!' and it must have taken like five minutes? It may have taken longer, honestly, for somebody that had any kind of authority or medical knowledge to show up."This set the tone for the rest of the day.
The story, often repeated, is this: After parking and walking to stand in line (some people hiking more than a mile into the venue), festivalgoers stood in the line that began forming hours before the gates opened for those with VIP passes. The general admission crowd started to be let in an hour later. During the wait in line, no water was provided and no High Times or event staff spoke to those in line, nor did they shoo away a hustler playing shell games and conning attendees out of cash while they waited.
Fortunately, our party did not have to endure this. Thanks to some unbelievable string-pulling by Steve McKinney, the owner of Oklahoma 420 Tours, our entire group was shepherded around the line, which people were already reporting was a wait of more than an hour, and immediately into the event.The stage was dormant except for a live DJ. Across the water, the vendor area was bustling and a steady line of attendees traveled from one end to the other.
Alexa Ace
Attendees watch as Cannabis Cups are awarded Sunday evening.
Much of the rain had dried by the time Saturday morning rolled around, but the shortcut to the vendor area was blocked. Instead, attendees were forced to walk a half-mile semi-circle around the water. The center of the path was impassable, with muddy puddles in the rut in the center of the road, forcing attendees to the edge of the path, trekking under the beating sun for the duration. Those in good health were the lucky ones, slipping and sliding on the mud along the way. Several people in wheelchairs were being pushed on the same trail.
Upon arrival at the vendor village, staff were stripping visitors of any beers purchased on the far side of the event. The scent of cannabis in the air was already dense before stepping through the gate.
Water shortage
Inside, people were indulging left and right from their own stashes, but it was immediately apparent that there were no food or water vendors on that side of the lake. By that point, many people were glistening with sweat and some wore clothes that looked like they had taken a dip, but not a single person was in the water. Some people were woozy and fainted while others were vomiting from the heat.
By mid-afternoon, the throng was dense. Word was making it around that the line to get in was now more than four hours long. Shortly thereafter, people on social media began reporting that they were being turned away upon arrival, even those who had already purchased tickets before arriving.Vendors were unaware that food was unavailable in the village, and most did not bring food with them. Some had enough staff to send representatives on food runs. Others went hungry.
The lines for the few food trucks on hand exceeded an hour's wait, and by 5 p.m., word was getting around that almost all of the available liquids, including water, were sold out.
"Once I found out they were out of water for the people at the event, then I started thinking of the people in the line that were waiting for hours," said CBD Plus USA and Lotus Gold CEO Ryan Vicedomini, whose company was a title sponsor of the event. "I went out personally to the bar, which is owned by the facility — they had nothing to do with High Times — and I went to the owner and said, 'Look, I don't know what you have available, but whatever you can spare, here's my credit card. Take whatever you can spare and give fluids to people in this line.' They said High Times underestimated how much water they needed and did not order enough. This was not the facility's fault. The owner of the facility called in an emergency Freightliner full of waters, and we personally gave out over three pallets of water just from what the facility brought in as an emergency. We did it all night last night, and we did it all today. We gave away nothing but free waters to make sure everybody got hydrated."
Vicedomini said his company was charged $1 per bottle of water that was distributed. He was unsure how many bottles of water were distributed between Saturday evening and the end of the day Sunday.
Saturday night's headliner, 311, played its set and the crowd dispersed without issues for the night.
However, another round of overnight storms created another slew of problems in the morning. Vendors were slipping and sliding on the muddy paths as they attempted to access their booths. Several considered throwing in the towel before the event opened for the day.
"When I was talking to the executives and they were debating on canceling it, they did consider the safety, but they also considered that the show must go on," Vicedomini said. "There were a lot of vendors that were cussing and hollering. I saw them this morning, pushing their products through the mud. I've got a three-quarter-ton lifted bad-boy truck, and I got stuck twice at this facility."Once gates opened, the tone at the start of day Sunday was radically different. Not only were there no lines at the entrance, but there were pallets of water stacked just inside the gate. A golf cart with a wagon full of chilled water passed a moment later. Transport vehicles from the stage area to the vendor village were regularly transporting attendees every few minutes."Today went so smooth," Vicedomini said. "Everybody was hydrated."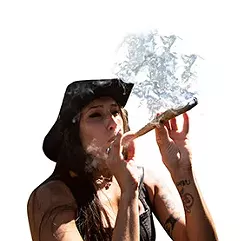 Alexa Ace
Consumption of cannabis with a patient card was permitted at Cannabis Cup.
The awards ceremony and Sunday's performance from the headlining band, Slightly Stoopid, went off without a hitch. And thus ended the first High Times Oklahoma Cannabis Cup.
But the damage was already done.
Social storm
Social media exploded on Saturday, with hundreds of furious patients and multiple vendors threatening to file lawsuits or refuse to pay bills for their booths.
The term "shitshow" was bandied around in hundreds of posts and comments.
Vicedomini said he proposed a different venue before it was announced, having sponsored the Advance 788 event on the one-year anniversary of State Question 788 passing.
The event was held at Lost Lakes in lieu of Uncle Grumpy's Green Retreat, which was supposed to have occurred on that date."I was not only concerned about it raining the whole time, but half of it was underwater. Asking people to come would have done something similar to what happened today. Plus the people I was asking to come out were true patients, so this idea of 'roughing it,' I would not get on board with," said Chris "Uncle Grumpy" Moe.
"High Times committed to a venue that they never should have thought of based off the weather and elements leading up to the event. Lost Lakes did nothing wrong," Vicedomini said. "High Times failed in a lot of their execution based off their communication and their prep for the event. High Times did nothing wrong besides pick the wrong facility. Whoever's job it was to hire the contract for the facility did not do enough research, period. The rest of it was highly executed in a very good manner based off the circumstances they were dealt. Whoever chose that spot not only needs to be fired, but everybody should get a full refund based off their mistakes and welcome them back to the right facility next year."But Jayson "Giddy Up" Emo, who has won five Cannabis Cups in the past, said the event was pretty much business as usual.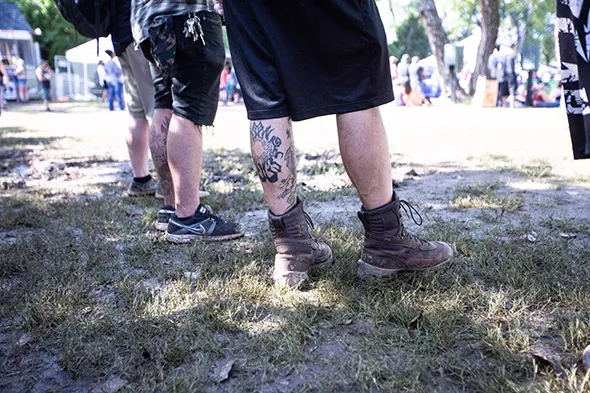 Alexa Ace
Muddy conditions throughout the festival grounds made traveling between the festival's different zones difficult.
"They never seem to bring enough water on the first day. I think they plan for what, in a meeting, sounds like a good amount of water to have on the first day and they're just constantly wrong," Emo said. "Generally, people were happier to have it here. A lot of the places, people are super jaded with the Cup and they've been to a few. Everybody here that won, people got up on stage and were crying. The second Cup is never the same as the first Cup. My connections at High Times were really happy with the crowd and were really impressed by the movement here. I think they'll be back next year, as long as there's no laws set in place to stop them from coming."
But some are worried that the way the event was handled, including its lack of accommodations, might send the wrong message to not only Oklahomans who oppose cannabis, but also legislators."High Times Oklahoma Cannabis Cup has given more ammunition to those who don't see cannabis as medical," professor and patient advocate Lawrence Pasternack said. "Employers see what went on this weekend and choose against a cannabis-friendly work policy, judges see it and use cannabis as a mark against custody, parole officers see it and refuse to let parolees get a card, doctors see it and terminate patients, lawmakers see it and want to undo State Question 788 as much as possible. Unfortunately, events such as this just confirm to many that State Question 788 isn't medical. It is a mockery of authentic medical needs."
Alexa Ace
Growers with The Pound accept their Cannabis Cup for indica flower.
Cannabis Cup winners
Edibles
1st: OK Nice Cream — Strawberry Fruit Bar

2nd: Fire Leaf / Outlaw Edibles — Maple Bacon Krispi Barz
3rd: Mr. Mack's — Caramel Pot Pops
CBD Edibles
1st: Too Sticky — Honey Almond Protein Bar
2nd: Simple Cure — Helpful Mango Sativa Tincture
3rd: Edipure — Raspberry Lemonade Gummies
Topicals
1st: Lotus Gold Dispensaries — Colorado Cures Pain Cream
2nd: Redbud Elixirs — R.L. Remedy Healing Lotion
3rd: Mr. Mack's — THC Infused Lotion
Pre-rolls
1st: Gorilla Gardens — Kief Infused Funk Indica Pre-Roll
2nd: TB4U Farms / Rt. 66 Extracts — Holy Roller
3rd: Fire Leaf — Jeffrey Infused Pre-Roll
Infused Products
1st: New Leaf Medicinals — Moon Rock
2nd: Releaf Labs / Altrd — Moon Rock
3rd: Xen Xtracts — Infused Grape Moon Rock
Hemp-derived CBD Products
1st: White Mousse Oklahoma / CBD Plus USA — CBD BHO Badder
2nd: Terpenetics — Holos Botanica Eye Cream
3rd: None
Vape Pen and Cartridge
1st: Korova / Sublime Brands / Connoisseur Cannabis — Grandaddy Purp Cart
2nd: Electraleaf — Wedding Cake Cart
3rd: Fire Leaf / Oklahoma Dab Lab — White Pineapple
Non-solvent Concentrate
1st: Helix Extract — Purple Punch Live Rosin
2nd: Kiamichi Skies — KS Blend Live Rosin
3rd: Stability Growns / Country Hash — Forbidden Fruit Live Rosin
Sativa Concentrate
1st: Fire Leaf / Oklahoma Dab Lab — Lemon Cheese Quake
2nd: White Mousse / Rock Top Wellness — Oklahoma Mimosa Full Spectrum
3rd: Terpenetics — Blue Cookies Live Resin Sugar
Hybrid Concentrate
1st: Fire Leaf / Oklahoma Dab Lab — Fruity Pebbles OG
2nd: Solos Extracts — Canuck Cookies Diamonds
3rd: White Mousse / Rock Top Wellness — Kief Chief Full Spectrum
Indica Concentrate
1st: White Mousse / Red River Pharms — Grape Ape Full Spectrum
2nd: TB4U Farms / Rt. 66 Extracts — Wright White Live Sugar
3rd: Head of Honey / Diamond Labs — Member Berry Live Diamonds
CBD Flower
1st: Craft Cannabis — HGDP CBD
2nd: Sticky Tree Farms — Bronx Goo
3rd: Cloudi Mornings — CBDutch Treat
Sungrown Flower
1st: Helix Extract — Snowland
2nd: Green N' Pink — Starmalade
3rd: None
Sativa Flower
1st: Full Moon Pharm — GG4
2nd: New Leaf Medicinals — Tropicana Cookies
3rd: Exotic Genetix — Truffle Butter
Hybrid Flower
1st: Emerald Wholesale — Chem D X I-95
2nd: Green Rush Gardens — Gelato Cake
3rd: Korova / Sublime Brands / Connoisseur Cannabis — G.A.S.
Indica Flower
1st: The Pound — Orange Cheddar
2nd: Emerald Wholesale — Orange Apricot
3rd: Stability Grows — Forbidden Fruit