Jacob Threadgill
from left Rainbow rolls, spicy yellowtail, spider rolls and a spicy tuna hand roll at Shawn's Sushi
It might come as a surprise, but the case can be made that sushi is now more popular in the United States than it is in Japan. Of course, what qualifies as sushi in the States has become an Americanized version compared to the original, much like pizza and Chinese food.
Still, it's hard to deny its popularity when even the Homeland grocery store on Classen Avenue is now serving freshly prepared rolls in plastic takeout containers. Especially if you include the ever-increasing sushi-by-way-of-Hawaii poke scene, I'm willing to bet you have more than a few people in your office that eat either sushi or poke multiple times per week.
Sushi has developed to become a catchall term. It refers to short-grained rice cooked with vinegar. Maki sushi rolls are the precursor to the giant and overstuffed pinroll-looking rolls that have become so popular in the states. Traditional maki rolls don't even usually have raw fish along with rice wrapped in dried seaweed, using ingredients like egg or shitake mushrooms, and the American rolls often get constructed inside-out, rolling the rice outside the seaweed.
It's amazing to me how quickly sushi caught on in the United States following World War II. By the 1960s, Japanese restaurants serving tempura and teriyaki began experimenting with raw fish, serving sashimi and rolls as early as 1963, according to a report from food critic Craig Claiborne in The New York Times.
The first dedicated sushi bar in the country popped up in Los Angeles' Little Tokyo in 1966, according to The Story of Sushi: An Unlikely Saga of Raw Fish and Rice by Trevor Corson. Sushi caught on with Hollywood celebrities after a restaurant opened next to the 20th Century Fox Studio in 1970, and it began to be promoted for its health benefits, especially after the U.S. Senate released a report urging the country to eat more fish.
The longest continuously open sushi restaurant in Oklahoma City is Tokyo Japanese Restaurant, which opened in 1987. The city has embraced long-standing favorites like Sushi Neko and newer concepts like Yokozuna, while the metro area has expanded its Japanese offerings to include excellent ramen shops (Gorō Ramen and Tamashii Ramen House), fusion Yuzo Sushi Tapas and Edmond's Muu Shabu, which offers shabu-shabu, thin slices of meat cooked in front of guests by dragging it through hot broth.
With such a wide selection of Japanese cuisine available in the metro area, I thought it might be interesting to check in on a restaurant that has caught my attention every time I've made the trek westward on Northwest Expressway: Shawn's Sushi, 5612 Northwest Expressway.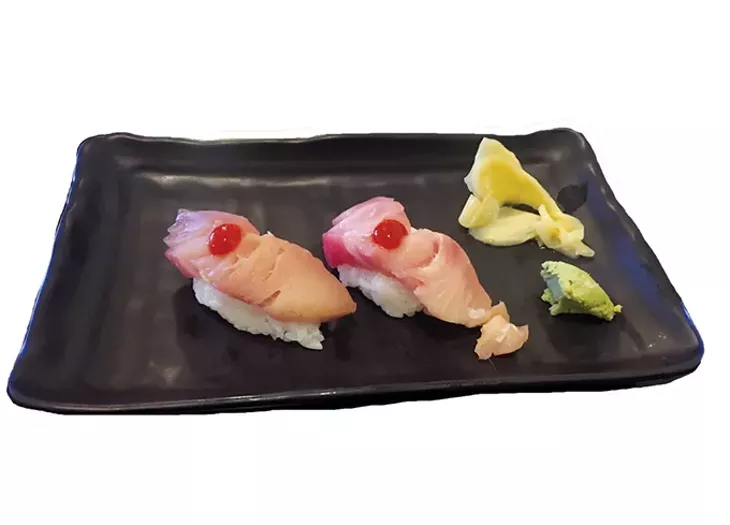 Jacob Threadgill
Yellowtail nigiri arrived uneven and with palate-obscuring Sriracha.
I noticed the restaurant the first time I ever visited OKC in early 2017. "That's an interesting name for a sushi place; it doesn't connote authenticity," I thought to myself.
As I've mentioned several times in recent reviews, the search for "authenticity" is as fruitful as Ponce De León's quest for the Fountain of Youth. I've been guilty of it in the past.
First and foremost, diners should be concerned with whether or not the food is of good quality and tastes good rather than if it is truly "authentic" because often, we're looking for a version of history that has been whitewashed or exaggerated through nostalgia. It's like how 1950s-style American diners or Lost Cause Southerners yearn for piece of history that never actually existed. Robert E. Lee wasn't an honorable man conflicted in his fight for slave-holding states. The period in which America was "great" came while vast swaths of the population lived under de facto and de jure segregation and the nation's corporate tax rate was more than twice what it is now.
Only a small percentage of the country's more than 4,000 sushi restaurants are Japanese-owned. While it takes on average three to four years to rise through Japan's male-dominated sushi chef ranks, most sushi courses in the United States award certificates within a few months. It has allowed people of all different backgrounds to open up successful sushi and Japanese restaurants across the country, which is the most American story possible.
Shawn's Sushi is a small and affordable spot, but the savings on the price rear their heads in the final product. I was hopeful that it would be a no-frills place that eschewed presentation and amenities for a quality product and was disappointed.
The hallmark of lower-quality fish is an abundance of the alarmingly pink spicy Japanese mayo, which can often obscure the palate. I couldn't find a yellowtail or tuna — my two go-to sushi orders — without a spicy option. I enjoyed the spicy yellowtail roll enough that I ordered an additional two pieces of yellowtail nigiri (fish placed on rice) but was disappointed to find the fish unevenly cut and with a large dollop of Sriracha in the center. What little I could taste of the fish that wasn't obscured by the sugar-filled hot sauce wasn't as good as the roll. I was hoping for a better cut since my dinner guest and I were the only table at 7 p.m. on a Tuesday evening, which is traditionally the best chance to get fresh fish following Monday shipments.
The lack of a dinner crowd should've been my first warning. I've seen a few comments on various Internet reviews of Shawn's Sushi from loyal customers that there as been a noticeable dip in quality over the years. I wish I could've tried that earlier version of Shawn's Sushi. No matter how much ginger I ate as a palate cleanser, I couldn't get the taste of spicy mayo out of my mouth.
Shawn's Sushi can fill a craving if you're in a pinch and live in the neighborhood, but it's not worth its own trip.

Visit Shawn's Sushi on Facebook.