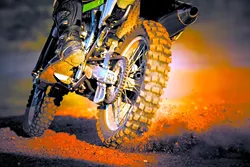 Bigstock
action of enduro motorcycle on dirt track
AMA Pro Flat-Track Racing returns to Oklahoma for the first time in 16 years during Father's Day weekend.
The gates open for the OKC Mile event 1 p.m. Saturday at Remington Park, 1 Remington Place, in Oklahoma City.
AMA Pro is a national professional traveling series of flat-track motorcycle racing that travels from coast to coast during the March-to-September season.
"It's the original extreme sport," said Shawn Brassfield, a promoter with BrassMonkey Promotions LLC. "Flat-track racing started in the '20s. It was real easy for people to take whatever motorcycle they could come up with and go race around a dirt circle track."
While the basics of motorcycle riding apply to flat-track racing, riders wear a special steel shoe that straps to the bottom of their left boot, and they slide their foot across the ground to decrease their speed and balance in order to make the turns.
Bret Sowders, No. 81G, from OKC is an up-and-coming racer, and Gary Ketchum, No. 11G, from Tulsa is an old pro who returned to racing in the last year or so.
Both will compete in GNC2 class until they earn their way into GNC1 class.
A timed racing practice starts 3 p.m. Saturday, and the opening ceremonies start at 6:30 p.m. About 100 racers will compete at speeds up to 140 mph.
Kids and their families will have the opportunity to walk through the open paddock at 5:15 p.m. to meet the racers and look at their bikes, and the racers will sign autographs for free.
To round out the event, there is a Fun Zone designed for young kids that offers face painting, bounce houses and an Adventure Zone to teach 2- and 3-year-olds to ride. Ninja Warrior Danny Manuel signs autographs at the American Ninja Warrior interactive exhibit, and daredevil riders ride two at a time in a round steel cage called the Insane O Riders Globe of Death. Food trucks offer funnel cakes, kettle corn, gourmet burgers and tacos.
Major manufacturers like Harley-Davidson, KTM, Triumph Motorcycles, Ducati, Kawasaki Motors Corp. and BMW are represented in the AMA Pro races; essentially, the mechanics use a production motor, but everything else — frames, suspension, wheels and tires — are from outside manufacturers.
AMA Pro racing took a break in this part of the country in the 2000s because the sport was relying heavily on the tobacco industry for sponsorship.
"When that money dried up literally overnight, it left them scrambling," Brassfield said. "So it's been through growing pains and revisions on the national level, and it seems to be gaining a lot of momentum now."
About 3,000 motorcyclists will ride in from Colorado, New Mexico, Texas and Kansas, and Brassfield expects a crowd of about 10,000 people.
"It hasn't been in this part of the country in so long that there's a lot of buzz," Brassfield said. "There's a lot of older motorcyclists that remember AMA — then it was called Camel Pro, like Camel cigarettes — and they're hungry for it."
General admission tickets are $35 in advance or $42 at the gate, and children 12 and under get in free with an adult ticket.
Fans can meet AMA Pro injured riders, current professionals and former pros, like national No. 1 Chris Carr and national No. 16 Ronnie Jones from OKC, at Pole Position Raceway, 4:30-7:30 p.m. Friday at 2905 NW 36th St.
For more information or to purchase tickets, visit okcmile.com.
Print headline: True path, AMA Pro Flat-Track Racing zooms into Remington Park.