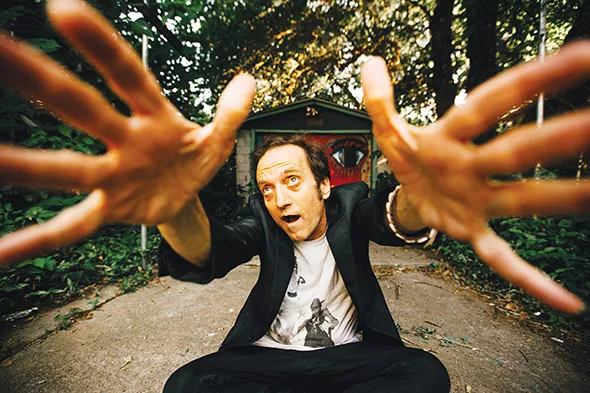 Alexa Ace
Former Chainsaw Kittens leader Tyson Meade performs a multimedia retrospective of his music at Tower Theatre.
Tyson Meade
8 p.m. Aug. 2
Tower Theatre
425 NW 23rd St.
towertheatreokc.com
405-708-6937
$10-$25
When former teenagers who used to bravely traverse the local mosh pits in the early
1990s start boring their children with stories about bands with names like Radial Spangle and Coma Club, eventually they tell the tale of Tyson Meade. As lead singer of Defenestration in the 1980s and then Chainsaw Kittens in the 1990s, Meade became the ultra-glam bard of the dispossessed, writing brilliant alternative-dimension pop music for the kids who were not short-listed for the homecoming float.
"I had a listed number and I'd get these calls from these kids who would say, 'Hey, I'm the outcast at my school,'" Meade said in an interview with Oklahoma Gazette. "'I'm not popular, you know, but what you're doing really makes me feel better.' And I'd ask them, 'Well, do you have any friends?' and they're like, 'I have a few friends.' I told them, 'Well, you don't need to be popular in your school if you have these friends.'"
Nearly three decades after Meade declared, "I am the bloodstorm," in the opening track to Chainsaw Kittens' Violent Religion, there are still disaffected youth — and plenty of adults — who need heroes. As part of an effort to revisit a storied discography and recontextualize "High in High School" and "Dorothy's Last Fling" for 2019, Meade is mounting an ambitious stage show Aug. 2 at Tower Theatre, 425 NW 23rd St., that will take some of his most beloved work in unforeseen directions.
The multimedia show features all stages of Meade's career, from the earliest Defenestration work of the mid-1980s through his latest solo album, 2019's Robbing the Nuclear Family. Meade, who ran as a Democrat for Oklahoma's 5th congressional district in 2018, is cagey about the details, but there will be strings.
"We will play a more obscure Defenestration song that people will know if they know the two records, and I've added strings to them because originally, when I wrote the song on guitar, it seemed the guitar parts I wrote were really like violin parts," he said. "So with this, I've got to rethink the songs. I didn't have the resources with Defenestration that are now more readily available. Now, as an older person, I can get ahold of people and say, 'Hey, you know, do you know some string players?'"
The visuals will also benefit from the passage of time and the accumulation of footage from the breadth of Meade's career and experience. Working closely with George Salisbury, the graphic designer and video artist behind most of The Flaming Lips' album covers, Meade is constructing a visual presentation that pulls from both his 1970s childhood and the mind-warped psychedelia of his recent music video for "P.S. Nuclear Forest Dance Boogie."
"We're still putting all the video elements together," he said. "I'm just so entrenched in the '70s and, you know, in television like Brady Bunch, Partridge Family — all the best shows we grew up with. I'm not sure what is going to fit into the show this time and what will fit into shows later on. For now, it's going to be really sort of psychedelic."
First fling
Born in Bartlesville 56 years ago, Meade grew up surrounded by music in the kind of household where an older sister might snatch baby Tyson out of his crib just so he could hear The Beatles on The Ed Sullivan Show. Not really fitting in with his oil town environment, Meade met up with fellow music obsessive, skater and guitarist Todd Walker, and throughout their teen years, Walker and Meade would play early punk songs along with The Who, T. Rex and David Bowie classics on their freshly acquired guitars. Around the time they graduated high school, Meade and Walker also graduated to writing their own songs. Defenestration was born and, at a tender age, moved to Norman.
Over the course of a self-titled EP and the 1987 full-length album Dali Does Windows, Defenestration became one of the most beloved bands in the local scene and built a reputation among national critics.
"Recorded for almost no money and released on a loan from Meade's mom, Defenestration is quirky and brilliant, a result of being far more ambitious than its means," wrote Ira Robbins in The Trouser Press Record Guide. "'Cut Your Soul in Half' has grand ideas and sprawling gothic piano; 'Slaughterville' is a showcase for Meade's Joplinesque shriek; 'Heartthrob' is a subtly written and beautifully melodic discourse on the politics of being an outcast."
Meade and Walker had a falling out after Dali Does Windows; Walker went on to a solo career and now plays in Locust Avenue. Meade, then working at Shadowplay Records on Campus Corner, met guitarist Trent Bell at the store, creating the core of the Chainsaw Kittens lineup that would eventually include bassist Matt Johnson and drummer Eric Harmon.
While Defenestration was comparatively straightforward in its indie sensibility, Chainsaw Kittens came on like a revenge fantasy for the weird kids in class. Meade sang frankly about LGBTQ+ emotions and life in the margins while dressed in thrift store drag, and as 1990's Violent Religion began to circulate, Chainsaw Kittens became your favorite band's favorite band, opening for The Smashing Pumpkins on the Gish tour and Meade showing up in the pages of Rolling Stone with Iggy Pop.
Even though 1992's Flipped Out in Singapore and 1994's Pop Heiress became cult favorites, Chainsaw Kittens did not ascend the alternative rock Olympus like many of their patrons, even when Ethan Embry wore a Kittens T-shirt throughout Empire Records. After moving from Mammoth Records to James Iha and D'arcy Wretzky's Scratchie Records, Chainsaw Kittens still did not break through, and after 2000's The All American, the band closed out its decade together.
Meade spent the next two decades expanding his artistic reach as a writer and painter. While he took a multi-year break to teach English in Shanghai, China, Meade has performed more frequently in recent years, even reuniting with the Kittens for a 2008 Norman Music Festival slot and an Opolis anniversary party in September 2017.
Harmon died less than a month later. While the upcoming Tower Theatre show finds Meade in a reflective mood, he said it is unlikely that the show will include a semi-reunion of Chainsaw Kittens. Instead, Helen Kelter Skelter will bring Robbing the Nuclear Family to manic life.
"I don't think it's going to happen," Meade said. "It's still been so hard for us without Eric."
Yet the more Meade talked, the more it seemed possible. If it were to happen, he said, the stand-in on Harmon's drum riser would have to be someone with a tight connection to Harmon, both stylistically and personally.
"If we find a drummer to play with us, it would have to be somebody who has a connection to the period," he said, "a connection to the band. And you know, there's only a few people like that. And you know, obviously Steven Drozd is one of them."
Whether or not the reunion takes place, Meade said he felt this concert will serve as a bridge between his past and his Nuclear present, and one element will start his future with appropriate flamboyance and audacity.
"I have this one section that I think is going to be worth the admission for this," Meade said. "Like, the strings and the drums and the bass will start out and then everybody will come in and everybody will be on stage. Everybody. Then Helen Kelter Skelter will just walk up and start playing — just jump into the song. And the drums will kind of switch and everything. So I have it in my head like, 'OK, this is how I like it.'"
Tickets are $10-$25. Visit towertheatreokc.com.