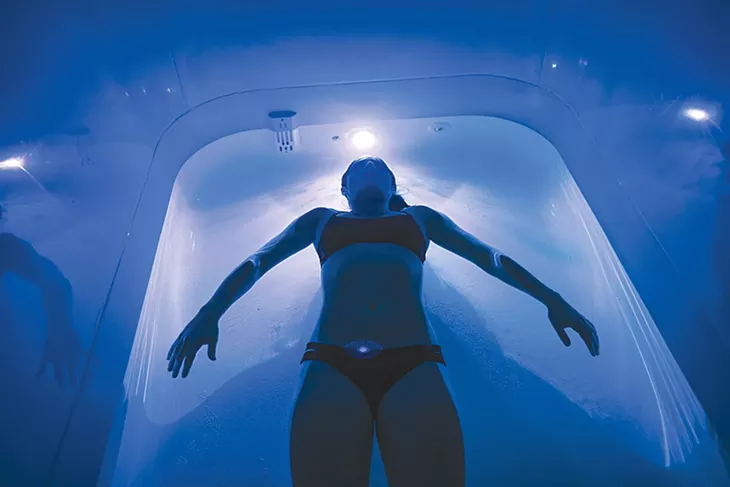 It's an hour, or sometimes more, of nothing — no light, no sound, no hot or cold sensations, no feelings; just floating.
It gives clients inside the water pods an escape from stressors, pain or problems and has proved popular in Oklahoma City.
Float OKC, the only floating sensory-deprivation therapy studio in the metro area, opened its doors nearly two years ago and offers one-hour sessions. The company will soon open a second location in Norman.
"We were having to turn people away from floats, especially on the weekends," said owner Neal Smock. "We were booking out pretty far in advance."
The current location at 180 W. 15th Street in Edmond features three floatation tanks. In each tank, 10 inches of water is set at exactly 93.5 degrees so that it feels neither hot nor cold to skin, which is approximately the same temperature. Each tank has the equivalent of 900 pounds of Epsom salt in it, making the water dense so guests can float effortlessly. Each room is darkened and soundproofed to ensure no distractions during the experience.
In essence, that's all there is to it; clients feel weightless and shut out from the world. However, the emotional and psychological experience is more than just the restriction of stimuli.
"The feeling you get from a nice float is really hard to describe," Smock said. "We've had some people just say, 'Well, that was quite an experience.' But that's usually the least amount people will say. The level of relaxation you can feel can almost be life-changing."
When the Edmond studio opened in 2015, Smock said, its first converts were typically just those who were curious.
Often, people with from post-traumatic stress disorder, anxiety or just everyday stresses found the floats a welcome escape. But Smock said those who found relief from chronic pain became evangelical in their praise for Float OKC.
"By far, the people who seek us out are looking for help with stress and anxiety and mental overload," he said. "They may leave a float and feel like a weight was lifted but not say too much about it. When people have pain relief, they are surprisingly vocal about how floating is helping them."
Epsom salt has properties that give sore muscles relief, so it's no surprise to Smock that floats help with aching joints or back pain. The lack of stimuli has also helped customers who said they experienced regular headaches.
It gave Deb Luczycki a level of relaxation she couldn't find during a spa massage.
"When I'm in a room, naked with a stranger (during a massage), there's just part of my brain that doesn't allow me to relax," she said. "This is like a massage without a person. You're able to relax every muscle in your body."
Luczycki said she has neck and upper back pain and remembers the relief that her float months ago gave her. She has another booked, and now that the business will open in Norman, where she lives, she plans to purchase a membership.
While most people enjoy floating for an hour, some clients have wanted to float longer, Smock said. About 15 percent of customers book two sessions back-to-back, and occasionally, customers sign up for multiple hours.
"There is kind of a spiritual side to the experience," Luczycki said. "You just let yourself go. You don't feel like you're even in your own body."
Print headline: Growing calm, Edmond's Float OKC announces it'll soon open another sensory-deprivation therapy studio.