Strain name: DJ Short Blueberry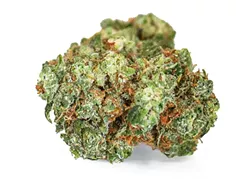 Grown by: Savage Farms
Acquired from: Mr. Mack's Cannabis Co.
Date acquired: Aug. 13
THC/CBD percentages: 20 percent/0 percent (per F.A.S.T. Laboratories/Research)
Physical traits:
light green with a moderate amount of trichomes and dull orange stigmas
Bouquet: earthy with a distinct hint of blueberry
Review: DJ Short Blueberry is one of those strains you have heard tell about over the years but were not likely to encounter, especially not in Oklahoma's pre-medical days. Breeder DJ Short reportedly crossed the landrace strains of Afghani and Purple Thai to breed the original California phenotype. It was not until earlier this year that I actually started finding strains that actually smelled like their namesakes, but this is one of them. The taste is excellent as well, with a nice even smoke. The physical effects of this indica were rather intense, which wobbled me a bit the first time I smoked it and then quite a bit on the second round. The high was a little stranger physically than I am accustomed to and lasted longer than average as well. Because of that, I would not recommend it if you need to be active. It was definitely better suited for my 11 p.m. excursion than the one at 5 p.m., but it's definitely worth checking out for its exotic smell and taste.
Cannabis effects vary wildly from patient to patient based on a multitude of factors, including THC tolerance, brain chemistry and personal taste. This review is based on the subjective experience of one patient.