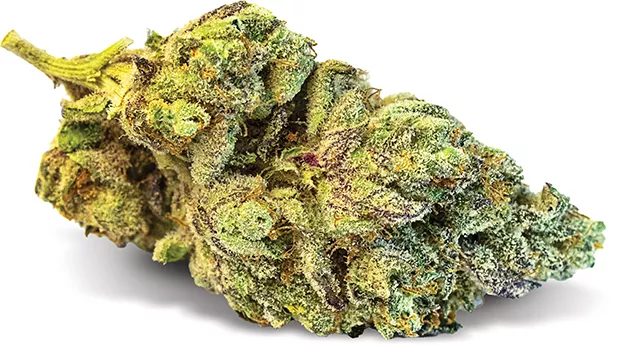 Strain name: Gelato Cake #1
Grown by: Purple Tangie Cannabis Co.
Acquired from: Eden Rose Dispensary
Date acquired: Dec. 18
THC/CBD percentages: 19.45 percent/.85 percent (per Oklahoma Compliance Testing Lab)
Physical traits: light green with purple, few stigmas, frosted with trichomes
Bouquet: earthy and gassy
Review: You already know what you are getting into just from the sight and smell of this one. The pungent aroma will literally fill a room, and the nugs are light but incredibly frosty. This is the strain that not only took second place in the Oklahoma High Times Cannabis Cup for indica flower, but also took first place for indoor and won the grand champion flower at Cowboy Cup. Those honors are certainly deserved, as this one ranks up there with the most potent cannabis I have had to date in the Oklahoma cannabis market. I had been smoking quite a bit in the week leading up to sampling this one, and it still hit me like a sledgehammer. The effects were as loud as the scent and lasted an incredible length of time as well. While my personal tastes are more predisposed to the eponymous Purple Tangie strain, this is an excellent heavy indica. I would use this one for intense pain, getting some sleep while ill or to quell powerful insomnia, but for people who like that "stoned" feeling in their waking hours, this will be a favorite.