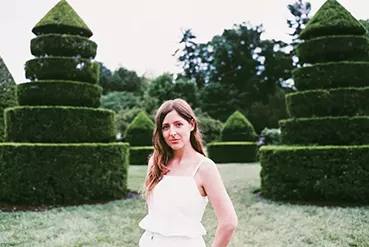 Kelly Giarrocco / provided
Molly Burch is scheduled to perform Nov. 7 at the Academy of Contemporary Music at the University of Central Oklahoma's Performance Lab.
Molly Burch's debut was inspired by a devastating breakup and featured the subject of most of its songs on lead guitar, but she said recording the follow-up was even more difficult. Songs such as "Downhearted," "Please Forgive Me" and "Torn to Pieces" from Burch's first album Please Be Mine detail intense heartbreak and loneliness, but by the time she recorded them with guitarist Dailey Toliver, the two had reconnected musically and romantically.
"We broke up, we got back together," Burch said. "I had written that entire album and we got back together and then started playing in Austin as a duo."
A verse from "Fool," for example, confesses: "Truth be told, I feel crazy / For ever thinking you were mine / Every day feels so hazy / Will it get better with time?"
Some of the personal revelations in the songs still felt raw when Burch and Toliver began playing them together, she said, but the repetition of rehearsing and performing them helped dull the edges.
"I think when I first showed him the songs, there was a lot of emotion behind it," Burch said, "but now we are so used playing them, we've definitely moved past that, and now they are just songs that we play and don't really think about it."
Burch is scheduled to perform Nov. 7 at Academy of Contemporary Music at the University of Central Oklahoma's Performance Lab, 329 E. Sheridan Ave., in support of her latest album, First Flower, released in October. Despite the romantic complications surrounding her previous record, which drew favorable comparisons to Angel Olsen and Dusty Springfield, Burch said the creative process for First Flower felt more difficult.
"I would say it was more intense, just because I had never written like that before," Burch said. "My first album I wrote over the course of a couple of years and had been playing them live, and we recorded the album really fast over a couple of days, and for First Flower, I wrote all the songs last fall and had a whole new band setup and took a little more time in the studio."
The chorus for the album's title track repeats the phrase "You are my man," and its final verse concludes, "Just like the first flower that blooms in spring / To me you are, you are my everything / I like the way you hold me / Hold me, don't let go / You don't have to tell me, baby / I already know."
The more melancholy "Next to Me" paints a less rose-colored picture of a long-term relationship. This time out, Toliver — the only musician to play in Burch's backing band on both albums — was there to help write the songs, but that wasn't the only change for Burch.
"First Flower, it was a new experience having this intention of writing an album," Burch said. "I also had just gone through so many changes before writing it, like signing to [record label] Captured Tracks and touring a lot and all these new experiences. I had moved to a really small town south of Austin, so I was coming from the extreme overstimulation of touring, and then I was in this new situation of being very isolated. So I was definitely dealing with a lot of anxiety and uncertainty about writing this album."
Burch's anxiety comes through in songs such as "Dangerous Place" and "Good Behavior," which protests, "Do you see that I'm trying? / It can be tough when things keep changing / One day I'm there and then I'm not."
provided
First Flower by Molly Burch
High anxiety
Burch, who grew up idolizing singers Billie Holiday and Nina Simone and studied jazz vocal performance at University of North Carolina in Asheville, said she originally suffered from stage fright but singing itself has stopped being a source of her stress over time.
"I used to get intense performance anxiety to the point where I just couldn't do it, and now, since I've had many years of experience — I went to college for performance — it takes a lot for me to get super nervous," Burch said. "I don't really have performance anxiety anymore, but that took many years to get over. But now it's more day-to-day anxiety, social anxiety. I'm just a really anxious person."
After hearing people tell her that Please Be Mine helped them deal with their own heartbreak, Burch wanted to be equally open about her social anxiety.
"I really wanted to touch on that a lot because it's something that I deal with, and I always have," Burch said. "It was something that I was dealing with a lot while writing it, so it kind of made sense at the time. I just ultimately wanted to have this album have a more positive, hopeful tone, but also be just as honest as my first one."
When Hurricane Harvey hit Texas in August 2017 and thunderstorms stranded them in their former home in rural Lockhart, Texas, Burch said she and Toliver saw an opportunity to shut out the pressures and distractions of the outside world and focus on First Flower.
"I think because I had so much time on my hands and I was pretty isolated, I was able to get into a groove a bit," Burch said. "I think it was just super-cozy to know that we couldn't leave our house. Sometimes I can procrastinate, especially when I have no one telling me that I have to do something. So I think that was a nice time to just really push ourselves to do it. … There was a sense of urgency."
While Burch felt pressure recording her follow-up, the album itself captures the laid-back feel of the older jazz ballads and musical soundtracks Burch said she loves for their "chiller vibe." But Burch, who said she also loves Ariana Grande, Rhianna and Empress Of, brings her own style and perspective to the music. As she sings in "To the Boys," "I'm not a quiet singer / But I'm a quiet talker / They tell me to be louder / No, I won't even bother / That's not my style / I don't need to scream to get my point across / I don't need to yell to know that I'm the boss / That is my choice / And this is my voice."
Avant-garde folk act Seph(ra), fronted by UCO lecturer Sephra Scheuber, is scheduled to open the concert, and performances will be followed by a Q&A with Burch. Tickets are $10. Visit acm.uco.edu.