Provided
Flying Jenny was partly inspired by Theasa Logan Tuohy, the author's mother.
Late 1920s America is brought to vivid life on the pages of Flying Jenny, a historical novel by Oklahoma-born writer Theasa Tuohy.
The book, published in May, captures both the exhilaration of early flight and the rough-and-tumble world of New York journalists, through the eyes of two young female protagonists. The women embark on a barnstorming adventure across the U.S., which lands them eventually in Oklahoma.
One character is Laura Bailey, a tough, quick-witted journalist at a New York City newspaper. The other is Jenny Flynn, a small but spunky Oklahoma City pilot whose high-flying stunts are drawn from the real-life exploits of female pilots of the era, including Theasa Tuohy's own mother, Theasa Logan Tuohy.
"A lot of the stories I heard as a child are in there in one way or another," Theasa Tuohy said.
Born in Texas but raised in Oklahoma City, Theasa Logan Tuohy learned to fly from Roy Hunt, a well-known Oklahoma stunt pilot. Theasa Tuohy said her parents were friends with many other postwar pilots, and her mother got her pilot's license mostly "for the fun of it."
Hunt tried to teach Theasa Logan Tuohy flying tricks, but she was reluctant.
"She was so tiny that she had to fly with a pillow behind her," Theasa Tuohy said. "And she always said she worried that she would fall out when they were flying upside down."
Like Theasa Tuohy's mother, the character Jenny Flynn uses a pillow to keep herself inside the cockpit during her stunts. The character (named after an aunt in her family) also wears pants, just as Theasa Logan Tuohy wore Jodhpur breeches and boots, which was unconventional for the period. And the World War I-era plane Jenny Flynn flies in the book is a Curtiss JN-4 — colloquially known as the "Jenny."
Other moments of aviation history also make their way into Flying Jenny.
For instance, in the novel's opening chapter, Jenny Flynn impresses Laura Bailey and other New York City onlookers with a dangerous stunt, flying under all the East River bridges.
The real-life inspiration for this sequence was young pilot Elinor Smith, who pulled off the same flight in 1928. Smith was 17 years old, and she later told The New York Times in an Oct. 22, 1928, interview that the stunt was "easy."
Theasa Tuohy said she set her book in 1929 because that was the year of the first women's transcontinental air derby, a race humorist Will Rogers jokingly called the "Powder Puff Derby." It was an exciting time full of new opportunities for female pilots.
In fact, after the derby, pilots Amelia Earhart and Louise Thaden decided to form a professional aviator organization, inviting all female flyers at the time to join. After 99 members signed up, the group named themselves the "Ninety-Nines." Today, the Ninety-Nines has its international headquarters in Oklahoma City.
As one of the few female pilots of the era, Theasa Logan Tuohy was invited to join, but she declined. Theasa Tuohy said her mother remained proud of her accomplishments and joined the organization later in life. She was buried with her Ninety-Nines pin.
Inspired women
If these two female pilots inspired the character Jenny Flynn, then Theasa Tuohy's own background as a reporter and editor certainly informed the creation of Laura Bailey.
Theasa Tuohy spent several decades working at various news publications, including The Star-Ledger in Newark, New Jersey (where she was the first woman on the copy desk); The Detroit News (where she was the first female assistant city editor); and the Associated Press.
She said, much like Laura Bailey, she often faced setbacks and criticism as a woman in a male-dominated field.
"Well, when I was hired, for example, at Newark," Theasa Tuohy said, "the only reason I got the job was the guy was desperate. Somebody had just quit, and he didn't have someone to fill a spot on the copy desk. And they'd never had a woman there. So when I interviewed, he was like, 'Well, I don't know. I'll let you try for a week and see if you can do it.'"
Journalism is a strong foundation of Theasa Tuohy's fiction work. Her first novel, The Five O'Clock Follies, also follows a female reporter working as a war correspondent in Vietnam.
The period setting in Flying Jenny required exhaustive research, which Theasa Tuohy said she enjoyed as much as the writing process. Her digging led to fascinating discoveries of often-overlooked historical facts.
For instance, research into Ponca City and Pawhuska history took her to the famous 101 Ranch, where popular Wild West shows were staged, as well as to the Reign of Terror murders in the Osage Nation in the 1920s. One character in Flying Jenny even learns they might have some connection to this part of Oklahoma history.
Theasa Tuohy declined to discuss that particular plot point, not wanting to spoil one of the book's surprises for readers.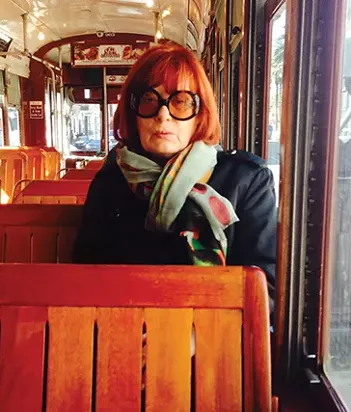 Provided
Author Theasa Tuohy was inspired by her aviator mother Theasa Logan Touhy and trick aviator Elinor Smith.
She said she was also delighted to learn about a Ponca City stunt performer at the 101 Ranch who, in 1928, attempted to climb out of an airplane, down a rope ladder and onto the back of a running Brahma bull. The plane crashed in a field, but the pilot and performer survived. A similar scene made it into Flying Jenny.
"There's crazy stuff throughout the whole book like that," Theasa Tuohy said. "And it's all true; it's all based on fact."
Despite her career taking her around the country, Theasa Tuohy sometimes travels back to her native Oklahoma City. She held a book signing at the Ninety-Nines' Museum of Women Pilots on Aug. 25.
Museum manager William Long acknowledged the depth and influence of Theasa Tuohy's writing.
"Ms. Tuohy's book is impactful for this generation to see what life for an aviatrix was like back in the 1920s and 1930s," Long said. "While the characters are fictitious, the events are real. These stories are an inspiration for future women pilots."
Theasa Tuohy said she believes her readers have "a lot of fun" with her work and hopefully experience the same amazement she felt while learning about and researching aviation history. The spirit of the work, she said, comes from a personal place and grew out of the relationship she had with her mother.
"And the characters are very real because they're very real people to me," Theasa Tuohy said. "Me and my mom, in some ways."
Visit theasatuohy.com.