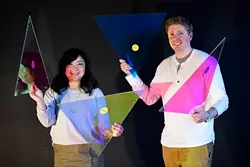 Garett Fisbeck
Anh Weber and Adam Edge with dichroic film on acrylic, used to create a faceted fabric, at HSE Architects.
Focus on Home provides beds, tables, curtains, couches and other furnishings to help complete the transition from homelessness. To raise money and awareness, the Oklahoma-based charity hosts its first Design Appétit event March 31-April 2 at Cox Convention Center, 1 Myriad Gardens. Nine design and architecture teams are creating vignettes — stunning, immersive dining spaces — for guests to explore.
During the Divine Dining Gala, different chefs serve menus reflecting each of the one-of-a-kind dining tableaus. Participating chefs include Kevin Lee of Vast, Allison Dake of Brown Egg Bakery, Scotty Irani of In the Kitchen with Scotty, Henry Boudreaux of Museum Cafe and Top Chef contestant Joshua Valentine. It starts at 6 p.m. Tickets are $250.
The spaces will be open for public viewing for a $10 donation 10 a.m.-6 p.m. April 1 and 10 a.m.-4 p.m. April 2.
The event wraps up 7-11 p.m. April 2 with Cocktails by Design, which presents the vignettes along with bites from local restaurants, cocktails and music by DJ Saad. Tickets are $50, or $90 per couple.
Throughout the event, Focus on Home will open Art Mart filled with Oklahoman-made pieces for sale.
HSE Architects interior designer Anh Weber said each team is doing its best to keep the final look of the spaces a secret, preferring to dazzle and excite visitors upon their arrival.
Focus on Home founder Joli Sanders said the goal is to create an annual event that stands apart from the normal cocktail hour fundraiser with a band and a silent auction.
"We work with people's homes, so it makes sense to get designers involved," she said.
After people buy dinner tickets, Sanders said, they are contacted by Design Appétit to be matched with a table they'll enjoy. That's also Focus on Home's goal.
"We have different partnering agencies that send people to us. The case workers, when they are working with a family transitioning out of a homeless situation or people living in extreme conditions without any furnishings, they come to us," she said. "We help people who need that final step to create a home."
Using a combination of donated funds and gently used furnishings, Focus on Home can "move in" a family for about $500. Since last year, the group has helped about 50 families, and almost all ask how they can help the next family on the list.
The organization seeks volunteers to help with lifting and decorating or refurbishing wood or upholstered pieces. Find tickets at designappetitokc.com.
Print headline: Big Appétit, Focus on Home's new fundraiser pairs food, interior design and a helping hand.