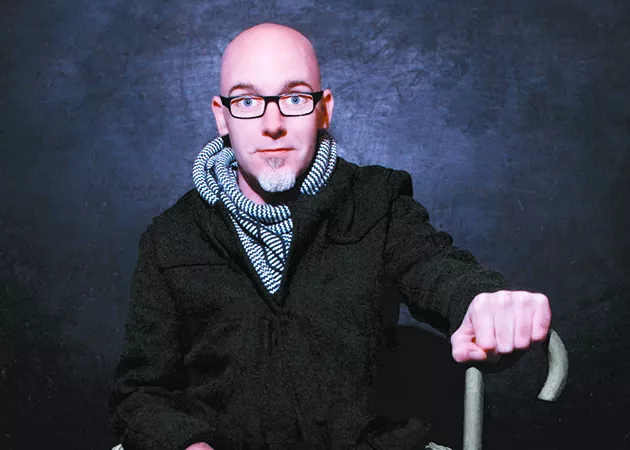 provided
Stand-up comic Matt Davis brings his BadFamiliar tour to Oklahoma City 8 p.m. June 14 at The Paramount Room.
After touring the U.S. for nearly 20 years, stand-up comic Matt Davis began performing in other countries and realized he was not saying as much as he thought he was.
"I got to a point where I was writing material about stuff that I didn't feel confident I could say, if that makes sense," Davis said. "They were my opinions, but they were based on too much conjecture. I just felt like to have something that I genuinely wanted to say, I had to have the challenge of trying to be able to do that material in as diverse an area as possible. Basically, the perspective that's built by just me working in the US and Canada and a little bit abroad wasn't enough. I needed to test it against other things."
Davis stops in Oklahoma City on his BadFamiliar tour 8 p.m. June 14 at The Paramount Room, 701 W. Sheridan Ave. Davis, who visited 30 countries in 13 months on his previous tour, said OKC is one of only three U.S. cities — along with New York, Seattle and Birmingham, Alabama, where his comedy career began — he will visit before he takes BadFamiliar to Edinburgh Fringe Festival in Scotland. His goal is to "build an hour of comedy that works all over the world … something that is universal without it being stereotype-driven or pandering." Performing around the world made Davis realize the abundance of "stuff that we see as comedy, we treat as comedy, that is essentially just group-belonging tests."
"If you're trying to make a joke about something and it's, 'something, something Beyoncé,' or 'something, something NFL football,'" Davis said, "those laugh points, really, are just showing us that we all know what we're talking about. It's like you're playing a referential game, the same way puns work. What makes a pun function is that the person you're telling the pun to knows both uses of all the words involved in the pun, so it becomes an adherence test to language, to the fact that we know these things. You tell a high level of vocabulary pun to a 7-year-old and they don't get it because they don't know those words yet. You also can't translate a pun. You can't take a pun in English and make it work in Mandarin, barring a few examples. Generally speaking, you can't translate it because there's nothing to translate — it's just a game that you're playing. But when you have material that becomes dependent on a very similar game, you also can't translate that. You can't translate it, languagewise, from English to Mandarin or from Spanish to German, but you also can't translate it socially and culturally. So you can't take that and then do it in Poland to a native Polish audience that happens to know English because they don't know what the hell you're talking about. You have to bring them completely up to speed on what you're talking about for it to be funny, but if the payoff is just essentially for you to wedge in some reference in the same way that you would wedge in a pun, of course, it falls apart. It's the old 'If you have to explain it' thing."
Discovering he could no longer rely on cultural and geographic references for easy laughs made Davis concentrate on the actual message he was delivering to the audience.
"I started becoming more focused on what is being communicated ... what is the subject of the bit," Davis said. "If that is funny, if that is revealing something, whether it be about my own shortcomings or my own inabilities or my own misconceptions, by building material around that … it can be communicated from place to place, it can be communicated, theoretically, from language to language because what is underneath is fundamentally what is funny."
While certain topics seem to relate to almost everyone, Davis said he prefers making his act more individual to his own experiences.
"There are the obvious human condition things, right?" Davis said. "You can always talk about, and I don't, but you can always talk about sex-related things at different levels of taboo. You can always talk about relationship stuff and family things; those things are very universal around the world because you're touching on the human condition. Things like death, having children, difficulties in relationships, things can be built around those topics always. I don't touch on that. Mine is more personal narratives … where I'm just kind of stumbling through these things, so if I'm talking about language, I'm talking about my inability with language and my difficulties with it … or my view of homogeneity in society and that constant push to homogeneity that occurs and how I see that from place to place and what that means to me, and then what I take away from that."
Davis, who said his shows used to be flagged with content warning signs when he discussed gay marriage in Birmingham, was recently surprised to discover that his admiration for the diversity of cities such as Shanghai, Istanbul, Cape Town, Amsterdam and Toronto has become a controversial topic in the U.S. and other parts of the world.
"When I was talking about that, say, a few years ago, people would just kind of nod along," Davis said. "People were like, 'Yeah, sure, the diversity of people in a place is a good thing.' And it could just be that the thoughts were always there, I'm sure, but the fact that that is a political statement is strange to me. ... In Poland, that's a very political statement. Certain parts of Germany feel it's a political statement. Spain definitely does. In Portugal, people didn't give a shit. They get it. In Cape Town, South Africa, people don't feel it's a political statement. You're just describing the community around them."
Wherever he performs, Davis said, a common topic for local comics seems to be the superiority of wherever he is, a phenomenon he calls 'people over there syndrome.'"
"They will make fun of a town that's outside of the town you're in to contrast it against, and the people over there are always idiots, right?" Davis said. "It's a multi-thousand-year-old trope, but … you're not really saying anything. All that you're doing is saying, 'We're not the people over there,' and then we all cheer and applaud and laugh at this, because, 'Haha, fuck them. We're not. We're over here. Look how great we are.' What does that even mean?"
Local comics Justin Keithley and Tyler Spears are scheduled to open. Tickets are $8. Visit facebook.com/okccomedy.