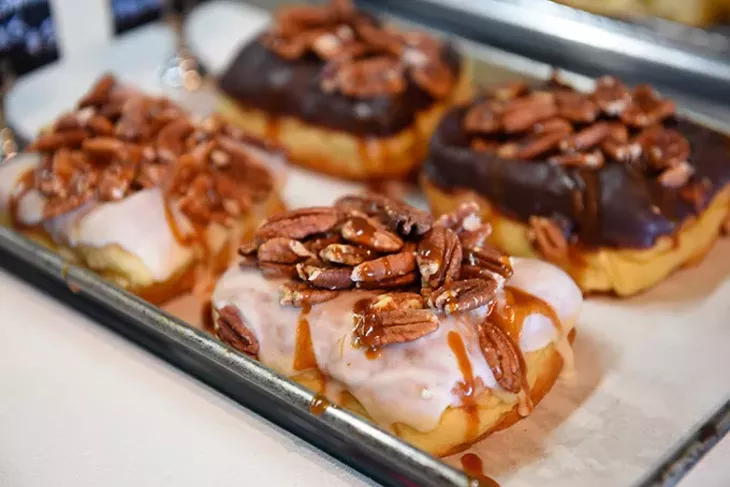 Belle Kitchen caramel pecan doughnut | Photo Garett Fisbeck / file
Bakery buzz
Belle Kitchen owner Cheryl Davenport is abuzz about the online accolades her restaurant receives. Earlier this month, Buzzfeed.com's The Best Doughnut Shop in Every State list named Belle Kitchen home of Oklahoma's best doughnuts.
Davenport, who used her experience as a science teacher to perfect her dough recipe, said she is "super jazzed" by the honor.
Belle Kitchen, 7509 N. May Ave., also recently opened a Deep Deuce location at 30 NE Second St.
Though it was doughnuts that landed the eatery on Buzzfeed, the shop is also known locally for experimental ice cream flavors and gourmet macarons.
Visit belle-kitchen.com.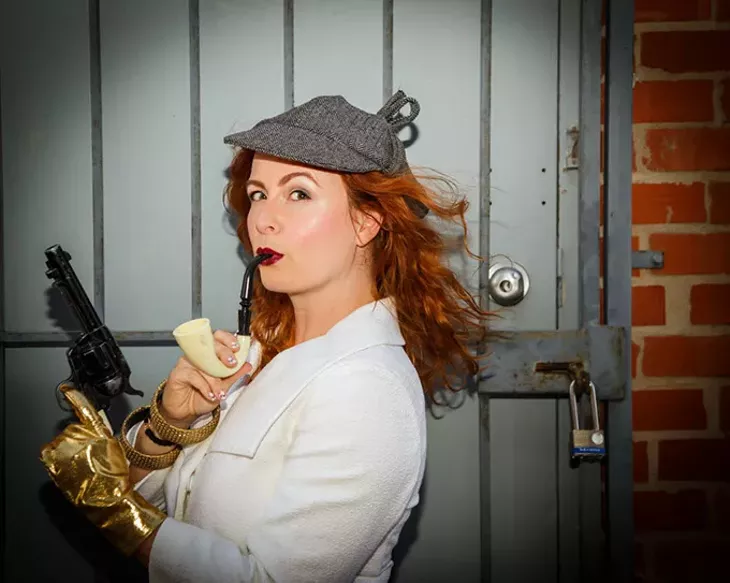 Photo Terri Took It Photography / provided
Crime time
Whodunit Dinner Theater joins Waters Edge Winery and Foodie Foot Tours for wine and murder 6 p.m. Nov. 3 at the winery, 712 N. Broadway Ave.
Whodunit performs Victim of Retirement, a tale about a love triangle gone wrong at Sunnydays Retirement Village. Tickets for the 6 p.m. show and dinner with Foodie Foot Tours are $60, available at foodiefoottours.com. Guests will tour Automobile Alley with cocktails and appetizers at Sidecar Barley & Wine Bar, 1100 N. Broadway Ave., and a dinner sampling at Broadway 10 Bar & Chophouse, 1101 N. Broadway Ave.
Guests who want to skip dinner can purchase show tickets for $27 with a 7:30 p.m. start time. Those tickets include two glasses of wine or equivalent bar drink from Waters Edge.
Visit whodunit.net or call 405-420-3222 for tickets.
Wine time
Napa Valley Then & Now author Kelli A. White visits Oklahoma City on Saturday for a wine dinner hosted by Thirst Wine Merchants with food from local guest chef Kurt Fleischfresser.
The recently published book covers the history of the people in California's Napa Valley and explores the various wines produced.
The dinner 6:30 p.m. Saturday at the downtown Petroleum Club of Oklahoma City, 100 N. Broadway Ave., includes a signed copy of the book and a sampling of Napa Valley wines, including Blackbird Vineyards Arriviste rosé, Lail Vineyards Blueprint Sauvignon Blanc and Vineyard 29 CRU Cabernet Sauvignon, with a five-course meal prepared by Fleischfresser.
Tickets are $99 plus tax and gratuity. Call 405-232-1184 or email vj@petroleumclubokc.com for reservations.