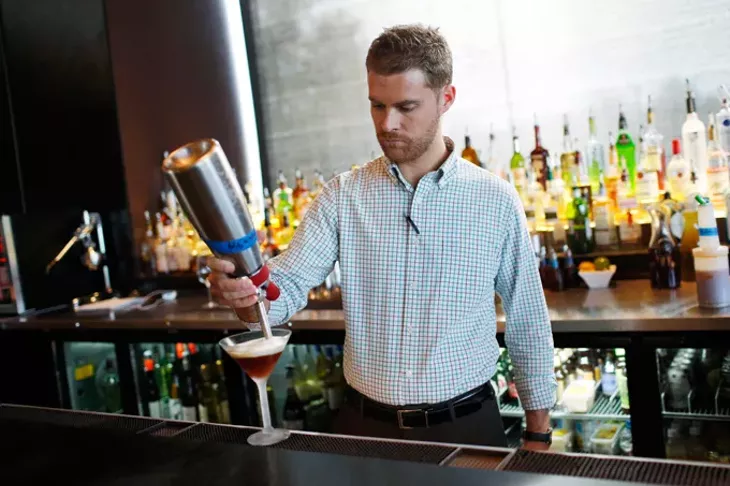 Garett Fisbeck
Ryan Young, bar manager, at Cafe 501 in Oklahoma City, Tuesday, Nov. 10, 2015.
Fair-ly wonderful
Continuing its run of captivating cocktail dinners, Cafe 501 is taking diners on a trip to a very upscale version of the fair.
Even as Oklahoma State Fair begins its 10-day run of rides, competitions and food, the Edmond location of Cafe 501, 501 S. Boulevard, is putting on a State Fair Inspired Dinner Sept. 15.
Usually an opportunity for the bartenders to strut their stuff with new twists on a favorite liquor, this $49 ticket will take customers on a rollercoaster of gourmet takes on fair favorites.
Courses include a beef slider with a porter shandy, a tenderloin corndog with a mule and an Indian taco-inspired tamale with a kettle corn old fashioned before finishing the evening with cornflake fried ice cream and a funnel cake martini.
501 Edmond general manager Ryan Young, former bar manager for the Classen Curve restaurant, said he's in charge of making the cocktails for the evening.
Cafe 501 Classen Curve, 5825 NW Grand Blvd., will follow up on the same theme Sept. 20 with an extra course and cocktail pairing for $59 each.
The restaurants' "dine at your own pace" dinners require reservations but allow diners to show up throughout the evening rather than at a set time.
Call 405-359-1501 to reserve a spot at the Edmond dinner or 405-844-1501 for the Classen Curve dinner.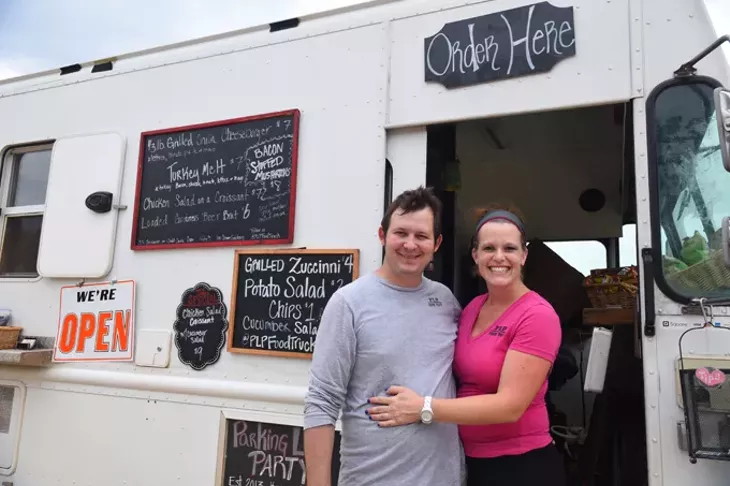 Mark Hancock
Kenny and Maggie Ketron with their food truck, PLP-Parking Lot Party.
Breakfast battle
Starting Sept. 12, local mobile cuisine lovers can test out a recipe created by Parking Lot Party (PLP) Food Truck as part of the Thomas' Breakfast Battle.
Fifty food trucks from across the country will compete to create the best breakfast recipe using Thomas' English muffins or bagels, including the Loaded Avocado Bagel Bowl from PLP owners Kenny and Maggie Ketron.
The sandwich-centric food truck will be at The Patriarch, 9 E. Edwards St., in Edmond Tuesday and Sept. 17 for customers who want to try the dish.
Starting Sept. 12, visitors to thomasbreakfastbattle.com will be able to vote for their favorite. If PLP receives enough votes, the truck could move on to the next round of competition in which 25 trucks face off in another challenge.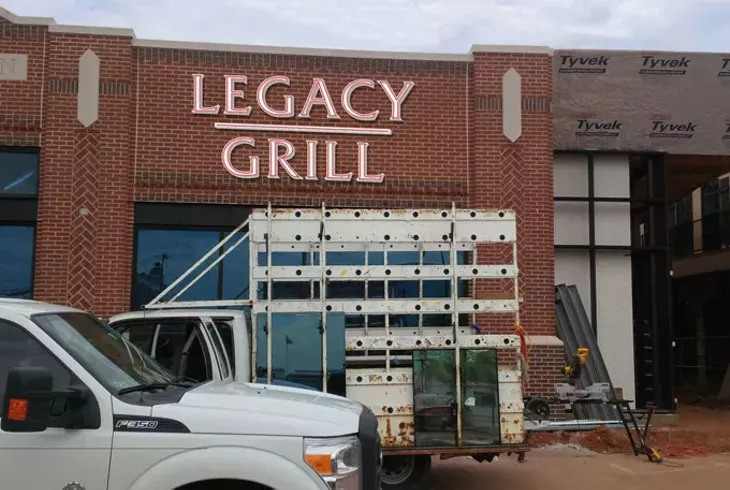 Dallas Brewer
Title Block Future Red
Slam dunk
It turns out there was someone thinking about Kevin Durant's departure from Oklahoma City well before he signed with the Golden State Warriors: Kd's Southern Cuisine co-owner Hal Smith, chairman and CEO of Hal Smith Restaurant Group.
"When Kevin and I got together and decided to open up Kd's, I was fully aware that he might not be in Oklahoma City forever," said Smith.
That might explain the speed with which the restaurant is pivoting away from Kd's to the new name and concept Legacy Grill, 224 Johnny Bench Drive.
"I think it's a pretty neat concept," he said. "It's a restaurant that will be a premiere destination for people who want to enjoy Oklahoma history and Oklahoma food."
Smith is working with the Oklahoma Hall of Fame and said the restaurant will be decorated with classic photos of people who made a lasting impact on the state. As he has been going through the photos, he said he has been reminded of so many individuals who "made Oklahoma what it is through the years."
It won't be available at opening, but Smith said he's going to put together an A-Z book of the people featured in the restaurant with information about their impact on the state.
The turnaround from Kd's to Legacy Grill is a quick one at just 45 days, but Smith said the restaurant can pull it off because of great leadership from managing partner Nathan Couch and by keeping so many former staff members onboard.
"During that time, we've been paying employees who want to stick around, so we'll reopen with a lot of the same group," he said.
The menu will change a little, but not a lot. Legacy Grill will keep fried catfish, chicken-fried steak, meatloaf and shrimp and grits for customers but will also add a new linguine Smith's mother used to make and a pan-seared tilapia he has been taste-testing.
After Legacy Grill opens Sept. 12, the restaurant will be open seven days a week for dinner. It will be open for lunch on Friday and Saturday and brunch and lunch on Sunday.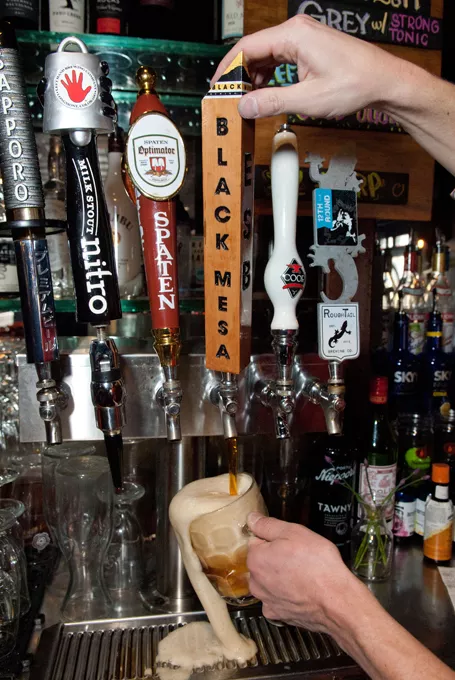 Beer Park
Theron Jessop considers himself a craft beer lover, so he jumped at the chance to create a menu for an evening of Black Mesa Brewing Company beers with paired courses.
Jessop, chef de cuisine at Park Avenue Grill in Skirvin Hilton Hotel, 1 Park Ave., will cook for Oklahoma Brews Beer Dinner 6 p.m. Friday at the restaurant.
"They brought us samples over, so we got to taste them, of course," he said. "I started working with the lighter beers and then through the heavier, richer beers. I kind of went crazy on this menu, because it's stuff I like to do and I get to have free reign."
That means a course pairing Black Mesa's Altbier, a light, longer-aged beer, with sea urchin.
"I'm really excited to get to use that," he said. "The purveyor is getting it for me live, so it'll be flown in."
For dessert, he's planning to pair the rich and slightly sweet ES-ESB (extra-special Endless Skyway Bitter) with a gorgonzola dulce with honeycomb and figs.
The dinner is $75 per person with seating cut off at 50 diners. Reservations are available at 405-702-8444.