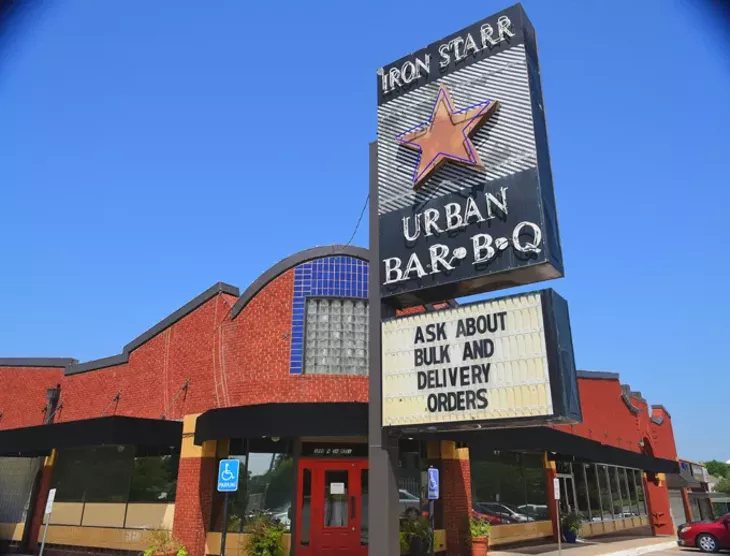 Beerbecue
OK, ladies; now let's drink our foundation. Iron Star Urban BBQ, 3700 N. Shartel Ave., hosts a tap takeover and dinner for Michigan-based Founders Brewing Co. 6-8 p.m. Tuesday.
Iron Star general manager Kimberly King said while the dinner will have barbecue elements, it's really a chef's dinner prepared around and with a variety of Founders beers.
Tickets are $49.17 and include five courses, including a passed appetizer, paired with samples of five Founders brews: All Day IPA, Mosaic Promise, Rubaeus, Curmudgeon Old Ale and Kentucky Breakfast Stout (KBS).
A chocolate-coffee stout, KBS will be served with dessert and might even be made into an ice cream beer float, King said.
Though Iron Star doesn't carry Founders beers normally, the dinner will be a proving ground for demand and could influence the restaurant to continue serving the brand.
Tickets are available at eventbrite.com.
Straight arrow
Tulsa-based Marshall Brewing Company recently rereleased its much-loved seasonal Arrowhead Pale Ale in kegs and six-packs across Oklahoma and Arkansas.
First sold in 2011, Arrowhead is an American pale ale with a light, easy-to-drink flavor and refreshing citrus notes. With a tang from hops, it's a beer specially brewed for drinking on Oklahoma's muggy, scorching summer days.
Sales and marketing director Wes Alexander said Arrowhead is good enough to be a year-round beer, but because it uses a "signature Citra hop," it's impossible to make it available outside summer months.
"We continue to find ways to stretch the season for our Arrowhead fans and this year have added about two weeks of availability on the front end of the season," he said.
Sadly, the arrival of Arrowhead Pale Ale means the spring seasonal, Revival Red Ale, is on its way out.
But Marshall is hard at work on its next seasonal brew: Oktoberfest Lager, which comes out the last week of August.
Shelling helpers
The fifth annual MS Crawfish Boil is 1-6 p.m. Saturday at Quail Creek Golf & Country Club, 3501 Quail Creek Road.
It was founded in 2012 to raise funds in honor of Jenny Pardee Golla, who was diagnosed with multiple sclerosis in 2011. It's a day of all-you-can-eat crawfish with beer, wine and live music by Ben Brock to raise funds and awareness for the National Multiple Sclerosis Society.
The event also raises money with a silent auction and raffle.
"Our annual crawfish boil is always a great event and a fun way to get our message out, and every single donation made makes a huge impact on the lives of families living with MS," said MS Crawfish Boil marketing chair Kari Ames Webber in a press release.
Tickets are $35 at the door and include beer, wine and crawfish.
Golla said raising money for the 2.3 million Americans diagnosed with MS made her feel she was taking control of the disease and making a difference.
Boss eats
James Vu (pictured), owner of La Brasa International Cuisine, 1310 NW 25th St., announced his next venture on Facebook last week.
"Well the secrets out," he wrote. "Pleased to announce the opening of El Jefe Taqueria y Cantina late 2016 early 2017."
The restaurant will move into a newly renovated space at 1101 N. Western Ave. over the next year, adding a new eatery and bar to the burgeoning area near the Classen Ten-Penn neighborhood. The Mexican-Korean taqueria concept will be located just a few blocks north of the new Revolución Taqueria + Cantina at NW Sixth Street and Classen Boulevard, helmed by Empire Slice House's Rachel Cope.
El Jefe (aka The Boss) will use a food truck outside the building as the kitchen. In addition to Korean-inspired tacos, the restaurant will serve tortas, tostadas and elote a popular Mexican street food of seasoned and sauced corn on the cob.
Happy trails
Oklahoma City-based COOP Ale Works storms the border with beer, moving into north Texas starting June 6.
To celebrate, the brewery plans fun events in Oklahoma and Texas over the next few months.
While it's exciting to expand into new markets, co-founder Daniel Mercer said COOP wouldn't be here without Oklahomans who supported the brewery for the last seven years, which is why the Trail to Texas events begin in the Sooner State.
The brewery is doing a tap takeover 5 p.m. Wednesday at Charlie's Sports Bar & Grill, 14530 Northeast 20th St., in Choctaw; an XPA release party 7 p.m. Thursday at Fassler Hall, 421 NW 10th St.; a karaoke contest and special release party 9 p.m. Friday at Chung's Korean Restaurant & Bar, 2703 NW Sheridan Road, in Lawton; a flight night with special releases 5 p.m. Saturday at The Abner Ale House, 121 E. Main St., in Norman; and dueling beer brunches with special releases 11 a.m. to 3 p.m. Sunday at Pub W, 3121 W. Memorial Road, and 10:30 a.m. to 2:30 p.m. Sunday at Pub W, 3720 W. Robinson St., in Norman.
COOP beers hits north Texas June 6 and the tour culminates at the June 11 Untapped Music & Beer Festival in Fort Worth.
COOP's popular F5 IPA, DNR Belgian-style Strong Dark Ale, Native Amber and Horny Toad Blonde will be available on Texas shelves in new six-packs with 12-oz. cans.