Janet McDonald, left, and Cindy Utecht with gift basets at their business, Gourmet Gallery, 1532 S. Boulevard in Edmond. mh
Sample sized
Both locations of fancy food finders Gourmet Gallery, 1532 S. Boulevard in Edmond and 2820 NW 122nd Street in Oklahoma City, host tasting events 10 a.m.-4 p.m. June 18 featuring Terrapin Ridge Farms foods from Clearwater, Florida.
CEO Mary O'Donnell and her team will share samples of gourmet condiments, meal starters, dressings and dessert sauces.
At the same time, the stores will host a grilling demonstration on a grill provided by American Propane. Call 405-715-3663 or 405-751-7700 for more information.
Healthy shopping
Eating right and helping others aren't mutually exclusive. Produce for Kids and Homeland grocery stores are working together to donate to Regional Food Bank of Oklahoma (RFBO).
Through June 30, when shoppers buy Green Giant Fresh, Delano Farms table grapes, Victory Garden grape tomatoes, Hass avocados and Vidalia onions, produce sponsors will donate a portion of the proceeds to RFBO.
Last year, the campaign raised more $19,000, sending food-filled backpacks home with 96 Oklahoma kids for a year.
Find recipes at produceforkids.com.
Maine Event
The state might be landlocked, but Oklahomans can taste the East Coast at The Maine Event 7 p.m. Friday at Dunlap Codding, 609 W. Sheridan Ave., on Film Row.
The fundraiser benefiting Wilson Arts Integration Elementary School features fresh lobster brought direct from Maine to the Sooner State.
Tickets are $150 or $250 per couple and include whole Maine lobsters, corn and potatoes. Dessert is wild Maine blueberry cobbler.
Other Maine delights include Sea Dog Brewing Company and Shipyard Brewing Company beers from Portland, Maine, and cocktails made with Cold River Blueberry Flavored Vodka from Freeport, Maine.
"Marc Brockhaus and I will personally fly to Maine to meet with the lobster fisherman ahead of this event," said co-organizer Mark Mann.
Wilson Arts Integration Elementary School is dedicated to fostering learning through the arts and teaching its students to think creatively, solve problems and be responsible citizens.
Tickets are available by calling 405-706-7484 or emailing nicole@epiceventsok.com.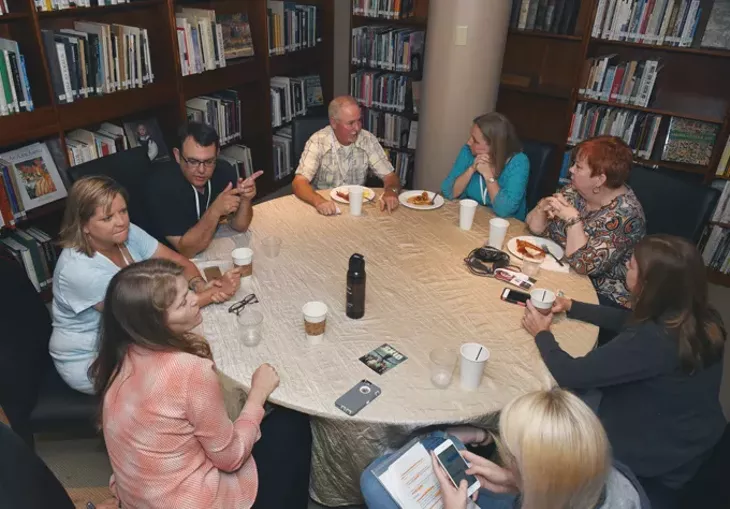 Mark Hancock
Filmmakers, panelists and interested parties enjoy the Stella Artois Waffles and Beer Brunch at the OKCMOA Friday morning during day 2 of the DeadCenter Film Festival.
Dead hungry
Viewers will get an eyeful at deadCenter Film Festival this week, but it's the filmmakers who will get a mouthful.
Friday and Saturday morning, budding movie tycoons can fill their stomachs with coffee and doughnuts at deadCenter Runs on Dunkin' Filmmaker Breakfast. The event is 9:30-11:30 a.m. both days. Friday's breakfast is at The Clark Building, 16 NE Second St., and Saturday's is at ACM@UCO, 25 S. Oklahoma Ave.
Any artists who partied too hard to get up in time for doughnuts can meet up at Stella Artois Filmmaker Brunch 10:30 a.m.-2:30 p.m. Saturday at ACM@UCO with cold beer and Knucks Wheelhouse pizza. This event is for those with filmmaker passes. deadCenter Film Festival runs through Sunday. Learn more at deadcenterfilm.org.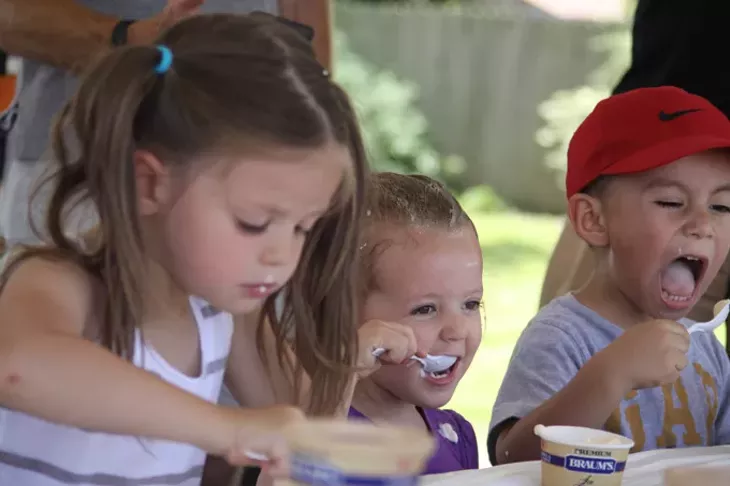 Brain freeze
Twenty-five years never tasted so sweet. Dessert lovers will descend on Tuttle for the 25th annual Tuttle Ice Cream Festival 9 a.m.-5 p.m. June 18.
Braum's Ice Cream and Dairy Stores' dairy farm is located in the city, and once a year, the community comes together to celebrate.
This year's festival includes some of Braum's new and old flavors, including Birthday Cake, Peanut Butter Cup and Chocolate Chip Cookie Dough.
"This event is a great partnership between the City of Tuttle and Braum's that began over two decades ago," said CEO and president Drew Braum in a press release.
The festival packs in rides, games and live music as well as a parade that starts at noon. There will also be a classic car show, a little league baseball tournament and a homemade ice cream-making contest. The parade begins at noon and runs from SE Fourth to SW Fourth streets on Main Street in Tuttle.
Learn more at facebook.com/tuttleicecreamfestival or by calling the City of Tuttle at 405-381-3775.
Father's Day
There are plenty of events during OKC Craft Beer Week, but Oak & Ore caps it off with Founders Father's Day Recovery Brunch 11 a.m.-2 p.m. June 19.
Featuring new menu items from chef Eric Adams and free bacon for dads, the brunch is also a chance to drink a few classic breakfast brews from Founders Brewing.
"For our food menu, we take inspiration from the great beer that we serve," Adams said. "What better way to celebrate Father's Day than with beer, bacon and breakfast for Dad?"
Oak & Ore is located at 1732 NW 16th St.