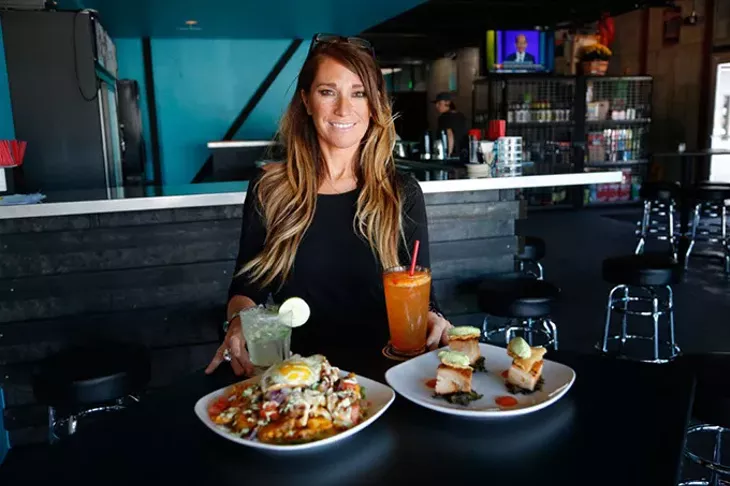 Garett Fisbeck
April Noriega, bartender, poses for a photo at Guyutes in Oklahoma City, Tuesday, Sept. 15, 2015.
Giving high
Taking a page out of S&B's Burger Joint's playbook, gourmet stoner food emporium Guyutes, 730 NW 23rd St., launches Helping Friendly Tuesdays April 12.
Helping Friendly Tuesdays is a program to "share the love" and give back to the community. On the second Tuesday of each month, 10 percent of sales (excluding tax and tips) go to local nonprofits.
"We have had such great success in getting to know so many great people and organizations, and we look forward to getting involved and giving back to a community that has helped us grow over the past six months," said co-owner Wayne Perotka in a media release. "Also, what better way to fundraise for your organization than eating great food with friends and family!"
Nonprofit organizations with valid tax ID numbers that are interested in participating can apply online at guyutes.com.
Call 405-702-6960 for more information.
The 7-11-14 Live on the Plaza. mh
Planet Plaza
Live! on the Plaza celebrates Earth Day 7-11 p.m. Friday at its second Friday gallery art walk with the usual blend of art, food and music and noon to 6 p.m. Saturday with the No Place Like Home Earth Day Festival along NW 16th Street.
"Several of our retailers sell and create sustainable products, so we are excited to highlight that as well as spread the word about environmental education with featured nonprofits," said Plaza District executive director Cayla Lewis.
This month's Live! focuses on recycling and reuse with demonstrations and an upcycled fashion show at Dig It! Boutique, 1739 NW 16th St., and a fabric swap at Collected Thread, 1705 NW 16th St.
Food trucks Taste of Soul Egg Roll, Twist Gourmet Pretzels, Klemm's Smoke Haus, The Crepe Brewers and The Salad Box will be on hand, and Pie Junkie, 1711 NW 16th St., will sell drool-worthy slices for $3.14.
Saturday's festival features gardening demos, creative reuse ideas and fun and education activities for kids.
The featured nonprofit at this Live! is The Nature Conservancy, which is dedicated to conserving the state's land and water resources. Learn more about both events at plazadistrict.org.
Bucky's Fruits and Vegetables at the Norman Farmers Market, 8-3-11. mh
Must STASH
After a big response to last year's Flower Power Local Market, STASH owner Rebecca Bean said the farmers market and artist event returns 6-9:30 p.m. Friday to the 400 block of E. Main Street in Norman in conjunction with Norman's 2nd Friday Art Walk. The market will be held bimonthly through October.
Bean said this year's event is "very similar to last year" but bigger, with plants ready to go into the ground and fresh produce ripe for the cooking.
"We're including more makers and artists at each event as well," she said in a media release. "We want everything we do to be a good time. That's our best advertisement: a good party."
Early markets will focus more on plants, but as the season turns, more fresh produce will be available.
STASH also will feature artist Clint Williams' work inside the shop.
Visitors who can't wait to get home to eat can find food from Midway Deli and The Loaded Bowl at the market as well.
Empire strikes
A moment on the lips, a lifetime on the hips — or wherever you want to get poked with a needle.
Plaza District favorite Empire Slice House, 1734 NW 16th St., gives its most dedicated fans a way to get more pizza in their faces by getting more ink on their bodies.
Partnering with artist "Viking Ashley" Dawn at nearby No Regrets Tattoo, 1712 NW 16th St., the pizza parlor offers 50 percent off dine-in slices or whole pizzas for life to customers who get one of the Empire tattoos — featuring the famed pink elephant or stylized pizza slices — done by a No Regrets artist.
Empire co-owner Rachel Cope said the discount has always been available, but it wasn't publicized until recently, when it showed up on Empire's Instagram account.
Dawn said Empire brought her the idea, so it only took a few hours to design the tattoos.
"We've had several people come in and get the tattoos, mainly the pink elephant design," she said.
She hasn't yet done any of the tattoos herself since she was out of town when the post went up, but she's keeping her schedule open to help pizza lovers in need of a deal.