Da, comrade!
Ludivine, 805 N. Hudson Ave., returns with its classic cocktail class 4 p.m. Sunday with a tutorial on making the perfect Moscow Mule.
The class will include a history of the famous drink, instruction on how to create your own and a finished cocktail made with Prairie Wolf vodka. Participants will also receive a copper mug to take home so they can prepare Mules in the right barware.
Following the class, there will be a reception at The R&J Lounge and Supper Club featuring light hors d'oeuvres.
Tickets are $40 at the door (enter through the bar on Seventh Street), and there are only 30 spots available. To reserve a spot, call 778-6800.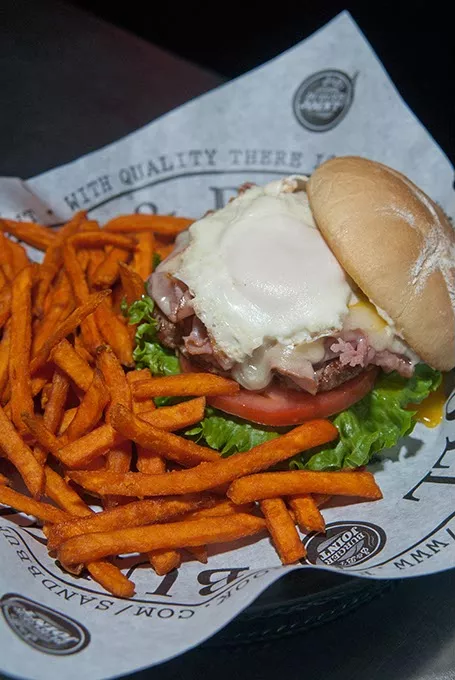 Mark Hancock File
The Frankenburger with sweet potatoe fries, at S&B Burger Joint in Norman.
Joint enterprise
Local beef and drink purveyor S&B's Burger Joint opened a new location at 7640 Northwest Expressway last week and has two more shops planned for the near future. Originally a single restaurant hidden inside the gold building in front of Best Buy at 5929 N. May Ave., the little slider joint has grown to six locations across the city and one each in Lawton, Oklahoma and Carbondale, Illinois. In early 2016, its burgers with spot-on flavor combinations, fries and a full menu of bloody marys will be available in Mustang and Bixby — the first Tulsa-area expansion for the business.
Despite the restaurant's interstate reach, S&B's keeps it local with Pay It Forward Tuesdays, in which 10 percent of sales for the day go to a local organization.
"You have to stand out and be different," said partner and co-founder Shannon Roper on the restaurant's success. "Since opening, we've grown from nine employees to 300. It's a lot of work, but it's easier when you have a culture of pride in the food you produce."
Mark Hancock
New sign of things to come, Cultivar Mixican Kitchen on Broadway Avenue in with Downtown skyline, 11-12-15.
Cultivated following
Questions about Cultivar Mexican Kitchen's impending arrival at 714 N. Broadway Ave. have been swirling for months. President and managing partner Gary Goldman said the wait is almost over.
The "farm-to-fire" concept will be built on fresh salads, burritos and craft tacos and is slated to arrive in late December or early January.
"We're not high-end, but we're culinary-influenced, fresh and as local as we can be," he said. "We're also trying to be as GMO-free and sustainable as we can. We're trying to stay true to that mission, but we're not labeling ourselves."
With chef Dean James Max in the test kitchen, Goldman said he is excited for Oklahoma City to get to try Cultivar's signature craft tacos. The restaurant will also feature a bar with some organic liquor, beer and wine. There will be an indoor-outdoor marketplace patio area, and there are plans to add a rooftop bar in the spring.