Roots down
Food Network recognized the work of Ludivine bartenders Colby Poulin and Chris Barrett when it named Poulin's Stockyard Roots as Oklahoma's entry into 50 States of Cocktails.
"It was exciting that they called it by name when they wanted to use it," Poulin said. "I was surprised, but we put our time in over here at Ludivine, and that means our cocktails, too."
The bar staff is small, with either beverage manager Barrett or Poulin there at all times, meaning consistency in drinks and room to bounce ideas off one another.
Stockyard Roots is one of the district-specific drinks served at the restaurant, 805 N. Hudson Ave., and it's made with heavy bourbon, bittersweet root liqueur, honey and orange and chocolate bitters.
"It's definitely in the 'bitter and boozy' category," Barrett said. "That's the one that took us to Stockyards City. It's almost reminiscent of the Old West."
Smoked out
WSKY Lounge patrons told the upscale bar to go nonsmoking in an interesting way, said Outside the Box Hospitality Group chief operating officer Clayton Bahr.
"Our customers asked for it by not staying," he said.
The cocktail bar will continue selling cigars for use outside the Deep Deuce location, 228 NE Second St., but the inside has been remodeled to go smoke-free. Everything has been taken apart and cleaned, reupholstered and repainted, Bahr said, to get the lingering smoky smell out of all the nooks and crannies.
The owners considered going half-and-half with smoking and nonsmoking sections but decided this is the way the culture is going.
"When you see smoking bars that are known for smoking going nonsmoking, you know something's happening," he said.
Sipango Lounge, 4301 N. Western Ave., went smoke-free in November after being a smoking venue for almost 80 years.
Beats & Bites
Food truck lovers must be feeling lucky, as the Oklahoma City metro area continues to embrace meals on wheels with the introduction of Riverwind Casino's Beats & Bites 6-10 p.m. April 9.
Located in the casino's west parking lot, 1544 State Highway 9 in Norman, Beats & Bites continues May 14, June 11, July 9 and Aug. 6 with a rotating lineup of food trucks.
In April, trucks include Chef Ray's Street Eats, Dippin Dots, La Gumbo Ya Ya, Murphy's CookShack, Parking Lot Party, Phill Me Up Cheesesteaks, The Candy Basket, A Latte Love Coffeehouse and Kona Ice from Oklahoma City and Nacho Biznez from Ada.
Guests are encouraged to bring lawn chairs and umbrellas, though pets and outside food and beverages are prohibited.
The Justin Fox Band and Southern Company will perform.
Starry sellout
It only took nine hours for the fourth annual Starlight Supper to sell all 450 tickets.
"It's insane," said Downtown OKC Inc. marketing manager Staci Sanger. "Last year, it was three days, which is still incredibly quick for an event. We couldn't even give people a full 24 hours' notice."
The April 7 event benefits Downtown Oklahoma City Initiatives, a nonprofit that combats community deterioration through art. That's why it needs to be held outside, Sanger said — so people truly feel they are in the district they're helping. The program funded underpass murals and artist invitationals.
Chefs from Rococo, Nourished Food Co., Museum Cafe, Broadway 10 Bar & Chophouse and Guernsey Park will prepare a multicourse meal for diners.
"When it started, there were just 200 people, so it's so exciting that it's doubled in size and is selling out so fast," she said. "Personally, it's our favorite. It'll be a relaxing night, if there's no wind, with incredible food."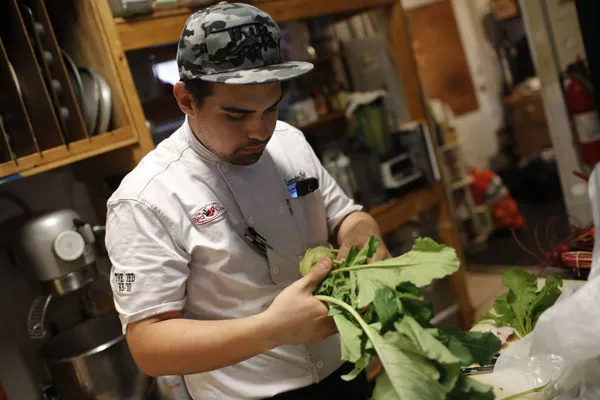 Saving Sunday
With nearly 10 years under his belt at The Red Cup, 3122 N. Classen Blvd., chef Patrick "Beave" Clark expands his repertoire and brings dinner back to the restaurant once a month.
"When we closed our nights, due to lack of business, which is rooted in the lack of a liquor license, we always wanted to do something to give the vegan population of Oklahoma something/somewhere to eat," he said. "So I decided, after attending pretty much every long-lasting pop-up around, that it was an idea that could work for me, allowing me to put myself in a situation where the people could really see my vision, both in flavor profile and presentation."
That vision led to Red Cup Supper Club, a 100-percent sustainable, BYOB, hyper-local, multicourse vegan dining experience for 18 diners the second Sunday of each month.
"I'm trying to change the way people view vegan cuisine, and I think I can. "I've taken it upon myself to push further into vegan cuisine than I would have ever thought."
Dinners are $60 per person, and the next is April 10. Tickets are available through eventbrite.com.