Nonesuch OKC
If you miss Nani, the hyper-local, hyper-haute cuisine supper club hosted by Andon Whitehorn and Colin Stringer, then Waffle Champion owner Todd Woodruff has some good news for you.
Nonesuch is a partnership between Woodruff and Stringer that aims to put one-of-a-kind flavors on the plates of discerning food enthusiasts. Currently, the pair is putting on a series of pop-up dinners in anticipation of opening its own restaurant.
Each Monday night in January, Nonesuch will present multi-course meals with alcohol pairings. Past dinners have included dishes "barely cooked bison, tomato miso, negi," "scrap bread with bone marrow butter and habanero butter" and "3-week-aged quail, turnip."
Stringer is recently back in Oklahoma after cooking with chefs in Chicago and New York, and Woodruff is genuinely over the moon about the high-concept food Nonesuch is serving.
Woodruff said he's hoping those looking for a last-minute Christmas gift for someone who loves food will make reservations for next month's dinners. Photos of the food and pop-up tickets are available at nonesuchokc.com.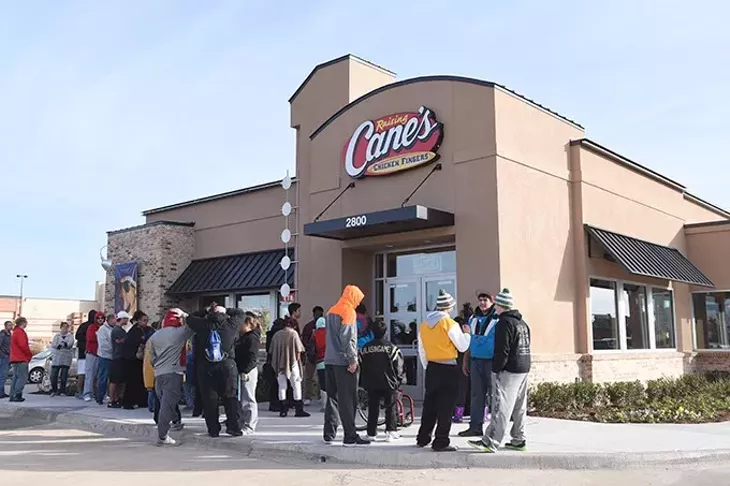 Mark Hancock
People waiting outside of the new, 250th Raising Canes restaurant in Midwest City for its Grand Opening, 12-10-15. The first 20 customers get free Canes once a week for a year.
Cane's/Zaxby's
A pair of chicken fingerariums opened up in the metro last week, as a new Raising Cane's came to Midwest City (pictured) and a new Zaxby's opened in Moore.
Oklahoma City's rapacious hunger for breaded, fried chicken strips will be filled, come hell or high water, as we are in the midst of a cluck-pocalypse.
The newest Cane's, 2800 South Air Depot Blvd., is not only the 12th in the metro and 17th in the state, but also the franchise's 250th restaurant. Each one of the Louisiana-based restaurants has a name, and the Midwest City location has already been dubbed All About That Base thanks to its close proximity to Tinker Air Force Base.
Zaxby's, 2750 S. Service Road, in Moore is the third in the metro and fourth in the state. In addition to chicken fingers, the Georgia-based chain serves hot wings.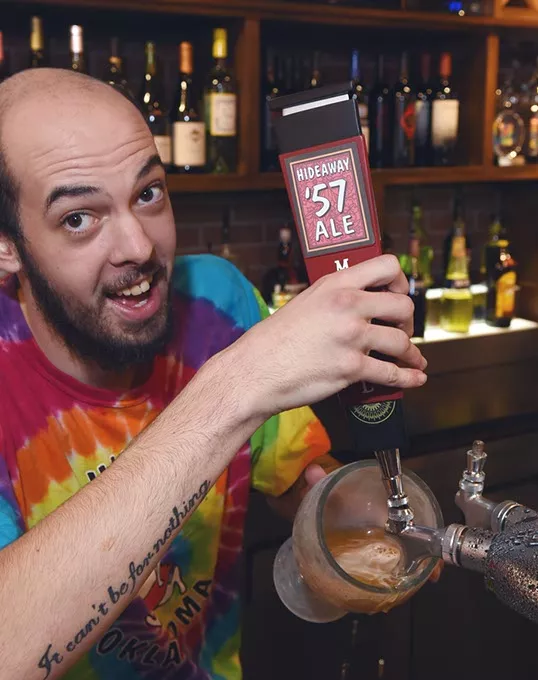 Mark Hancock
Bartender Brandon Whitehouse pulls a Hideaway 57 Ale, at Hideaway Pizza, 6616 N. Western Avenue in Oklahoma City.
Hideaway/
Marshall beer
Pizza and beer — that's a natural combo. So it's little wonder that two Oklahoma-grown companies are getting together as Hideaway Pizza and Marshall Brewing Company partnered up to release Hideaway '57 Ale.
Created by Marshall and served at all but two Hideaway locations (the ones without draft beer), the new beverage takes its cues from a traditional Kolsch-style brew — clean and malty with a hint of hops to balance the sweetness.
The flavor is "complimentary to Hideaway's hand-crafted pizzas," said Marshall's Wes Alexander in a press release.
At a 5 percent ABV, the beer is "sessionable" — meaning you can drink more than one without getting blasted.