Mark Hancock
From left, Owner Whitney McClendon and Chef Beth Ann Lyon, with greens and other salad fixings, at Provision Kitchen in Nichols Hills Plaza, 10-1-15.
Hot stuff
There's more to Provision Kitchen than just pre-made meals.
Since opening in October 2015, the grab-and-go restaurant at 6443 Avondale Drive has been serving salads and freshly prepared reheatable meals. But demand has been growing for something a bit more immediate.
"We originally opened as a chef-prepared grab-and-go concept with an option to sit down and heat and eat those meals if you were so inclined," said owner Whitney McClendon. "But more and more customers wanted to enjoy a hot meal while picking up their grab-and-go meals for later."
Provision Kitchen began preparing daily hot bar meals Feb. 15. McClendon said meals from the hot bar follow the restaurant's PK Pillars guidelines to ensure healthy, high-quality ingredients.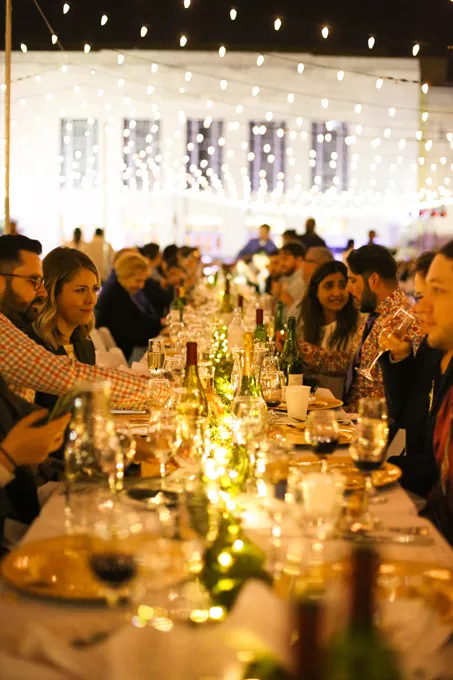 Starlight Supper
Tickets went on sale last week for the fourth annual Starlight Supper, an outdoor dinner to support public art in downtown Oklahoma City. Tickets sold out in nine hours.
There were 450 tickets for the 21-and-up event, which is 7-9 p.m. April 7 at Bicentennial Park, 500 Couch Drive. It features a multi-course meal prepared by chefs from across the metro, said Downtown Oklahoma City Inc. marketing manager Staci Sanger. Proceeds go to Downtown Oklahoma City Initiatives, a nonprofit that combats community deterioration with public art funding, landscaping and urban research.
Proceeds from past events funded projects including the Cultivation mural by Jason Pawley on the Reno underpass and bringing in national artist HOTTEA to install string art at the downtown basketball court.
Mark Hancock
Urban Agrarian in the Farmer's Market District, 5-3-2013.
Local feast
All year long, Urban Agrarian provides fresh, local produce to Oklahoma City. Founder Matt Burch also wants to highlight the ranchers and farmers whose efforts lead to such exceptional food.
To that end, chef Timothy Mort will use grass-fed beef from Wichita Buffalo Company and pasture-raised dairy from Swan Bros. Dairy at the February Farm to Table Dinner Feb. 25.
Unlike previous dinners, this one will be held on the original farmers market floor of OKC Farmers Public Market, 311 S. Klein Ave.
Sommelier Ian Clarke of Putnam Wines will do pairings for each course. Tickets are $60 per person or $85 per person with wine.
For more information or to purchase tickets, call 231-1919.
Ember lit
The soft opening of Ember Modern American Tavern inside the Waterford Renaissance Hotel, 6300 Waterford Blvd., happened last fall as renovations continued, said food and beverage director Kyle Lippe.
Feb. 5, Ember held a grand opening for guests to explore the restaurant, lounge and renovated hotel rooms.
Executive chef Gayland Toriello, formerly of Vast, Bellini's and the Museum Cafe, said he's excited to bring local ingredients to the American cuisine menu.
Lippe said his challenge is getting people to move past the ideas of Ember as a hotel restaurant.
Though it's located on the ground floor of the historic Waterford hotel, he said, the restaurant is truly built for locals.