Photo By Joyce N. Boghosian
Honored Okie
Oklahoma City native Rick Bayless was recently honored with the second-ever Julia Child Award. Bayless is a food icon who won the first season of Top Chef Masters hosts a long-running PBS cooking show Mexico — One Plate at a Time and owns nine successful Mexican restaurants in Chicago. He got an early start in his culinary career at Hickory House, his parents' barbecue restaurant in south Oklahoma City (now closed).
Bayless was selected for the Julia Child Award for his "profound and significant impact on the way America cooks, eats and drinks," according to a media release from The Julia Child Foundation for Gastronomy and the Culinary Arts.
The award includes a $50,000 grant, which Bayless said he plans to donate to Frontera Farmer Foundation, a 501(c)(3) nonprofit he launched to provide capital development grants to small, sustainable farms serving the Chicago area.
While Bayless has impacted the way Americans cook and eat Mexican food, Julia Child influenced a young Rick Bayless, who said he asked his parents for her book, Mastering the Art of French Cooking, when he was 12 years old.
Over the next three years, he cooked every dish in it, he said during his presentation, according to the media release.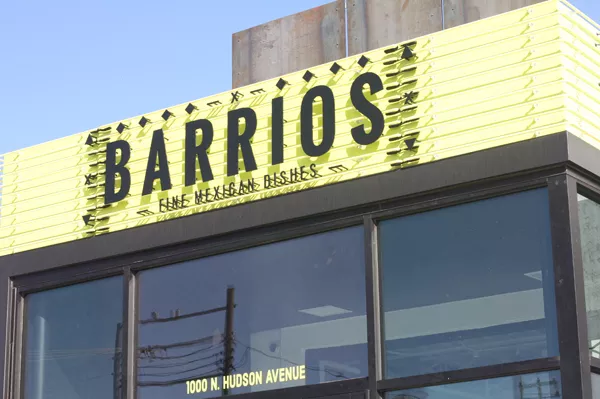 Barrios opens
It was a treat, not a trick, that Barrios Fine Mexican Dishes, 1000 N. Hudson Ave., finally opened to the public on Halloween.
The newest concept from A Good Egg Dining Group is Keith and Heather Paul's first Mexican restaurant, but Barrios' roots go all the way back to their purchase of the group's signature concept, Cheever's Café, in 2000.
Juan Barrios was a chef at Cheever's, 2409 N. Hudson Ave., when the Pauls took over in 2000. His nephew Rufino Barrios later joined him, and the pair still keep the kitchen cooking.
Since then, more of Juan's family has joined A Good Egg. Ruben and Jose Barrios came on in 2002 during the opening of Iron Star Urban Barbeque, 3700 N. Shartel Ave.
Housed in the old Swanson's Tire Co. Building, Barrios includes indoor and outdoor seating with a patio Keith Paul said could be open almost year-round.
Chef Chad Willis leads the kitchen at Barrios after leaving A Good Egg's seafood restaurant The Drake, 519 NW 23rd St, Suite 111.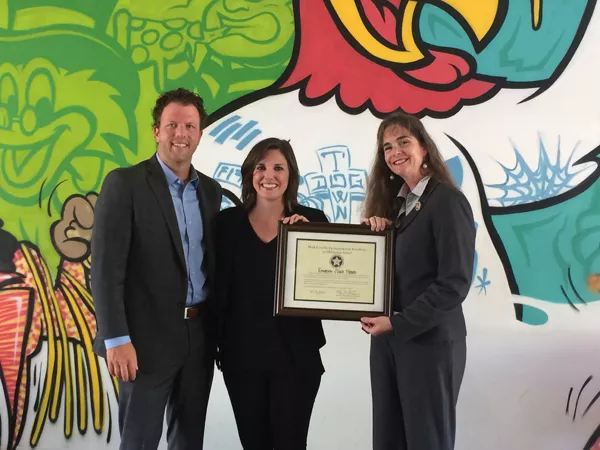 Empire strikes
After celebrating its third birthday with a pizza-eating contest and outdoor music festival in October, Empire Slice House owners Rachel Cope and Avery Cannon marked another milestone when the eatery received the Mark Costello Entrepreneurial Excellence in Oklahoma Award in October.
"It was awesome and super unexpected," Cope said. "Honestly, I didn't know it existed until we won it. Then I did some research and saw all the other Oklahoma businesses that have won it."
Presented by Labor Commissioner Melissa McLawhorn Houston, the award honors Oklahomans who expand job opportunities in the state.
Since 2013, Cope and Cannon have done just that, growing the Plaza District favorite located at 1734 NW 16th St. into a pizza powerhouse employing 70 people.
The award also honors late Labor Commissioner Mark Costello.
"It's cool that Mark lives on through the award," Cope said.
The creation of Empire spawned the launch of 84 Hospitality Group, which also runs Gor? Ramen + Izakaya, 1634 N. Blackwelder Ave., Suite 102, and Revolución Taqueria & Cantina, 916 NW Sixth St., which opened Nov. 3.
"We first walked in [Revolucion's] building in March of 2015," Cope said. "Honestly, when we first got there, I had no idea what we should put there."
She actually had the idea for the neighborhood bar and taqueria before she and Gor? co-owner Jeff Chanchaleune began talking about opening a ramen shop.
"I never would have dreamed (Gor?) would open before this space," she said. "I'd actually thought about having a Cinco de Mayo party here, so we missed that."
Empire was nominated for the award by Rep. Jason Dunnington, D-Oklahoma City, who said it would take more entrepreneurs like Cope and Cannon to continue growing Oklahoma's economy.