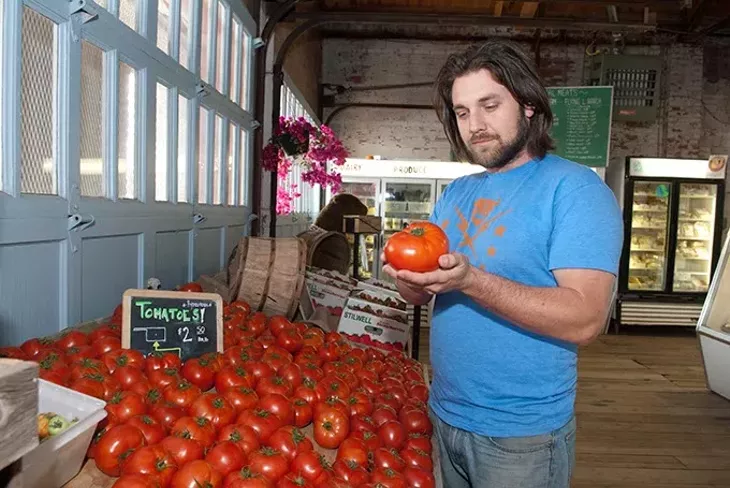 Mark Hancock
Matt Burch examines a tomato at the Urban Agrarian, in OKC's Farmers Market, 5-3-13
Winter insurance
Some animals go south to escape winter. Others hibernate. But the animals at Urban Agrarian have a different idea about getting through the winter — they're having a fancy dinner.
Winter is a tough time to sell local produce, said Urban Agrarian founder Matt Burch.
"When we get big, heavy, long frosts, people can't get in the fields to harvest," he said. "It's not like we can just order stuff off the truck."
So the crew planned a series of dinners to highlight its local and flavorful products.
"Before we even opened as a retail space, we hosted a Ludivine test kitchen," he said.
Since then, they've held dinners for several other chefs, but now they're turning the reins over to their own chef, Tim Mort.
Burch credits the idea to Andrea Koester, who is in charge of booking for the event, and it's something they hope to do again on a monthly basis or even more often. The first dinner on Nov. 5 is five courses and features products from local pastured pork producer 38 Ranch and paired wines from Putnam Wines for $85. Those interested in attending this or future events can call Koester at 255-5337.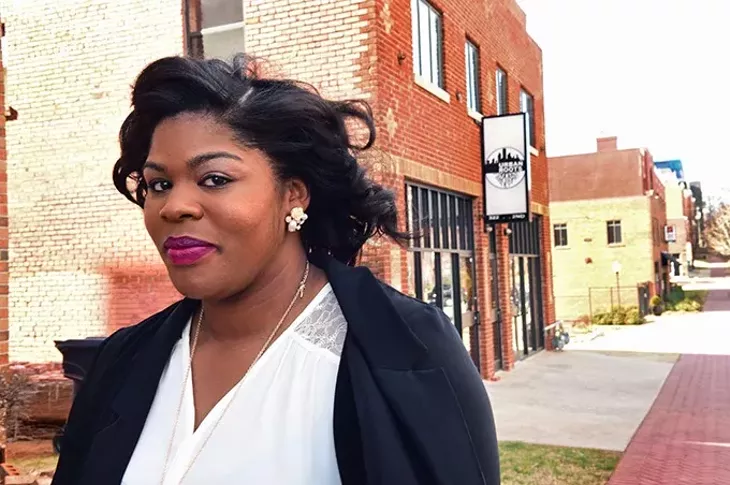 Mark Hancock
Ashley Stevenson owner of Foodie Foot Tours, outside Urban Roots and across from Deep Deuce Grill, in Deep Deuce which will be an up-comming destination for her foot tours. File photo from 1-20-15
Sit down
Foodie Foot Tours are known for taking guests on culinary and neighborhood journeys with Ashley Stevenson, but in November, she's encouraging folks to take a load off at her Saturday Sip and Sample.
Teaming up with Automobile Alley's Waters Edge Winery, Stevenson brings in experts to teach guests how to pair wine with cheese and chocolate.
Scheduled 2 p.m. Nov. 7, 14 and 21, each two-hour course features a wine tasting with paired snacks, which can be helpful when planning holiday parties, creating gifts or just enjoying an afternoon.
Tickets are $40 and are available at foodiefoottours.com.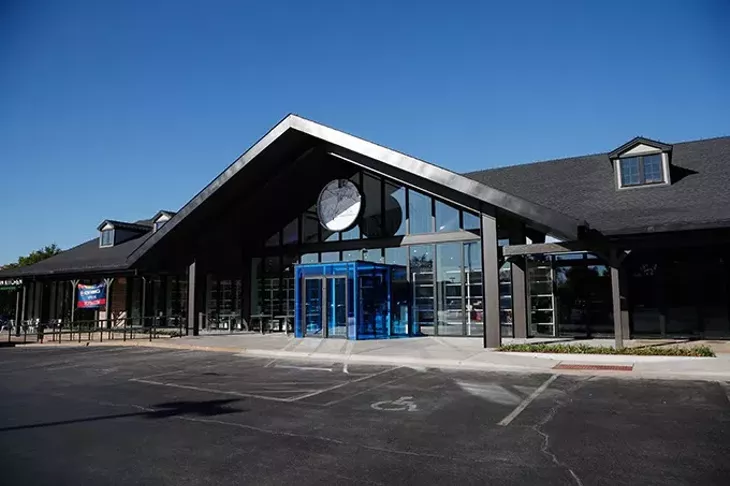 Garett Fisbeck
Pops in Oklahoma City, Tuesday, Oct. 13, 2015.
Fizzy fun
Finally, much-loved but much-out-of-the-way POPS in Arcadia is opening its second location, and it's not quite so far off for Oklahoma City soda fans.
POPS plans to open October 30 in Nichols Hills Plaza, 6447 Avondale Drive, with a heavier focus on the dining side. Open 7 a.m.-9 p.m. daily, POPS specializes in diner eats with burgers, chicken-fried steaks, salads and milkshakes, and visitors will still find more than 700 different kinds of soft drinks and an enhanced vintage candy section.
baked fresh every day. mh
Bakery fresh
Baking bread from scratch is a one-of-a-kind experience for Prairie Thunder Baking Company manager Kelli McKay-Conrady, and she wants to share it with a new generation.
She'll get her chance Nov. 7 when she teaches the Kid-Friendly Homemade Bread class 11 a.m.-noon at Myriad Botanical Gardens, 301 W. Reno Ave.
"I'll be teaching kids to make a no-knead bread dough," she said. "They'll make the beginning stages of it with enough to take three loaves of dough home."
McKay-Conrady said it's important to teach youth where foods come from and how to eat real food. To help, her 9-year-old daughter will be there as a teaching assistant.
"My grandma was always in the kitchen," McKay-Conrady said. "She was my inspiration on food."
The class is recommended for children age 7 and up, and tickets are $11-$13. Guests must register by Tuesday at oklahomacitybotanicalgardens.com.