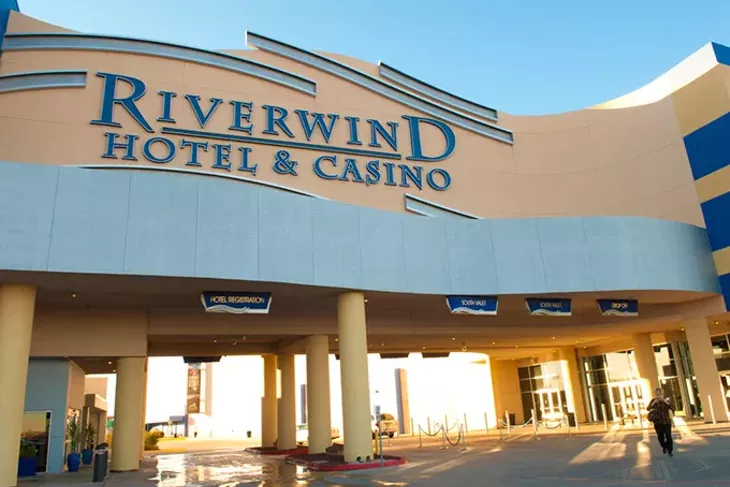 Riverwind Casino, 2013. mh
Wine of Fame
The inaugural Wine of Fame fundraiser is 7 p.m. Oct. 28 at Riverwind Casino, 1544 State Highway 9, in Norman. The food and wine event, sponsored by Toby Keith Foundation and Berkshire Hathaway HomeServices Anderson Properties, benefits OK Kids Korral and Sunshine Kids Foundation — two charities focused on pediatric cancer patients.
Attendees can sample eight celebrity wines, including Miranda Lambert's Crazy Ex-Girlfriend sweet white, Switzer Family Vineyards cabernet sauvignon, Duck Commander moscato, Jack Nicklaus' Jack's House chardonnay, E.L. James' 50 Shades of Grey 2012 Red Satin, Rolling Stones Forty Licks merlot, Train's Save Me San Francisco pinot noir and Dave Matthews' Dreaming Tree sauvignon blanc.
Wild Shot Mezcal is serving tastings of two of Toby Keith's signature drinks. Ember Modern American Tavern, The Sushi Bar, Toby Keith's I Love This Bar & Grill, Pearl's Restaurant Group, Gaberino's Homestyle Italian Restaurant, Legend's Restaurant, Soup Soup Carry Out & Catering, Chips 'N Ales Riverwind, Whole Foods Market, Raspberries N Creme and The Melting Pot are serving tastes alongside the drinks.
Tickets are $150. Visit wineoffame.eventbrite.com or call 405-271-6552.
Fair trade
Trading began 8 a.m. Sept. 23 as Trader Joe's opened its first Oklahoma City store. Housed in what was once Crescent Market, the California-based grocer took over the newly renovated space at 6409 Avondale Drive, joining restaurants Provision Kitchen, Pops, Coolgreens and The Hutch on Avondale in Nichols Hill Plaza.
Known for carrying a variety of Trader Joe's brand gourmet foods, the new store will lack one popular item: Charles Shaw Wines, more commonly referred to as Two Buck Chuck for its $1.99 price tag, because Oklahoma law prohibits the sale of wine in grocery stores.
Trader Joe's is open 8 a.m.-9 p.m. daily. Visit traderjoes.com.
A happy bunch chats away on the patio in front of Saints, during Live on the Plaza, 9-13-13. mh
Freedom fry
Oklahoma Innocence Project at Oklahoma City University School of Law hosts a catfish fry 1-7 p.m. Sunday at Saints, 1715 NW 16th St., to raise funds to help free wrongfully convicted Oklahomans.
Guests receive unlimited catfish for $25. Local bands provide entertainment, and event proceeds benefit the project. Tickets are available at eventbrite.com.
The group had its first exonerations in May when Malcolm Scott and De'Marchoe Carpenter were freed after 22 years in prison. Since its inception in 2011, thousands of people have requested assistance from the group.
Visit okinnocence.com or call 405-208-6161.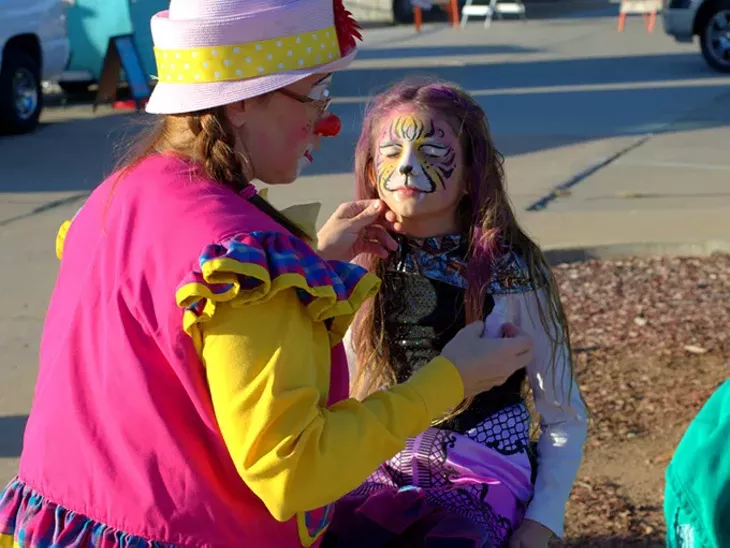 Delivering hope
EdFest rolls back into Edmond to raise funds for Edmond Mobile Meals 6-10 p.m. Oct. 14 at Festival Market Place, 26 W. First St.
Admission to the family-friendly event is free and includes visits from 2 Brothers Bistro, The Flying Pig BBQ, Let's Do Greek, Piled High, The Saucee Sicilian, Taste of Soul Egg Roll and Mim's Bakery food trucks. Anthem Brewing Company, Bricktown Brewery and Mustang Brewing Company are pouring their craft brews, as well.
For $5, kids can enter the Kidzone, which features inflatables, face painting, balloons and carnival games. Adults can enter a raffle for prizes such as Kendra Scott jewelry, a three-month membership to River Oaks Golf Club and more. Raffle tickets are $5 or five for $20.
EdFest proceeds support Edmond Mobile Meals. Each weekday, the 42-year-old nonprofit feeds more than 200 elderly and frail and primarily homebound clients who can't make meals for themselves, said Cristi Twenter, executive director. The program helps provide them nutritious sustenance while also boosting their social interactivity. Last year, the nonprofit delivered more than 50,000 meals.
Visit edfestokc.com. Learn more about volunteering for Edmond Mobile Meals at edmondmobilemeals.org or by emailing Cristi Twenter at cristi@edmondmobilemeals.org.
Taste of Philippines
Philippine-American Civic Organization of Oklahoma (PACO) invites metro residents to learn more about Philippine heritage, tradition, culture and cuisine at the annual Fall Taste of Philippines, 6-8:30 p.m. Oct. 8 at Mayfair Church of Christ, 2340 NW 50th St.
Admission is $15 for guests age 11 and older, $7.50 for youths age 4-10 and free for children age 3 and younger.
Tickets include 6-7:30 p.m. food tastings of classic Filipino dishes like lumpia (meat-filled spring rolls), chicken adobo (sweet-and-spicy chicken) and chicken afritada (chicken and potatoes in tomato sauce). An entertainment program follows.
Asia Society of Oklahoma, Inc. vice president Ira Burrough organized a menu ingredient list to help those with food allergies.
Tickets are available by calling Burrough at 405-819-3652, Esther Moore at 405-525-2882 or Stephanie Moore at 405-414-6900.