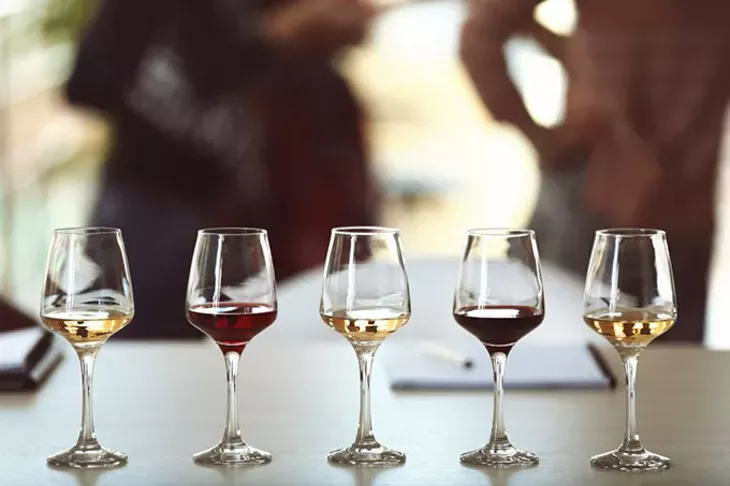 Bigstock
Many glasses of different wine in a row on a table. Tasting wine concept
Wine-stone cowboys
Just outside the hustle and bustle of downtown Oklahoma City, the sound of beeping horns is replaced with the sound of mooing cows. Stockyards City is a historic area that is home to the Oklahoma National Stockyards, established in 1910 as the world's largest feeder and stocker cattle market. The venue is still home to raucous cattle auctions every Monday, but 11 a.m.-4 p.m. Saturday, moo juice gets swapped for merlot at Stockyards City's eighth annual Wines of the West wine-tasting event.
Oklahoma boasts almost 50 wineries, which might surprise many wine enthusiasts. Sixteen of those will be featured at Wines of the West, where guests can sample some of the best of Oklahoma in one of its most unique settings.
"For all the wine connoisseurs, I guess you'd call them, it's such a great opportunity to try a bunch of different wines," said Stockyards City spokeswoman Sissie Wherrell. "You can come and sample all these wines at a great price, and there's a lot of unique shopping. Stockyards City has so much history behind it, too. It's such a great time to come enjoy the area."
Each winery will offer two or three wines to sample, and wine will be available for purchase.
"We made a few changes this year to comply with ABLE, so wineries will be in Rodeo Opry, Granville Community Music School and Stockyards Mercantile building," she said. "Guests can check in at the Cattlemen's [Special] Event Center to get their wristbands."
With their wristbands, guests can sip and sample their way around Stockyards City and enjoy live music in each venue. The venues are open to all ages, but only those 21 years old and older can sample wine. Three food trucks will be on hand, but there are plenty of dining options, including legendary Cattlemen's Steakhouse, one of Oklahoma's oldest operating restaurants.
Tickets are $15-$30. Visit stockyardscity.org.
— By Angela Evans
Enter Salata
The first Salata in Oklahoma City opened last week at 12200 N. MacArthur Blvd., and it likely won't be the last.
The Houston-based salad bar eatery plans to open six Oklahoma locations in the near future, Salata operator Bryan Jones said in a press release.
The company already has more than 60 locations, both corporate-owned and franchise, through Texas, Illinois and southern California. Oklahoma openings will be followed by locations in Florida and Georgia later this year. Visit salata.com.
— By Greg Elwell
Bottling hope
The Pritchard Wine Bar, 1749 NW 16th St., wants to help diners save lives and breasts with its summerlong Bottles for Boobies campaign.
Starting Thursday, the restaurant will offer diners a special rosé wine list with a portion of proceeds benefitting Tulsa-based nonprofit Oklahoma Project Woman.
"I wanted a charity that was local and one with a good history of getting money to where it was intended to go," executive chef Shelby Sieg said. "Also, I just really love that their focus is uninsured women dealing with breast cancer. It's a horrible, awful disease, and to be dealing with that without insurance is unimaginable."
Oklahoma Project Woman provides free mammograms, diagnostic procedures and surgical services to Oklahomans who lack health insurance and have limited financial resources. Visit pritchardokc.com and oklahomaprojectwoman.org.
— By Greg Elwell