Shannon Cornman
Elena Farrar, Hannah Tripp and owner Laura Massenat busy with customers at Elemental Coffee.Photo/Shannon Cornman
Elemental kitchen
Elemental Coffee Roasters has a shiny new kitchen, and it's not afraid to use it. It is now serving grab-and-go breakfast, quick and healthy lunches and brunch on Sundays. Elemental has a rotating menu with daily specials and a wealth of options for vegetarians, vegans and omnivores alike.
Sous chef Chelsea Smith has also come up with a variety of baked goods that are too good to be true, especially when you find out some of them are vegan, others are gluten free. We defy you to taste the difference, and when you do, you won't care — you'll just want more.
Get truckin', OKC
Truck It OKC is a new app in the metro that makes it easier than ever to find your favorite food truck. Thanks to OKC entrepreneurs Travis Stephens and Josh DeLozier, the app connects locals with food trucks in real time.
The app is free, and users do not have to provide any personal information. Trucks will be able to post their locations up to 24 hours in advance.
"Fifty percent of the city's trucks have already signed up this weekend. We are looking really good," DeLozier said.
The app is available through the iTunes store, and Stephens and DeLozier plan to have an Android app available soon.
New look, same great fare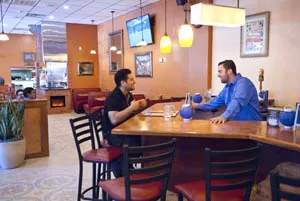 Employees of Chiltepes Latin Cusine & Bar, 1800 NW 16th, at the newly remodeled restaurant in the Plaza District. mh
Chiltepes Latin Cuisine & Bar, 1800 NW 16th St., has gotten a facelift and is now doing soft runs of dinner and lunch service. Stop by to check out the cuisine and the new digs.
The official opening will happen later this month.
It is just one of many eateries that are coming to the Plaza District in the coming months. Read Oklahoma Gazette for more restaurant news and updates.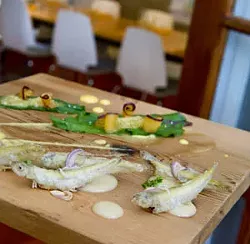 Shannon Cornman
Nani
Comfort food
Chef Andon Whitehorn, the genius formerly behind Saint's Irish Pub's mouthwatering menu, has opened his own concept, Nani. It draws on the culinary traditions of Japanese cuisine and traditional Choctaw comfort food. Nani means "fish" in Choctaw and "what" in Japanese. Clever, eh?
It is now an exclusive supper club offering five-course dinners during its opening phase.
These dinners offer a sneak peek at some of the most progressive food in the metro. You can make reservations at naniokc.com or by emailing booking@naniokc.com. Be the first to try this unique dining experience, bragging rights included.
Since the menu's still in the planning stage, the eatery's location is given out after you make a reservation. But you can talk about it all you want. In fact, it's encouraged.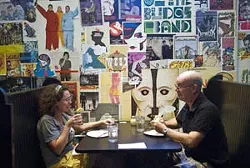 Heather Akard and John Switzer finish off a relaxing lunch at Empire Slice House. mh
The Empire strikes brunch
Some of us are tired of waiting 'til 4 p.m. on Sundays to get our Empire Slice fix. The wait is over. Empire Slice House has joined most of the other restaurants in the Plaza District in serving food starting at noon on Sundays. It even has several specialty brunch pies in the works to help you get your Sunday Funday started right. Many favorites, including Fungus Among Us, Doug E. Fresh, Rocksteady and Notorious P.I.G., are always available for order.