Garett Fisbeck
Coffee Pork Loin at Scratch Kitchen in Norman, Wednesday, March 9, 2016.
Look at those pictures.
Don't eat them. Don't lick them. Oklahoma Gazette's research and development team isn't ready to unveil the new taste paper (Codename: Paster™) that will revolutionize the newspaper industry just yet.
Until then, you'll just have to look at those gorgeous food photos and read these dumb words while salivating over images of coffee-rubbed pork loin from Scratch Kitchen & Cocktails, 132 W. Main St.
And here's what's crazy: It tastes even better than it looks.
By the time the pork loin ($22 with charred Broccolini and Parmesan risotto) rolled up, I was already two dishes deep into the menu, but one bite and I knew there wouldn't be any leftovers. Roll me out the door if you have to, but nobody leaves food this good behind.
Scratch is an interesting spot housed in the remains of a Native Roots Market, with plenty of exposed brick walls and large, vivid paintings artfully hung about the room. The wait staff seems pretty well-informed, especially about the restaurant's core mission: making everything, down to the condiments, from scratch.
When a Sooner State Board ($17) showed up at the table next to mine, I kicked myself for not ordering the enormous charcuterie platter of cheesy, meaty and vegetable delights.
That doesn't take anything away from the appetizer that did show up: a big bunch of freshly baked wonders called Scratch Bread Basket ($9). Both are limited availability items, so order now! Supplies are going fast!
The Hawaiian roll is sweet and dense, but the standouts were the Gruyere-topped croissant and the slightly tangy baguette. The whipped honey butter was a nice touch, especially for some of the drier bread.
The Sriracha Caesar ($9) had no need for more moisture. Big, crisp greens were tossed in a creamy, mild dressing with just a hint of heat. The blanched asparagus added a nice component to a good, but not particularly memorable salad. When I go back, I'll definitely ask if there's a way to amp up the spice on my salad. It was big, filling and tasty, but when you add "Sriracha" to a name, I want a little more kick.
My feelings are a little mixed on the Scratch burger ($12, served with shoestring fries), which was tasty, but not as beefy as I hoped. Ground beef tenderloin is an interesting choice for a burger, if only because tenderloin is a pretty mild cut.
Garett Fisbeck
Scratch Burger at Scratch Kitchen in Norman, Wednesday, March 9, 2016.
Everything about the burger is lovely — the brioche bun is buttery and substantial, the garlic aioli is mild but distinct — the only thing missing is that big, beefy burst from the meat. It's a tasty sandwich, but given the options on the menu, it's hard to choose a burger over Hawaiian pork ($11) or California Girl ($12).
Full of mild pulled pork tossed with Scratch barbecue sauce, Hawaiian pork comes on that sweet Hawaiian roll with a thick dollop of housemade slaw. It's not terribly fatty, which is OK, because the sauce and the slaw give the sandwich plenty of juice to ease your eating.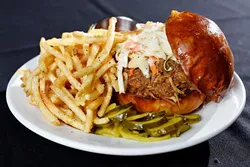 Garett Fisbeck
Hawaiian Pork sandwich at Scratch Kitchen in Norman, Wednesday, March 9, 2016.
The lunch special on one visit was a smaller portion of the dinner favorite tenderloin medallions ($24), which are seared medium slices of beef tenderloin served with oven-roasted vegetables and Burgundy mushrooms. It's a good, standard pairing of ingredients, but it was lacking in flavor. Roasted carrots and potatoes are delicious, and the inclusion of a red wine mushroom sauce should have put the dish over the top, but it didn't pop. It definitely needed more seasoning. From what others have told me, though, it sounds like I just got a rare off dish.
Garett Fisbeck
Tenderloin Medallions? at Scratch Kitchen in Norman, Wednesday, March 9, 2016.
There was nothing off about that pork loin, though. Cooked just a hair under medium, each bite was an enticement to take another. The creamy risotto underneath soaked up the drippings, adding a lovely texture with every fork full. The Broccolini had a nice crunch — the whole plate was a mix-and-match of wonderful tastes.
Coffee rubs can be overpowering, but this one brought the gentle flavor of the meat to the forefront. The pork loin tenderly melted away under my teeth and reminded me how wonderful that often-mistreated protein can be when it's prepared by skilled hands. If you're looking for a must-have entree at Scratch, it's this one.
The restaurant is also known for its cocktails, so I treated myself to an Et Tu, Brute? ($9) of rum, lemon, housemade orange liqueur, heavy cream, orange juice, egg white, simple syrup and cherry bark vanilla bitters.
Garett Fisbeck
Et Tu Brute? cocktail at Scratch Kitchen in Norman, Wednesday, March 9, 2016.
The drink had a slightly boozy bite but was mostly creamy and delicious with lots of citrus notes.
Now, stop gnawing on this week's issue and get down to Norman. Until Paster™ is a reality, you'll need Scratch to make food that can rival these beautiful pictures.
Print headline: Photo finish, Scratch Kitchen & Cocktails makes gorgeous food that tastes even better than it looks.