Miguel Rios
After each of their presentations, the three experts answered questions from the audience.
The biggest health risk affecting certain communities is inequality. That's what experts said last week during a symposium on northeast Oklahoma City's lack of food security.
Ward 7 councilwoman Nikki Nice, along with a panel of three experts, discussed the various components that play into food insecurity at the event hosted by Urban Land Institute Oklahoma. Nice kicked off the event with a video explaining how ZIP codes affect people's health more than genetics.
"Those who live in more affluent communities will live an average of 15 years longer than their neighbors in disadvantaged communities. What separates them is more than distance. It's opportunity, education, access to care, safer streets — in short, it's everything you'd want to have for a healthy, happy and productive life," according to Building Healthy Communities, which created the video.
The video details how areas that are even just a mile away can have major disparities in road conditions, street safety, air quality and access to quality fresh food. Despite the video being about two ZIP codes in California, Nice said northeast OKC was dealing with similar issues.
Nice has been working on a Healthy Neighborhood Overlay for the 73111 ZIP code, which would help prevent the proliferation of convenience stores and help increase access to fresh meats, fruits and vegetables. She commended the Homeland officials for choosing to build a brand-new store and headquarters in northeast Oklahoma City.
"We are excited about them bringing a 30,000 square-foot, brand-new, full-service grocery store," she said. "We are thankful for Homeland because they didn't have to come into the community, but they are committed to addressing our food security issue. And they have not built a brand-new store since 2011, so this is something that they're going to do in our community for our residents."
Expert takes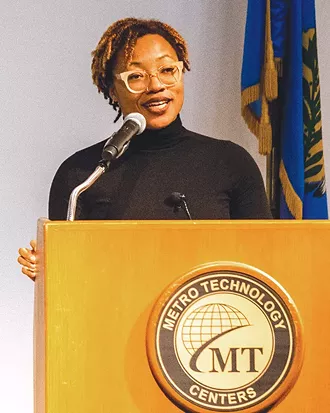 Miguel Rios
Ashanté Reese earned a PhD in anthropology, specializing in race, gender and social justice.
LaVonna Blair Lewis was born and raised in northeast Oklahoma City and said most of her family still lives in the area.
"I spent the first 30 years of my life in Oklahoma City, and it's hard to come home and, in some instances, see things [are] worse," she said.
Lewis, a professor of public policy and associate dean at University of Southern California Sol Price School of Public Policy, has conducted research for 20 years with a colleague on the topic of food injustice. She said they noticed how comfortable people are demonizing the choices people who live in areas of food insecurity make without fully realizing the few options they have.
"I want to make it very clear that this whole conversation is about change because the status quo decision-making has left northeast Oklahoma City behind for decades. I'm assuming that you're here because you're sick and tired of that," she said. "Before you get mad at people about the choices that they're making, find out what choices are available."
Through her research, Lewis compared food availability between south central Los Angeles and west Los Angeles, where University of California, Los Angeles is located. She said it was the same type of disparity that can be seen in northeast OKC compared to other parts of the city.
"I would encourage those of you who are trying to make similar comparisons in this community to get people in a van and drive them from 23rd [Street] and Martin Luther King [Avenue] to the other side of Robinson [Avenue] and Classen [Boulevard], and ask them, 'How is this possible these kinds of things can exist within such close proximity when we're talking about the same state, same city?'" she said. "Until you've seen mold and brown bananas in your neighborhood and then go on the other side of town and see that that's not what's going on, you might be okay with that. Or maybe you're fortunate enough that you're not locked into what's available in northeast Oklahoma City, and you can drive out. But if you leave the people behind in doing that, are you OK with that?"
Lewis stressed that knowledge and data is power and encouraged people to get actively involved by writing letters to elected leaders, going to community meetings and speaking at city council or planning meetings.
"There are multiple ways to get to where we're trying to go. I think we do ourselves a disservice when we say, 'My way is the only way to do this,'" she said. "It's just amazing what the will of people can do if we sometimes get out of our own way."
Bryce Lowery, assistant professor of architecture at University of Oklahoma Gibbs College of Architecture, spent his first two years in Oklahoma visiting every grocery store in the state.
"When we look across the board, low-income, minority communities … have fewer grocery stores, but what I'm also finding is that that's having very little impact on natural health outcomes we're seeing," he said. "So we begin to think … about the presence of unhealthy food, choices people are making and the ability of folks to cook healthy food for themselves that might offset the presence of a Braum's."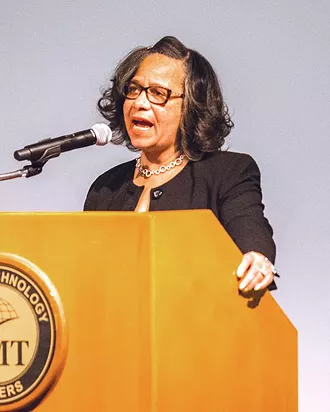 Miguel Rios
LaVonna Lewis earned a PhD in political science and focuses her work around a community-based participatory framework.
Lowery agreed with Lewis about the fact that local communities have the power to get positive things done.
"How do we begin to also work with large-scale grocery stores to create more healthy, convenient food? If any of you have ever been to Edmond to the Uptown Grocer, there's a lot of healthy, prepared food up there," he said. "You come into a market in a low-income community, there's no healthy, prepared food available. This is also a point of discussion that we need to focus on as we move forward working with this grocery store, any grocery store that comes in."
Lowery also reminded the crowd that Oklahoma City's comprehensive plan includes things like community gardens, reducing access of low-nutrition food and prioritizing underserved areas.
"So the next time some politician tells you this isn't what we're doing in Oklahoma City, they actually said this is what they're doing in Oklahoma City," he said. "It's in a document that won a giant award, and when I ask planners here on staff at Oklahoma City what's going on with this, silence."
Ashanté Reese, assistant professor at University of Maryland, Baltimore County, stated three caveats before her portion of the program. The first was that food is never just about food.
"Food is never just about food, so any conversation we're having where we're only talking about fruits and vegetables, we've already kind of gone down the wrong path," she said. "Food becomes a powerful lens for us to evaluate community. It becomes a powerful lens for us to evaluate the things that we value. In my case, what my real interest is, food is a lens that helps us talk about inequalities in ways that other things don't."
Her second caveat was that health is not an individual imperative.
"I think there's a larger conversation about health policies, about food labeling, about why we live in a country [where] things that are unhealthy can be called food in the first place," she said. "If we're not going to hold corporations accountable, then I don't think we can displace corporate responsibility to individual responsibility."
Her last caveat is that capitalism will not save us. Reese has conducted research in Washington D.C. and found that people who live west of the Anacostia River, a low-income black community, have much less access to healthy foods and more negative health outcomes, much like northeast OKC.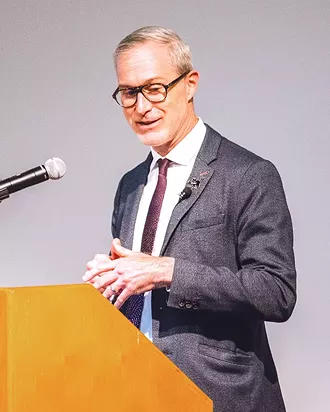 Miguel Rios
Bryce Lowery earned a PhD in urban and spatial planning and focuses on environmental and social influences of neighborhood well-being as well as land use policies.
"We're not just kind of waiting for corporations to make a change," she said. "People are actually [doing] what I call 'quiet food refusals.' What I mean by refusal is refusing to not have their needs met, refusing to accept low-quality, refusing to accept a world that says, 'Because you live in this ZIP code and because you live east of the Anacostia River, you don't deserve the nice stuff that's west of the Anacostia River. … Regardless of if there's a store in the neighborhood, people are going to find what they need. Period. That's part of the impetus why there's not a lot of motivation sometimes for corporations to locate in neighborhoods because people in most impacted neighborhoods will just drive somewhere else."
Ultimately, Reese emphasized that conversations about food insecurity, particularly in low-income communities, ought to be deeper than solely about food or supermarkets.
"People have real emotional connections to accessing foods, so when we sit here and talk about supermarkets and don't talk about how people feel about it, that's a real problem. People feel things. You should write that down. I know grocery shopping becomes this impersonal thing that we talk about, but people do care about who's working in their stores, they care about having these conversations that they have in their stores," she said. "In some cases … they internalize the feeling that, 'I don't have nice things in my neighborhood, so I did something wrong.' … It's not about the supermarket. It's not about who gets to have control. These are real people who I guarantee you if you ask them about the other kinds of issues that are going on, it's not just food. There's probably financial security issues. There's probably education issues. There are all of these things, and what people are trying to do is literally not die."