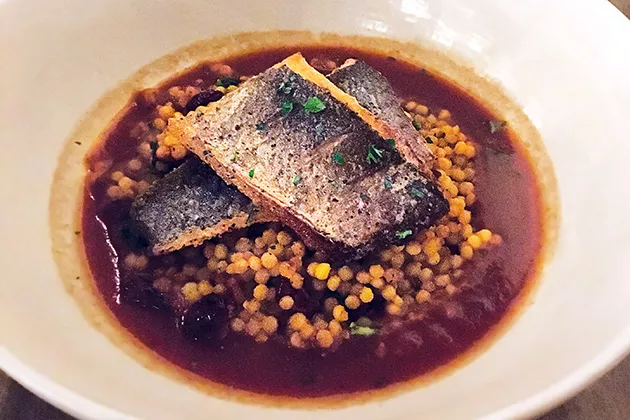 Jacob Threadgill
Crispy branzino served over saffron couscous and lobster broth
Black Walnut
100 NE Fourth St.
405-445-6273
blackwalnutokc.com
405-228-8386

What works: The branzino has cripsy skin and delicate balance of flavor between saffron couscous and lobster broth.
What needs work: The pappardelle was overcooked and drowning in sauce.
Tip: The pappardelle was overcooked and drowning in sauce.
Sandwiched between his two other restaurants, Chef Andrew Black has made Black Walnut, 100 NE Fourth St., stand out from the pack by breaking the mold of what to expect when sitting down to dine.
Menu items are broken up by flavor profile instead of appetizer, salad and entrée. Small plates are on the menu right alongside entrees using qualifiers like "sweet and savory," "fresh and light," "smoky and satisfying" and "casual and comforting."
Inside many of those dishes, Black takes guests around the world in one plate, combining flavors from different cuisine. Southern-fried green tomato is joined by Italian burrata cheese and avocado candied bacon for one of its most popular starters ($12). Another popular dish are lamb ribs — popular in the Mediterranean — but they get a decidedly non-Mediterranean brown sugar glaze and are paired with South American chimmichurri.
The ethos extended to Black Walnut's cocktail program, which features flavors from Italy, England, Canada, France, Thailand, China, Brazil, Panama and Mexico with each individual drink.
The three restaurants connected to Maywood Apartments along Walnut Avenue operated by chef Black and Rudy Khouri (founder of La Baguette in Norman) ascend in service from left to right. There is counter-order La Baguette Deep Deuce, the casual table service of Black Walnut and the high-end tiered tasting menu of Grey Sweater at the northern end of the complex.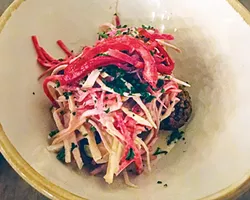 Jacob Threadgill
Falafel under a salad or celery root and apple will be leaving the menu at Black Walnut this week.
While there is no direct street parking for the restaurants, there is plenty of free parking in the building's garage, which can be accessed along Oklahoma Avenue. Just follow the red signs and pull up to the gate, which will automatically open. Even during a Friday night in which both Black Walnut and Grey Sweater entertained packed houses, there were plenty of available spots.
For a Friday night dinner, I was able to make a reservation on Thursday, but it's the kind of place where you can easily pull up to the bar for a meal and drink during the week on a walk-in or find space for weekend brunch.
I took the elevator up from the parking garage and walked up to the maître d, who asked if it was my first time dining at Black Walnut (it was) and was greeted with a hearty handshake and smile, which was an indication of quality service to come.
Thankfully, the server refrained from the somewhat obnoxious trope of "We do things a little bit differently here" when explaining that the menu is broken up by flavor profile rather than dish size. I like the way the menu is divided because it promotes sharing dishes — but unlike tapas, which always leaves me hungry, Black Walnut is offering hearty meals.
Our server was helpful in guiding decisions for cocktails as we settled on the "takes two to mango" ($13), which she said was her creation and inspired by the sweet/spicy combination found in many Mexican fruit candies. The drink was topped with fried sage that provided a smoky finish. The House ($9) with Black Walnut-infused bourbon and bitters was simple, yet complex in flavor.
We started the meal with falafel cakes paired with celery root apple slaw and burnt leek vinaigrette ($9), which was well executed but not a preparation of falafel I haven't seen. When I met with chef Black this week to follow up on the meal, he said a new menu unveiling this week will not include the falafel dish.
What he has planned to replace it excites my tastebuds. The new dish will combine an Italian preparation of eggplant with a West African acaraje (spiced ground beans formed into a patty and fried like a fritter) with Lebanese-style garbanzo beans, garlic and olive oil ($11).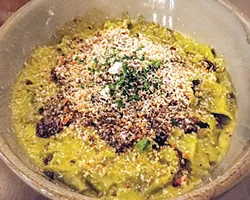 Jacob Threadgill
Spinach pappardelle with a sauce made with tomatillo and butternut squash
"It's going to be one of my favorite complex items on the menu," Black said. "My problem with a lot of vegan and vegetarian cooking is that many people don't put enough flavor. There is no compromise in flavor. I know I can pack it with flavor so you won't miss anything."
We continued our meal with a pair of chargrilled oysters ($3 each) topped with Thai vinaigrette and Parmesan and cambozola cheeses. They reminded me of Oysters Rockefeller, but the oysters are quite small — the meat itself was about the size of a nickel.
Black said he uses smaller Pink Moon oysters as a way to entice people that might not usually eat them. I might like to see an option for $6 for a larger portion.
The meal continued with spinach pappardelle served in a sauce made with butternut squash and tomatillo that includes poached egg topped with crispy anchovies and breadcrumbs for texture ($15). I really enjoyed the balance of sweetness from the squash and acidity from the tomatillo for an interesting sauce, but there was too much of it. The pasta — which didn't have an al dente bite — was drowning in the sauce and might've been cooked too long because the advertised soft-boiled egg arrived hard-boiled, without requisite runny yolk.
The branzino with perfectly crispy skin topped on saffron raisin couscous and sumptuous lobster broth ($28) arrived and whipped away any lingering disappointment from the pasta dish. The broth balanced spicy and seafood flavor as the pearl couscous held up through the cooking process, which can't always be said for the smaller types of couscous.
"The broth adds intense flavor with that light, mild fish," Black said. "I wanted to put couscous with it that I knew wasn't going to be too heavy. You can do more with [pearl couscous]. You can add things and it holds it versus other kind of couscous where it almost becomes mush."
I'm excited to see where Black takes the menu. Full-time additions include scallops with candied bacon and truffle fries ($38), tomahawk pork chop with crispy mushrooms, asparagus and Brussels sprouts ($39) and vegetarian dishes like the previously mentioned eggplant, a salad made with turnip leaves and roasted butternut squash, avocado and garbanzo beans ($11) and cardamom roasted baby beets ($12), which Black said are sweet in flavor and taste less like dirt than standard red beets.
"Every time I got to take an item off the menu, there's someone that says 'Don't touch it," Black said with a laugh.
Visit blackwalnutokc.com.