Miguel Rios
Only two of Edmond Railyard's seven food and drink tenants have yet to open but are expected to do so within a month and a half.
Food and drink tenants:
Hott Wings
a concept from the owners of Eddie's Bar & Grill
Oak City Pizza
formerly the Smoke N Oak Pizza food truck

Gogi Go
a Korean barbecue restaurant with another location in Midtown

Cities Ice Cream
an extension of the Capitals brand, which has a location in Midtown

Taqueria El Camino
a taco shop concept with chef Chris McKenna

BlueJ's Rollin' Grill
a food truck specializing in classic American cuisine

1884
a craft bar by the owners of The Patriarch Craft Beer House & Lawn
Chris Anderson and Casey Massegee, Grant Group principals, got tired of having to travel south with their friends and families for unique, local eateries, so they decided to create a venue for those places at Edmond Railyard.
"We selfishly thought it would be good for the city of Edmond," Anderson said. "We have a lot of other real estate in the area, so we thought it would be good for the area and good for the town in general."
Edmond Railyard, 23 W. First St., follows in the footsteps of recently opened food hall concepts like The Collective and Parlor, both of which are in OKC and contain a variety of local restaurants.
"Edmond is essentially all chains. There's just a handful of local restaurants, local flavor. Everything [at Edmond Railyard] is local," Anderson said. "We're similar to the food halls, but we're different in the sense that if you want to eat inside of these restaurants, they all have their own seating. The capacity is going to be around 50 for each restaurant. … So we offer both that traditional restaurant feel, plus that food hall feel where everybody can get something different and sit in a common area."
Through previous relationships, Grant Group secured a few tenants, but most learned about the project by word of mouth. The mixed-use development in downtown Edmond will consists of six restaurants, a craft bar and two businesses (Midwest Energy Investments and Alliant HR Outsourcing) in its office spaces.
"Everybody in here has other brick-and-mortars or food trucks, so they have experience," Anderson said. "We sampled everybody's food. We chose food that we thought was good and we thought would fit and complement each other, not compete. We put a lot of thought and effort into choosing the right tenants."
BlueJ's and 1884 haven't finished construction but are expected to open within the next month and a half. 1884 benefits from having the biggest space in the development and will be connected to the 10,000 square-foot patio that provides outdoor seating in front of a colorful mural by OKC artist Kristopher Kanaly. 1884 will also serve food, so it doesn't have to be exclusively for people 21 and older.
"They'll have craft cocktails, craft beers, high-end wine, and upstairs they will have a cigar bar," Anderson said. "They will also have a cold menu and the ability to make paninis and light foods."
The goal with Edmond Railyard was to create a destination for families. Anderson said they wanted the entire development to be welcoming for children as well.
"Edmond is a family community. It's different than Oklahoma City. The tenants that have locations in Oklahoma City were surprised when they did their grand openings, just how much business they did," he said. "Instead of just a younger couple walking in, you have a couple walking in with two, three, four, even five kids. So they're doing the same ticket orders, but the sales are so much larger because there's more people. [People] come out here, and we have the patio with turf grass and games and stuff, and there's kids running around playing and lots of families. So it's definitely geared towards family."
Once BlueJ's and 1884 finish and announce their individual grand openings, Anderson said they will throw a collective grand opening party where they'll encourage restaurants to have specials.
"Each one of these restaurants has had a grand opening and had great turnouts," he said. "So this will be a grand opening party just to celebrate everybody being open."
While Edmond Railyard is still not fully completed, Anderson said they're already looking to keep expanding the project and they've purchased the buildings east of Edmond Railyard to S. Oschner Drive.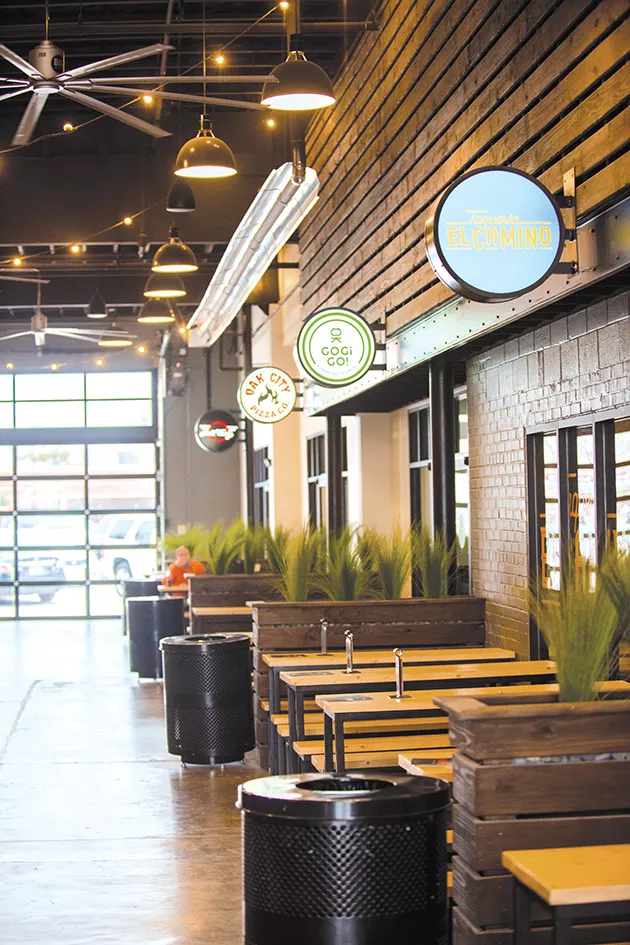 Miguel Rios
Edmond Railyard features a patio and common seating areas, but each food and drink tenant will also have seating space within their space.
"We have a pie concept that's going in next door. We have a vegan-based restaurant going in next door, and we'll just keep pushing this project to the east," he said. "We're doing demo on the stuff, so we hope to be handing over the spaces to the tenants in the spring so they can finish their build-out. So we'll keep growing."
Looking even further ahead, Anderson said they want to build on the idea of being able to "live, work, play" in the development.
"If we could have apartments on top of this, we would, but we can't do that. We already leased out two of these spaces to offices, which [collectively] have about 20 employees, so they're naturally going to eat here. Anything we can do to help just the success of everybody — more retail, different types of retail, different types of restaurant, just to get different people here so they can see everything else," Anderson said. "We'd like to get some activity-based retail like a cycle bar or a yoga studio. Obviously we're going to get more restaurants that complement what we already have and don't directly compete."
Visit facebook.com/edmondrailyard.