provided
First We Dance, Then We Greet, Then We Eat pairs a hands-on cooking class with a dancing lesson.
First We Dance, Then We Greet, Then We Eat
2-4:30 p.m. Feb. 15, March 21 and April 18
SixTwelve
612 NW 29th St.
sixtwelve.org
405-208-8291
$20-$75
Growing up in New York City suburb Rockland County, Marie Casimir belonged to a community of open doors.
"I had access to lots of different cultures, but within that context, it was like we lived in each other's homes," said Casimir, founder and director of Djaspora Productions. "You were outside playing with kids, and you'd run into somebody else's house and grab some food. I missed the communal aspect of that, so I am always trying to bring that into my work as much as possible."
Casimir, whose family immigrated from Haiti when she was a child, said her love of community inspired First We Dance, Then We Greet, Then We Eat — a series of six monthly events pairing a hands-on cooking class with a dancing lesson.
"There was always food, and there was always dance and there was always music, and those things weren't separate," Casimir said. "So I wanted to create a space where people can really inhabit that. … It's all communal, and it's all art. … It's all seamless. It's all one."
Three remaining installments are currently scheduled 2-4:30 p.m. Feb. 15, March 21 and April 18 at SixTwelve, 612 NW 29th St.
Kindred Spirits co-owner Chaya Fletcher, who serves as "curator of the culinary experience," said combining food and dance provides opportunities for socializing, learning and creativity.
"Food brings people together, and then we bring in dance and how we share space with each other," Fletcher said. "So I think it's important that we have a dancer and a chef that appreciates both those things — community and exploration of different cultures and tying different expressions of art together."
SixTwelve co-founder and executive director Amy Young said the events fulfill the community education center's mission: "sharing tools to build a better community."
"We focus on creativity and sustainability, and part of sustainability is cooking," Young said. "We try to grow our own food at SixTwelve with the idea that the kids can bring it in, learn how to cook it and then eat it so they see from the seed to the fork. … The whole idea behind SixTwelve is to give people a place to go where they can learn how to do things that help them better take care of themselves and each other, from the time they're 3 until they leave the planet."
Casimir, who taught series of dance and writing workshops during her artist residency at SixTwelve in 2018, said she originally imagined First We Dance with the space in mind because its community garden and multigenerational atmosphere reminds her of her childhood.
"I think it's such a unique space in Oklahoma," Casimir said. "'I tell everyone I know … 'There's chickens, there's children, there's vegetables, there's old folks, there's everything in between. It's amazing.'"
The dances and dishes highlight African and African diaspora cultures. A past event paired jazz dance with vegan soul food prepared by Nicole Asali, owner of Health Koncious catering, for example. The Feb. 15 event features a lesson in kizomba dancing, which originated in Angola (formerly a Portuguese colony), followed by Latin-fusion cuisine prepared by chef Jonas Favela from Graffiti at Parlor OKC.
"I call it the fusion edition, but in my head, it's also the sexy edition because kizomba is this partner-style dance, which is super sexy," Casimir said. "Originally, it's from Angola; that's where it originated, but it's super international. … It's really popular in Brazil, it's really popular in Paris, and Martinique in the French Caribbean. It's popular in Haiti."
A dance for partners was chosen specifically for Valentine's Day weekend.
"If you don't have someone, come and get someone," Casimir said.
Part of the event's purpose is "creating an environment where people feel safe to experiment, to try new things."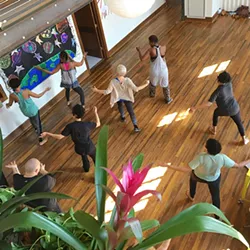 provided
The next event is 2-4:30 p.m. Feb. 15 at SixTwelve.
"People who don't normally go to dance class have come who were like, 'I don't normally do this, but let me try,'" Casimir said, "or, 'I'm just here for the food, but I have to dance to get the food.'"
As a dance instructor, Casimir said teaching people who don't think they can dance is most rewarding.
"You get to watch the progression of people from the beginning of the class to the end of the class, especially people who walk in thinking, 'I have no rhythm. I have two left feet. I don't really dance,'" Casimir said.
Casimir — who also co-founded The Instigation Festival, which brings improvised dance and music to nontraditional locations in New Orleans and Chicago — said presenting art in an informal setting can make it feel less intimidating, especially when it's followed by food.
"We were doing jazz dance, which people think belongs in a dance studio," Casimir said. "What happens when you bring that jazz dance into a community space, and then there's food to go along with it? It breaks down the idea that certain forms belong in certain spaces. … The idea is always, 'It's fun.' It doesn't always have to be precious, even though precious is nice and beautiful too."
Intersectional cuisine
Dishes such as the Burkina Faso-style fufu featured at a previous event can also offer a new experience.
"I think maybe 75 percent of the people had never had fufu," Casimir said, "so it's introducing people to African diaspora cuisine. … If you're familiar with African diaspora culture, you can come and celebrate that, and if you're not, then you can learn in an environment that feels encouraging and inclusive of everyone."
Fletcher said the kitchen is an inherently inclusive environment.
"The kitchen is the place where everybody always ends up," Fletcher said. "That's where you share in conversation or food or drinks. So, to me, the kitchen has always been this communal space."
The cooking class instructors have ranged from professional chefs to home cooking experts, but Fletcher said she and Casimir have been "really intentional about finding people who we felt were artists" who "have a passion to create food, even if it's not what they do for a living."
"Creativity is art, whether you plate it in a certain way or whether we're eating family-style," Fletcher said. "To me, it's more about the communion that we share when we eat and drink."
Young said the combination of dancing, socializing and cooking offered at these events creates a close-knit community atmosphere.
"By the end," Young said, "we're making friends, we're eating together, we're laughing and joking. That's the beauty of food to me. It really does pull everyone together."
Casimir agreed.
"Usually people are lingering," Casimir said. "That's always the best. That's when you know the food has been good and the time has been good."
Registration is $20-$75, and each event is limited to 15 people. Call 405-208-8291 or visit sixtwelve.org.