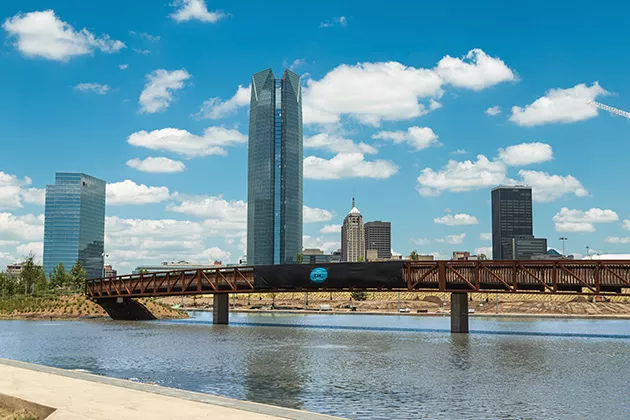 Provided
Boat rentals during the park's grand opening weekend will be free.
Scissortail Park Grand Opening
Sept. 27-29
Scissortail Park
300 SW Seventh St.
Free
After more than a decade, part of the MAPS 3 Scissortail Park is nearly ready to open. Construction crews continue working around the clock, getting the park ready for its three-day grand opening celebration.
Festivities kick off Sept. 27 with a ribbon-cutting immediately followed by a free Kings of Leon concert. The park offers several activities throughout Sept. 28 and 29.
Maureen Heffernan, CEO and president of Myriad Gardens Foundation and Scissortail Park Foundation, said the park's grand opening has been 12 years in the making.
"Come to the grand opening. It's going to be wonderful. Come to one day; come to all three. There's going to be a lot to do," she said. "But just discover the park and use it and make it your own. Partly, parks are brought to life by the people who use them, and so I would hope that people really get out and use the park so that the park is vibrant and alive and fun."
Besides food from various food trucks, boat rentals, live music, game zone activities and more will be free.
"We've been working on this for a long time. We wanted to have everything free, so everything for the grand opening is free, free, free — even the boats are going to be free," she said. "We've raised a lot of money; the mayor has raised a lot of money for the Kings of Leon concert, so that's why we wanted to make everything free."
Due to Oklahoma's rainy spring, some construction delays did occur, but Heffernan said most of park will be ready. However, the cafe and boathouse will not offer food and the roller rink will be a sponsor area during the grand opening.
"There's just going to be a number of areas which will be fenced off in terms of planting areas. The sidewalks won't be fenced off, but we just don't want people walking in flower beds or planted areas when they're so new," she said. "To be honest, it won't look 100 percent, fully completed; it just won't. Things look very new. There may be a few areas that are unfinished for sure, but enough is done that you really feel like the park is finished."
Kickoff concert
Sponsored by The Chickasaw Nation, Broncho and Republican Hair open for Kings of Leon at 6:30 p.m. Friday on the Love's Travel Stops Stage and Great Lawn.
Friday's setup will be largely different from the rest of the weekend. Heffernan said almost half of the south part of the park will be fenced off with no public access that day. The area behind the stage will also be fenced in for band setup. Attendees are not allowed to bring their dogs, coolers, large backpacks or lawn chairs, but that only applies to the Friday concert.
The great lawn will also be fenced in and have metal detectors to enter through due to security concerns. Per state law, guns are allowed in the park, but Heffernan said they are working with Oklahoma City Police Department, Emergency Medical Services Authority (EMSA) and the fire department to make sure there is enough security.
"I'm so impressed with their thoroughness and detail, and they are planning this with extreme care and thought," she said. "I feel very confident with them in charge of security."
After The Oklahoman reported guns would be allowed in the park, many people took to social media to express their discomfort. While some people defended the state law and asserted they would still attend, several people said they would not go because they felt unsafe.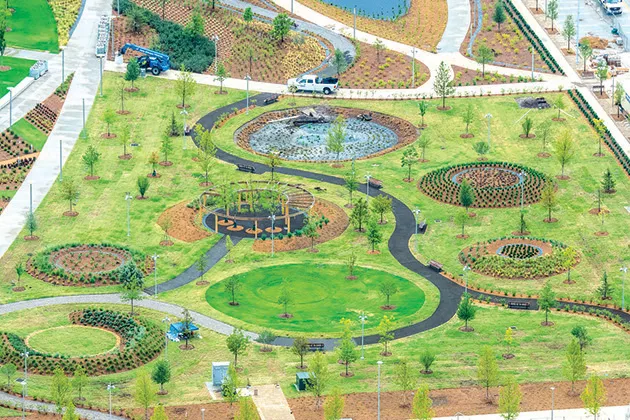 Provided
Crews are working around the clock to prepare Scissortail Park for the grand opening weekend Sept. 27-29.
"Whatever people are comfortable with. Obviously, I'm not going to argue with them, but I certainly wouldn't miss it for anything … even if I wasn't working here," Heffernan said.
She said the event is not much different from other big gatherings in terms of allowing guns because of the state's laws. However, if they had the option, Heffernan said they would consider restrictions.
"I would like to see for our organization to have the ability to restrict open carry at times where we feel that's in the best interest of the public and the park, just for general safety," she said.
The fire marshal will tell officials how many people will be allowed in the fenced-in great lawn. Heffernan said it could be around 25,000 or 30,000 on a first come, first served basis.
"Once we feel we've reached that limit, that's all we can take," she said, "but that's where people can still come downtown. They'll certainly be able to hear it. … Even if they can't get into the actual lawn area, I think there's still a lot to see and experience right around it."
Scissortail Park crews will work late Friday to remove most of the fencing, so the park will be fully open Saturday and Sunday.
Events at the park kick off 8 a.m. Saturday with yoga and Zumba presented by Gold's Gym. Boat rentals are available 9 a.m.-7 p.m., and food trucks arrive at 11 a.m. along Robinson Avenue. Sunday begins with boat rentals and food trucks available at 11 a.m. Various events are planned throughout the park both days, and fireworks close out all three nights.
Making plans
The park opens Friday at 5 p.m. with the ribbon-cutting and dedication starting at 6 p.m. on the great lawn stage.
"Mayor [David] Holt is going to lead that," Heffernan said. "They're not going to have tons of speakers and all that kind of thing. It's going to be briefer, but there will be an official ribbon-cutting at that point."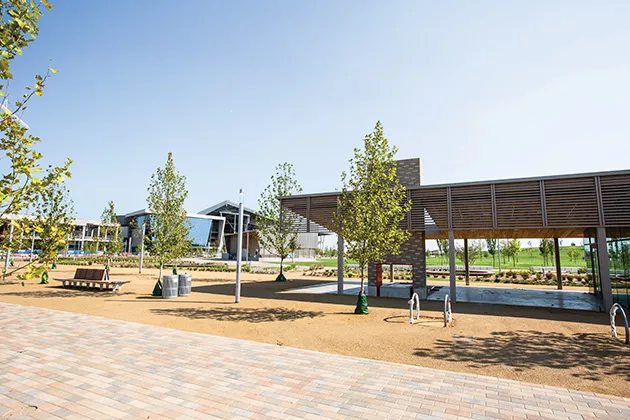 Alexa Ace
Next spring, Scissortail Park's boathouse, cafe and roller rink will open.
After Friday, people are welcome to bring their own food to the park, but a variety of food trucks will be on-site as well. The streets that border the upper park — Hudson Avenue, Oklahoma City Boulevard and Robinson Avenue — will be closed, so there will not be parking around the park perimeter. However, the OKC Streetcar, which has a stop in front of the park, will still be running and Skydance Bridge will also be open to allow people to walk across.
"We tell people to think about when the Thunder has a big game. Where do people park? It's those places," Heffernan said. "All three days, those roads are going to be closed, but after that goes away — there's a lot of parking actually around the perimeter — so on an average day, you should be able to find a spot fairly close. But for the grand opening, take the Streetcar, there are buses, walk, bike."
Officials are still considering a designated drop-off/pick-up site for rideshare services. It will be posted on the park's website and social media platforms once finalized.
"But folks might want to think about if you are going to do that, maybe just walk a couple of blocks away from the park and then call since there will be a lot of people and the streets will be closed," she said. "But it'll be kind of fun having the streets closed. That adds to that sense of something special happening."
Park place
Scissortail Park is part of the MAPS 3 package OKC residents approved in 2008. The project budget is $132 million for the entire 70-acre park, which was designed by Hargreaves Associates. The grand opening is only for the 30-acre upper park, which is bordered by Hudson Avenue, Oklahoma City Boulevard, Robinson Avenue and the Interstate 40 corridor.
"This park has been almost 12 years in the making from when it was first thought of and going through the MAPS process and all of the design time and clearing all the old buildings," Heffernan said. "So big project and tons of people involved with it. … With Myriad Gardens, we're 15 acres, so this is double the size of that. So it's really big. I mean, when you're over there, the scale is really large; it's really cool."
The upper park has three main features: the great lawn; a tall, sloped hill area; and the lake.
"You can't see over the hill when you're in the [Great Lawn] area of the park. … So it's kind of neat; when you walk around it or up it, the rest of it comes into view, so it's a really neat view and 'Oh, wow!' moment," Heffernan said. "The lake has these two fingers coming around with a bridge that connects to the boathouse area. So those are the three big things that kind of set the tone here — the lawn, this promontory and the lake."
Union Station is also located in the southwest corner of the upper park. The Scissortail Park Foundation staff will rent about 2,000 square feet of office area in the building. It will also serve as a place to store equipment and golf carts.
"It won't be open to the public. I mean, we might do some tours here and there for people to see it because it's really neat when you go in there; it's like a time capsule," Heffernan said. "It's got the floors and the big light features and a lot of the woodwork and where you'd buy your ticket through the counter windows — it's all there. It's really well-preserved. … In a few more years, hopefully that is all renovated."
There is a lot of interest in renovating Union Station, Heffernan said, but that won't happen for a few years. The ultimate vision is for it to serve as a visitor center with a gift shop, a cafe, office space, meeting areas and several rooms for events and programs.
"We are hopeful and confident that the city has some pockets of money of different funds that could be made available towards that purpose," she said. "Everyone involved with the park sees Union Station as a really important anchor for … the long-term success of it. It's such a beautiful old building and historic that, like the Skirvin Hotel, it really needs to be preserved and renovated so it's in use again."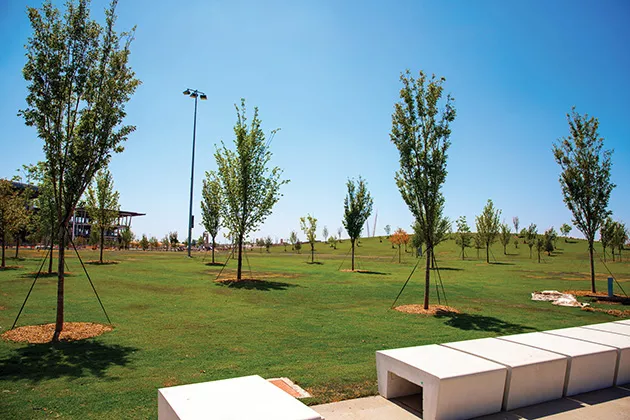 Provided
While ready to be open, much of Scissortail Park's landscaping will need time to grow.
Skydance Bridge connects the upper park to the lower park. The 40-acre lower park is expected to open in 2021 or 2022.
"The lower park is going to have soccer fields and a basketball court and pickle ball. It'll have a little athletic building here with a little cafe as well," she said. "We're going to have kind of a community garden type thing — sort of urban farm. [The lower park] is going to be more naturalistic. It's not as built up with all the different buildings and features. It's going to be a real oasis and retreat for people."
Foundation goals
Because MAPS 3 only provided money for capital improvements and not operations, Scissortail Park Foundation, like Myriad Gardens Foundation, is tasked with the operations of the park, which includes finding ways to fund it. Heffernan said the planning and design phase of the park intentionally built in things that could generate revenue for operations.
"Things like boat rentals or roller rinks or cafe commissions — all of that is earned revenue. Then [we also rely on] donations and sponsorships and grants," she said. "Over time, we want to start to earn a significant amount to offset the city's cost. So one of our missions is to do that, so hopefully we reduce the city's cost of maintaining this at a high level.
"There's a pavilion and there's large roofed areas; the sides are open. We're going to use that as the roller rink area. … We'll use it for dinners or farmers markets or people can rent it for dinners. We'll have all kinds of hopefully interesting stuff, so it's kind of a multi-use pavilion. And next spring, the boathouse will be open. It will serve some light foods and drinks there. That's going to be a really popular place to hang out in the porch there."
Despite the park's amenities and the upcoming lower park, Heffernan emphasized that officials want the community to make as much use of the park as they can.
"The more people in the park, the more fun it's going to be. Whether you're just sitting on a park bench, watching people, or people are there and you get together a badminton game or whatever it may be," she said. "People make the park as well. You can plan things and do things in a beautiful place, but you need the people to really activate it and make it their own."
While mostly complete, Heffernan said the park will hold almost a second grand opening in the spring once the art sculpture is installed and the boathouse and Spark, the cafe that will be operated by The Social Order Dining Collective, opens.
Volunteers are still being sought for the grand opening weekend. Visit scissortailpark.org.