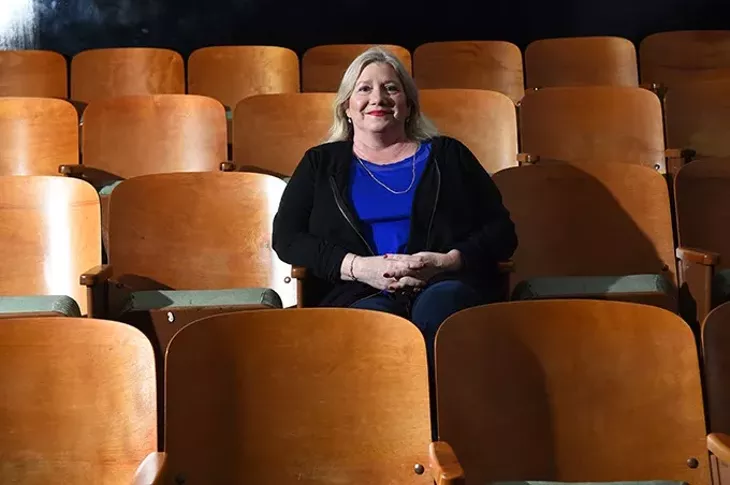 Mark Hancock
Recently divorced Tammy McKee might just attend a movie alone this Valentines Day, shown illustrating this idea at the Paraamount OKC theater, Film Row, Oklahoma City, 1-26-16.
For the average couple, Valentine's Day is typically spent with flowers, chocolates and cozy dinners for two. It's a night of champagne, satin sheets and "I Got You Babe."
But for the single person, it's more like beer, a bag of pretzels and "Desperado, why don't you come to your senses?"
Feb. 14 is quickly gaining notoriety among the uncoupled as Singles Awareness Day or SAD. In fact, statistics show a person in the never-been-married category has a better chance of singing the national anthem with the Dixie Chicks at a Duck Dynasty convention than getting hitched. OK, that statistic was made up, but the point is what's important. Finding a mate is difficult. And keeping one isn't easy.
"I am spending my first Valentine's Day alone since my divorce last year," said newly single Tammy McKee, who reverted to using her maiden name. "Recently, I've been considering how I'm going to handle it. Even when I was married, I never liked going to dinner on Valentine's Day because of the crowds. So probably what I will end up doing is what I did for Christmas and just pretend it doesn't exist."
That means no decor, no cards and no chocolates.
"It also means I will be avoiding the Hallmark Channel at all costs," McKee said. "I may end up going to a movie by myself, but definitely not a romantic movie. It is just one day, and then it will be over."
Expert advice
Experts agree and say if you're spending Valentine's Day alone and feeling unloved, it is important to do something nice for yourself.
"It is just one day out of the year," said Gale Llewellyn Hobson, a psychologist and medical director for Mercy Clinic Behavioral Health. "Just because the commercials make it into a major production does not mean you have to respond. But there are some steps you can take if that particular day bothers you."
First, she said having a plan is always good.
"Maybe you can make a special meal you enjoy preparing for yourself or take a day trip to see something new. Go to a museum, a garden or a movie. Change your focus for the day. And it never hurts to buy yourself a pretty new pot of flowers for your home or office," Hobson said.
It is also important to remember there's a big difference between being lonely and being alone. Lonely is a state of mind, Hobson said, and a person's thoughts can be redirected. Meanwhile, being alone can actually be very satisfying.
"Even though you often hear people who are married are the happiest, that's not necessarily so," she said. "A new study just out reveals an unhappily married person is far less happy than a contented single person. A single person has the option to learn about themselves and to work on issues from past relationships. So keep the perspective if you are single this Valentine's Day that you can be moving forward to making the relationship you want in your life."
Hobson said the first year of any loss is usually the hardest.
"The first year is probably important to schedule some of the day with a friend or family member," she said. "And there are lots of single people out there. In fact, most all of us at some point in our lives will live without a significant other. It is important to view it as a time to reflect on the good in our past relationship and to cherish those memories. Some time to be sad during the day is OK too. Tears are very healing. Just mix that with some healthy food and exercise to keep the balance."
Singles Awareness Day can be a good time to reflect on your life. Don't be fooled into thinking you're the last single person on earth, Hobson said.
"As you look around on Valentine's Day and think everyone looks like they are in a couple, that can be very misleading," she said. "Grab your brother or sister, a dear friend or an older neighbor who may need company and take them for a treat or go for a healthy walk. It really is all in your perspective."
Print Headline: Another day, Valentine's Day can be challenging for singles, but rebranding it might make it easier.