provided
Johnny Manchild & The Poor Bastards
Most people know what it's like to lie in bed with tired eyes but a racing mind. Few people, however, have felt it to the extent of Jonathan Garrett, known locally as singer-songwriter Johnny Manchild.
"It kind of comes and goes," Manchild said. "On occasion, I just won't sleep for a few days."
Perpetual unrest helped fuel Manchild and his six-piece piano rock band The Poor Bastards on their debut full-length album Insomnia, which gets a release show Friday at 89th Street — OKC, 8911 N. Western Ave. The bill also includes appearances by The Big News and Joplin, Missouri's Guys On A Bus.
12-track Insomnia deals with heavier subject matter than the band's poppy 2017 EP Valencia. Around the time Manchild was writing Insomnia, he was in and out of outpatient care at a behavioral health clinic. He was diagnosed with bipolar disorder, and his overall mental health was in dire straits.
"That was pretty bad," he said. "They diagnosed me with a couple of things, and sleep disorder was a pretty big thing for me for awhile."
Lying in bed, Manchild could not escape the thought that he was forgetting to do something. He would get up and write music through the night. Manchild said he has written more than 130 unreleased songs, many of which he doubts will ever see the light of day.
The album's title track was born out of Manchild's sleeplessness. It features a weird metric with several time signature changes in an attempt to capture the mental soundtrack to hallucinogenic exhaustion.
"It's basically the sound of going insane and not being able to sleep," he said.
Key development

Manchild was diagnosed with attention-deficit/hyperactivity disorder, commonly known as ADHD, when he was 4. His doctors put him on a lot of different drugs to manage it, including Adderall.
"It didn't work," Manchild said. "Instead, my dad got me a drum set."
He became a dedicated drum student and by age 10 had already played for his first band, now-defunct Refuge.
Manchild got into engineering and producing in his teenage years and worked on a few albums here and there. He attended high school at Classen School of Advanced Studies, which is also where he was first introduced to piano. Manchild said Classen was a place where typical high school social norms were turned on their heads. With the absence of a football team, instrument nerds were free to become the cool kids.
"It was really good for creative types," he said. "We were allowed to do pretty much whatever we wanted."
After graduation, Manchild enlisted in the United States Army and got heavily involved in its jazz band. When he returned home, the experience inspired him to pursue a jazz degree at University of Central Oklahoma (UCO). Though he was introduced to piano in high school through classical music, it was not until college — and a newfound love for the music of Charles Mingus and Erykah Badu — that he fell in love with the keys through the lens of jazz.
"I went to school as a percussion major and ended up loving piano. I don't have any drums tattooed on me, but I do have this thing," he said, rolling up his sleeve to show a piano-key design that also served as the cover art for his Valencia EP.
Up until early 2016, Manchild was a bassist and songwriter for the band The Happily Entitled. He had a rough falling out with the group but quickly sought to form his own band after leaving them. Manchild pulled the first incarnation of The Poor Bastards together from players in his college jazz ensemble and other students in the UCO jazz program. The current roster includes drummer Ethan Neel, bassist James Thompson, guitarist Chris Lashley and trumpet players Ben Wood and Danny McGinn.
Growing fast
Manchild grew up with two mother figures, and his stage name comes from one of them, Phoebe Thurman. Thurman, the songwriter said, is not a tall woman, and by the fifth grade, he had already eclipsed her in height. "Manchild" was originally a pet name she used for him around the house.
The musician changed his last name from Garrett on Facebook to reflect his stage handle and found that it does not take long to take on a new identity in the digital age.
"It took about four months for everyone to completely forget what my real last name was," he said.
The Manchild persona was originally intended as a defense mechanism against the musician's paralyzing anxiousness.
"At shows, I have a hard time talking to people," he said. "I have pretty intense social anxiety for the most part — which this band has helped a lot with, actually. But I was not the person to go up to someone after a show and say, 'Hey, what's up? Thanks for coming out!'"
The moment he walks through his front door after a gig is usually a time to exhale. The Manchild mask comes off and he can return to his familiar, unrested self.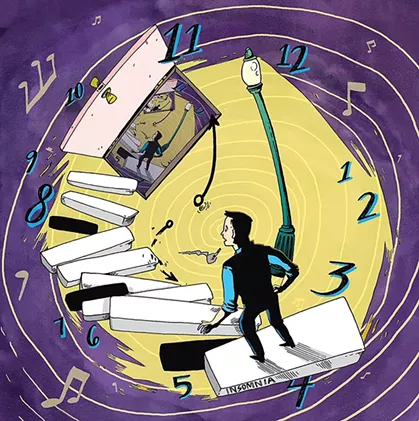 provided
Insomnia
Something different
Coming off a lighthearted debut EP, Manchild had a surprising goal for his band's debut full-length.
"I kind of wanted to make something even less relatable," he said. "I don't know if people will like it as much, honestly. But I do."
Insomnia might deal with heavier subject matter, but Manchild said the album is likely his greatest musical accomplishment to date. It is certainly his most personal.
The album was recorded almost entirely at Skyloft Recordings, where Manchild is an engineer. The studio space opened in August, and Manchild began recording Insomnia almost as soon as he started there.
"I got really lucky with that," he said. "[The owner] just asked me to help do the thing and it gave me a place to record the album."
Within the last several months, Manchild has helped produce records for Astral Planes and One Two Ten. He also recently returned from a touring job playing bass for country singer-songwriter Jared Deck.
"Between all of that and the studio gigs and touring gigs, that's pretty much my life right now," he said.
The subject matter might not be least-common-denominator material, but Manchild hopes the feel of his band's debut is something many will find enjoyable.
"If I have any one goal for the album," he said, "it's that people who don't know anything about music theory can dig it and people who do can really enjoy what's going on."
Visit manchild.band.