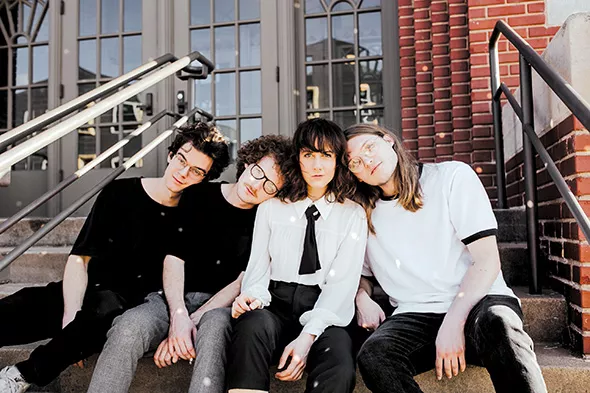 Alexa Ace
Spinster celebrates the release of its self-titled album Friday at Opolis.
Spinster album release
8-11 p.m. Friday
Opolis
113 N. Crawford Ave.
opolis.org
405-230-0311
$10-$12
The difference between The Annie Oakley and Spinster — according to Jo Babb, who writes songs for both — mostly comes down to whether or not her guitar is plugged in.
"I know when I'm writing a song which band it's going to go towards because Annie Oakley is formed around harmonies and mostly softer music and Spinster is solely written on electric guitar," Babb said. "So if I pick up my electric and start writing, I'm probably going to end up using it in Spinster."
Oklahoma City indie-rock act Spinster celebrates the release of its self-titled debut 8-11 p.m. Friday at Opolis, 113 N. Crawford Ave., in Norman. While Babb wrote all eight songs on Spinster, she said her twin sister Sophia is the primary songwriter for folk trio The Annie Oakley. Babb wrote and co-wrote songs on The Annie Oakley's 2018 full-length Words We Mean, but she said her attempts at moving the band's Americana-inspired acoustic sound into more rock-driven territory were ultimately not right for the band.
"'Good Things,' that was on our last record, that definitely should have been a Spinster song," Babb said. "It should have had bass and drums, and I just wasn't aware of the possibilities for creating a new band, so I was trying to get Annie Oakley to go in a direction that, ultimately, it will never go. So now I feel more comfortable writing songs, knowing that they're appropriate for the project that I'm writing them for."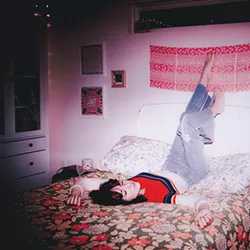 Madi Rae Jones / provided
Spinster, featuring singles "Achilles" and "Sisyphus," will be released Friday.
When her sister left to study in Germany, Babb saw a chance to explore music outside the band she has been a part of since she was a teenager. The Annie Oakley released its first EP in 2013, and in an interview with Oklahoma Gazette last year, the sisters recalled singing to each other in the crib.
"I had been wanting to play some of my solo songs apart from Annie Oakley for awhile, and I didn't really have the time or anyone to play with," Babb said. "But then my sister decided to do an internship and then study abroad for nine months out of the year. I had plenty of time to be on my own."
She met Spinster's lead guitarist Spenser Powers and drummer Tremaine Wade at a show with their other band Swim Fan and bassist Branden Palesano (who also plays in Mad Honey) while working at Classen Coffee Company. Spinster played its first show about a year ago. Though the band originally started as an outlet for Babb's solo songwriting, she said Spinster is increasingly becoming a group effort.
"All of us together are growing into the sound of what Spinster is," Babb said. "I came to the band with so many songs already written, and they added their part, but now we're thinking about, What can we do together as a group?"
In addition to their decidedly more amplified sound, Babb said Spinster's songs tend to have a noticeably different feel and approach than the ones she writes for The Annie Oakley.
"I think I have a different attitude, for sure — a little bit more energy, and also I might be a little bit more pissed off," Babb said. "I don't know why, but you can just let out your frustration when you play really loud on an electric guitar. It's not quite the same with angrily strumming an acoustic."
But, she added, Spinster's songs are not all fueled by rage.
"They're not necessarily angry," Babb said. "They're more just brooding about breaking up and shit like that."
Apart from Babb's unmistakable vocals, Spinster's lead singles "Achilles" and "Sisyphus" are noticeably distinct from The Annie Oakley songs, and Babb said two other tracks on the album — "Temptation" and "For Danica," recorded in a bedroom studio by Norman-based producer Lennon Bramlett, who makes electronic music under the name Bronte — point to a possible future direction for her newer band.
"I think those two will stand out as being a little bit more organic and a little more of what's to come with Spinster," Babb said. "It captured the music that I've been more recently writing because the first six were written around two years ago, and I think I'll be recording a lot with Lennon in the future."
Though Friday's Opolis appearance was initially announced as the last Spinster show before Babb moved out of state, she has since changed her plans and will remain an Oklahoman for at least a while longer.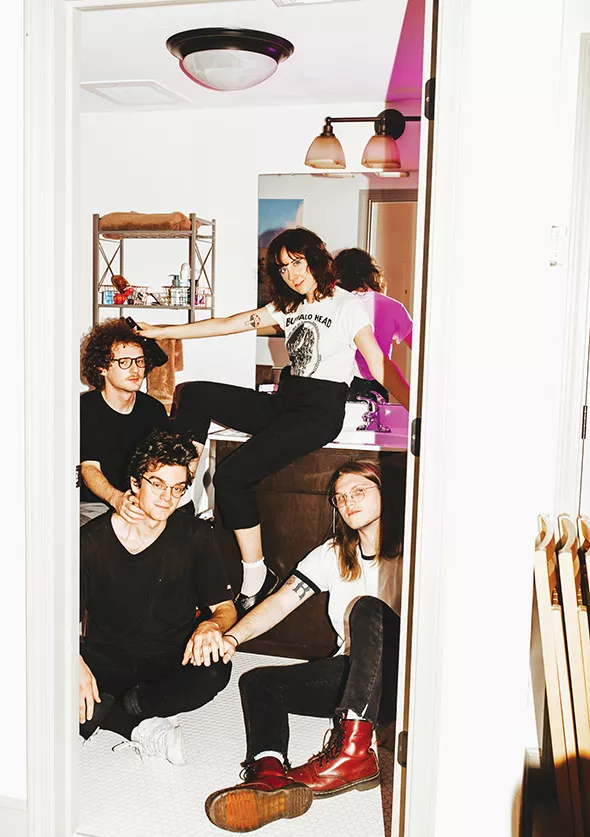 Alexa Ace
Spinster features members of Swim Fan, Mad Honey and The Annie Oakley.
"I thought I was moving to Colorado with Sophie, and I was so sad because I was going to say farewell to Spinster, but I was going to really jump in with Annie Oakley," Babb said. "But then the housing situation changed and Sophie got engaged and her and her fiancé want to live alone. It just made more sense for me to stay here rather than moving to Colorado and living alone, and I decided, Why not jump into Spinster more? … Annie Oakley is playing shows throughout the fall, so we'll meet up for that, but Spinster is going to get all my attention, at least for a minute."
Babb said the band's name might also point to a plan for her own personal future.
"I always loved the idea of being an old, single lady with no kids," Babb said. "I just think that idea is one that used to be really taboo — the old, cranky spinster — but more and more, I feel like my friends and myself included kind of look to that idea as like, 'Oh, yeah. I can do that. I can go my whole life avoiding marriage and children.' My grandma always told me, 'Man, I was so close to becoming a spinster, and then I met your grandfather and now look where I am.' That word has always kind of made me smile."
She laughed at the contrast between her twin sister's intended future as a bride-to-be and her own playing pissed-off guitar rock in a band called Spinster, but she added an important clarification.
"I'm so happy doing it," she said.
Admission is $10-$12. Charlotte Bumgarner and Maddie Razook share the bill. Visit opolis.org.