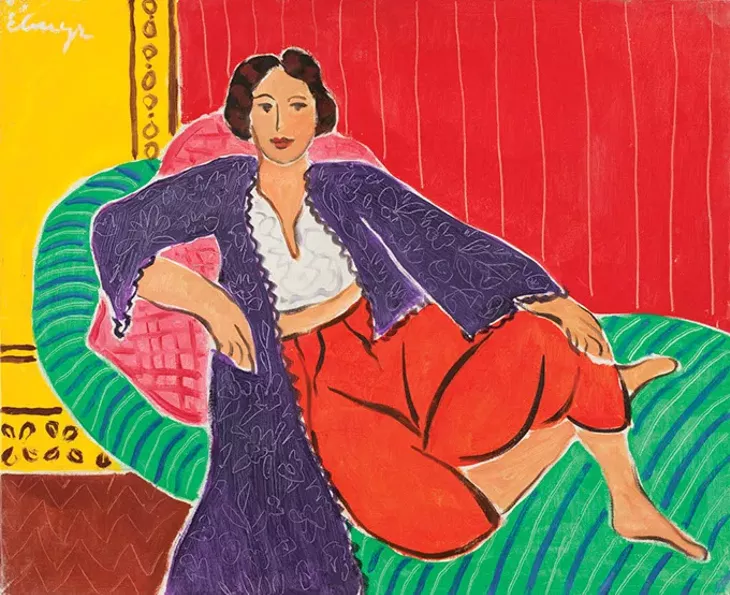 Motivated by disappointing professional efforts, personal failures and general resentment of the art world, the works of five prolific men of deception are coming to the Oklahoma City Museum of Art (OKCMOA) Saturday as part of the exhibition Intent to Deceive: Fakes and Forgeries in the Art World.
Curated by art fraud expert Colette Loll, the exhibition explores the inner workings of notable forgers active in the 20th and early 21st centuries, including Han van Meegeren, Elmyr de Hory, Eric Hebborn, John Myatt and "Father" Mark Landis. Among the more than 55 works on display are original pieces by Henri Matisse, Pablo Picasso, Honoré Daumier and Philip de László as well as fakes and forgeries painted in the styles of these masters.
The techniques used by the men could be painfully simple — Mark Landis would paint by numbers, going over digital prints and sanding the work down to imitate the effects of age — but what made the forgers successful was their technical ability and commitment to misleading the world of art.
"These were confidence crimes," Loll said. "It's an intricate dance … an interplay between the deceiver and believer. The deceiver has a con, but he has the person on the other side of the table who really wants to believe they're getting something authentic and at a great price."
Though each forger exhibited some artistic talent early in his career — Eric Hebborn, for example, trained at the Royal Academy of Arts in Britain and won a Rome Prize fellowship — none of them could align themselves with contemporary art trends, eschewing those trends in favor of the past. Each found that his preference for these older styles was ill-suited to legitimate productivity and recognition, taking by choice the road less forged. But that doesn't fully explain why they'd do it.
"Most forgers have this kind of sick, pathological need to pull one over the experts," Loll said. "It's the culture of the forger."
But the psychological undercurrents can be profound or more simple. While Meegeren, de Hory and Myatt might have been primarily motivated by financial necessity, Hebborn was motivated by a fierce contempt for the art experts who rejected his original work and Landis simply liked how the museum employees treated him.
"I had an impulse," said Landis in a Reddit AMA on Sept. 17, 2014. "Everybody was so nice to me … they treated me with so much deference and respect and friendship — they treated me like royalty. I had never been treated like royalty before … I liked it so much."
The recent outing of Mark Landis as a forger has brought with it a wealth of national coverage.
"There's a kind of media pop culture that takes over," Loll said. "These forgers become cultural folk heroes."
They can become recognized as artists. John Myatt's work, for instance, can sell for $30,000 to $40,000. Another forger, Ken Perenyi, was noted in an Oct. 31, 2014, New York Times article as selling his work for between $5,000 and $150,000.
Despite their popularity, Loll believes the forgers' work will never become a legitimate form of art and we shouldn't let them distract us from their negative impact.
"It's a sexy topic," Loll said, "but the reality is once something enters the art market that isn't what it purports to be, it affects the cultural record, the historical record. The implications are economic, legal, moral and aesthetic.
Art forgery is a cultural crime."
The exhibition, which runs through May 10, displays original works in addition to personal items, photos, film clips and re-creations of techniques and mediums used by each individual to create their reproductions.
The final gallery will contain an interactive space where visitors can differentiate authentic works from fakes and try copying a drawing by French artist Honoré Daumier.
---
Members' Preview
A talk by Curator Colette Loll
6 p.m. Friday
Art After 5: Murder Mystery
Follow the clues to find out who killed the art forger.
6-9 p.m. March 19
Conversation with a Curator
OKCMOA Curator Alison Amick
1 p.m. March 29
Lecture
The Man Who Made Vermeers presented by Jonathan Lopez
6:30 p.m. April 1
Making Memories
A special program for Alzheimer's and dementia patients and their loved ones
10:30 a.m.-12 p.m. and 2-3:30 p.m.
April 13
Art After 5: Opera Performance
Arias from the opera Ascription, composed by Eric Lindsay
7 p.m. May 7
Drop-in Drawing
2-4 p.m. May 2
Free Family Day:
Art Investigations
12-5 p.m. May 3
---
Intent to Deceive: Fakes and Forgeries in the Art World
10:00 a.m. Saturday through May 10
Oklahoma City Museum of Art 415 Couch Drive okcmoa.com 236-3100 $5-$12
---
Print headline: Deceiving psyches, A new exhibition explores the psychology of five modern art forgers.