Gazette / file
Mimi Younis of Queen of Sheba
In some ways, teff flour is a magical ingredient. The iron-rich grain is also gluten-free and has served as the basis for the national food of Ethiopia and other countries in the Horn of Africa for centuries.
Teff is the main ingredient in injera, a sourdough-risen flatbread that serves as both platter and utensil for eating the stewed meats with vegetables (wats) and sautéed bite-sized meats and vegetables (tibs) that comprise a traditional Ethiopian meal.
Queen of Sheba, located at 2308 N. MacArthur Blvd., tucked into an aging strip mall next to Pollo Regio, was Oklahoma's first Ethiopian restaurant, according to The Oklahoman. It has dutifully served diners a unique culinary style since 2006, and with the recent closing of Haiget's Restaurant in Edmond, is the only Ethiopian option in the metro Oklahoma City area.
Founded by Begib and Mimi Younis, Queen of Sheba is a family-run restaurant that will please vegetarians and carnivores alike. The large artwork of Haile Selassie, the last emperor of Ethiopia, hangs over the wall to greet guests who are in store for a communal and flavorful meal that will warm their souls.
The first thing you might notice when sitting down to a table is that there is no silverware. The server explains the tradition: a warm cloth is provided for the table to clean your hands, and the injera is to be used to pick up the various wats and tibs served inside a larger piece of injera.
Injera is made by mixing teff with water and allowed to ferment for a few days, like a sourdough starter. It is cooked like a crêpe by pouring and spreading the mixture on a flattop. The result is a slightly spongy flatbread that is not as flavorful as pita on its own but does an excellent job of soaking up the surrounding stews.
If it is your first trip to Queen of Sheba, the server will recommend the messob ($15.99 for one person, $28.99 for two), which is a variety of beef, chicken, lentils, chickpeas, potatoes, green beans and a salad covered in a house lemon dressing.
Before you dig into the mountain of food that is the messob, it is important not to miss the sambusas ($4.50) fried dough filled with vegetables or meat. I recommend the vegetarian version made with lentils over the chicken variety.
When I first bit into the sambusa, it reminded me of a more yeasty version of a wonton wrapper. A few versions of recipes I found online called for the use of egg roll wrappers, but Queen of Sheba's version has much more give and rise than the flat and crispy wonton wrapper.
It creates a different texture that sits somewhere on the scale between a wonton and an empanada, and I thought it was excellent. The lentils are combined with green chilis, but the heat level is very mild. It is the smokiness of the beluga lentils that sticks with me after the meal. It's the perfect blend of slight heat and smokiness. The order comes with two large sambusas that can easily be split between four people.
A few minutes after contemplating my sambusas, the platter of dishes that is the messob arrived, and I was immediately attracted to the bright-red stewed meats that are spiced with the traditional Ethiopian spice blend berbere.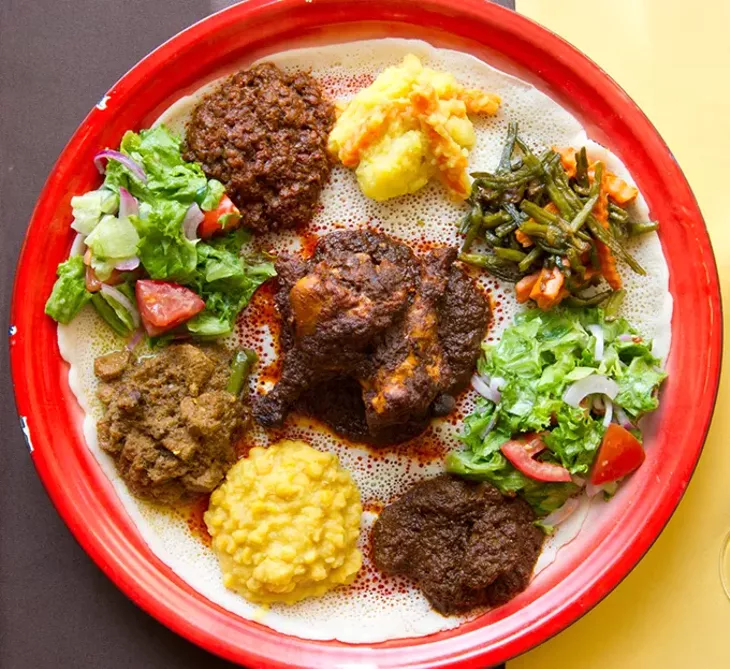 Jacob Theadgill
The Queen of Sheba messob includes three types of meat, string beans, potatoes, lentils, chickpeas and a salad.
I attended a fundraiser for St. Anthony's earlier this year that was hosted by Food Network's Marcus Samuelsson and had an opportunity to interview him beforehand. Samuelsson, who was a refugee from Ethiopia who grew up in Sweden, waxed poetic about his love for the berbere spice blend, and I've thought about it ever since. Savory Spice Shop, 4400 N. Western Ave., sells a berbere blend of spices.
He served a chicken dish that evening with berbere that I found to be extremely flavorful, and I honestly thought Queen of Sheba's version was just as good, if not better.
Mimi Younis has been quoted in the past that the restaurant has toned down its berbere for U.S. palates, and I could certainly go for more heat, but the spice blend is the basis of the messob for the chicken, lentils and lamb. The alicha beef is stewed in spices, butter, turmeric and ginger. My plate only had two pieces of lamb, which was disappointing because I preferred its berbere-based sauce to the alicha.
In fact, I enjoyed all of the berbere-based dishes. The chicken was tender, but not so much so that it fell off the bone upon slight touch, which is a good sign. The entrée lentils packed much more heat than the version in the sambusas.
The other sides were hit and miss. The potatoes were heavy on clarified butter and didn't have much other flavor, but they were preferable to the chickpeas, which were somewhat surprisingly bland and gritty. The accompanying salad was bright and a perfect palate cleanser for the accompanying meat in the injera. The string beans with carrots were overcooked, but by design. They had almost a fried texture that I'm sure cooked out most of their nutrients, but they were enjoyable.
Overall, I enjoyed the environment at Queen of Sheba. They played smooth jazz throughout the meal, and the communal nature promotes fun discussion between dinner guests. The dinner-only restaurant opens up with live music on Friday and Saturday nights for a heck of a good time.