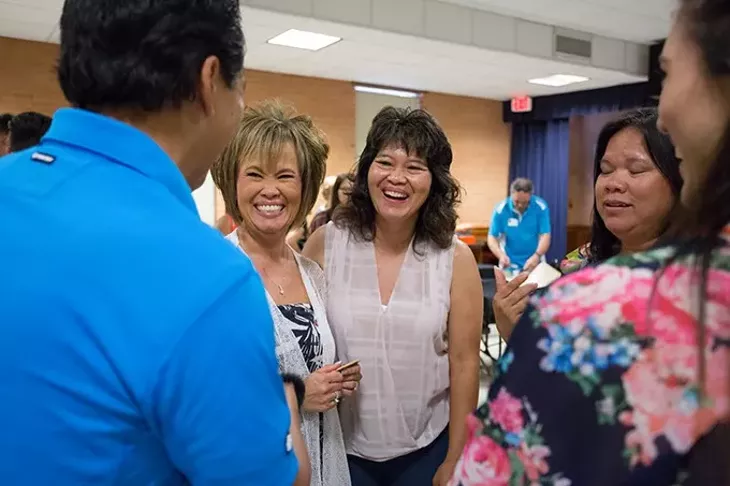 Emmy Verdin
A small group of the 23 children, now adults, share a laugh. Gisela Huyssen and her husband Ulrich Huyssen adopted 23 Vietnamese children to American families at the end of the Vietnam war on Saturday, July 2, 2016 in Oklahoma City.
The images are still vivid 41 years later.
Twenty-three small Vietnamese orphans walked through Will Rogers World Airport. Varying in age from 4 to 12 years old, the children took their seats on the airport's cement floor. Unprovoked, the 23 began to sing "Jesus Loves Me" in their native Montagnard dialect.
It was April 30, 1975. Thousands of miles away, North Vietnamese troops poured into Saigon, capturing the southern city and ending a deadly war.
The children's chorus of the popular hymn and the smiles of Christian missionary couple Ulrich and Gisela Huyssen vastly contrasted images from Vietnam. In the final days of the war, civilians, foreigners and those loyal to South Vietnam rushed to the harbor and military base, desperate to leave and avoid the imminently dangerous end of the war.
Two missionaries successfully smuggling 23 Vietnamese children to the United States was an incredible and unexpected outcome. The heroism and faith demonstrated by the Huyssens carried a strong message, one closely aligned to the meaning of the hymn, which illustrates Jesus' unfailing love.
A crowd of 90 people sat silently, many reliving their pasts, as the black-and-white images played across the screen in the fellowship hall of Village United Methodist Church on July 2. Forty-one years after arriving in Oklahoma City, 18 of the children, their adoptive families, spouses, children and Gisela Huyssen gathered for their first reunion, which included viewing A Dream Come True, a decades-old documentary film that examined the Huyssens' mission and its aftermath.
The remarkable resilience of the Huyssens and the 23 children was commemorated during the opening hours of a three-day reunion. A majority of the children, now in their mid-40s and 50s, shared their memories of leaving a war-torn country, a second chance at childhood and travels back to Vietnam.
Missionaries' journey
Forty-one years ago, Gisela Huyssen moved the iron back and forth on a piece of clothing.
Not far from where the ironing board sat in her northwest Oklahoma City house, Gisela could easily spot her husband, Ulrich Huyssen, resting in his easy chair. As scenes from Vietnam played over the couple's television set, Ulrich Huyssen moved closer and crouched to the ground in prayer. Gisela Huyssen recalled hearing her husband utter, "Yes, Lord. Yes, Lord. I go."
"We went in faith," Gisela Huyssen said. "You don't go by sight in situations like that. You trust the Lord. All you do is trust the Lord, step by step."
Originally from Germany, the Huyssens embarked on a journey to Saigon, Vietnam, now called Ho Chi Minh City. Through the assistance of a missionary friend, the two were led to an orphanage leader, Pastor Ahn, who was desperately trying to rescue children of the Montagnard, an indigenous group from the Central Highlands of Vietnam.
A promise was made between the Huyssens and Pastor Ahn. The 19 children would travel to the United States. There, Christian families would provide a loving home and seek adoption. While there, four additional Saigon children were passed to the Huyssens with the promise the couple would place them with adoptive families.
It was a risky mission. Exit papers for Vietnamese residents were rumored to come with a $20,000 price tag. The Huyssens trudged ahead without exit papers or passports and birth certificates for any of the 23 children. They guided the youngsters to the American military base in Saigon. As they entered, a sign read, "Only Americans and their dependents." As green card holders, the couple didn't know what to expect, but "everything fell into place" because of their trust in the Lord, Gisela Huyssen said.
The group boarded a military cargo plane en route to a refugee camp in the Philippines and away from war.
"One of the most fearful experiences one could imagine was when we took off in that military cargo plane from Saigon airbase," Ulrich Huyssen said in the documentary film.
Ulrich Huyssen, who founded the organization World Missions For Jesus, died in 1994.
"As I looked over at the children, I saw one by one they were starting to fold their little hands and bow down their little heads. They started to pray," Ulrich Huyssen said.
As the plane took off, soldiers stood nearby with their weapons drawn, Gisela Huyssen recalled.
"When we took off," Gisela Huyssen said, "everyone could feel the Lord's protection, peace and calmness. It was a miracle."
After arriving in the Philippines, the group traveled to Guam. From Guam, the Huyssens and the children flew to Tacoma, Washington. Ulrich Huyssen contacted United Airlines, which agreed to sponsor the couple and the children's flights to Oklahoma City.
After arrival in Oklahoma City, the children were placed into foster care and eventually adopted into homes in Oklahoma and Louisiana.
Emmy Verdin
Gisela Huyssen holds a photo of the 23 children with her and her husband. Gisela Huyssen and her husband Ulrich Huyssen adopted 23 Vietnamese children to American families at the end of the Vietnam war on Saturday, July 2, 2016 in Oklahoma City.
Emotional reunion
Memories flood back to Gisela Huyssen when viewing a 1975 black-and-white photo of the 23 Vietnamese children and her family after arriving in Oklahoma City.
The same is true for Sonja Huyssen Lambert, one of the 23 adopted by the Huyssens.
"It just seems like we automatically connect," said Lambert, who traveled from south Louisiana to attend the reunion. "There is a sense of kinship."
Trai Harms, who was raised in Oklahoma City by the Harms family and now resides in Norman, described the event as similar to a class reunion. He kept in contact with a few others raised in Oklahoma City. However, Harms hadn't seen the majority of the others since 1975.
"The best word for it is family," Harms said. "Even though we are all different, somehow we are all connected. … Just to see people again, it's weird. A quick image comes in your head, and you remember them."
Andrew Smith and Ajen Dollarhide were raised in Oklahoma City and now live in the Tulsa area. The two pondered the idea of a 40-year reunion in 2015, but after learning Carey Rostorfer — another member of the 23 — would be out of the country, they decided to push for 2016. The two needed time to find the others. Smith created The 23, a Facebook page.
"I just started inviting people," said Smith, who only knew four of the 23 when the page started. "I started spreading the word that we wanted a reunion."
Emmy Verdin
Gisela Huyssen sits next to her daughter, Sonja Lieu Lambert at the reunion. Gisela Huyssen and her husband Ulrich Huyssen adopted 23 Vietnamese children to American families at the end of the Vietnam war on Saturday, July 2, 2016 in Oklahoma City.
In time, The 23 expanded from a handful of followers to a group of 50, including adoptive parents and spouses. Yellowed photos, childhood stories and updates were shared online in preparation for the Fourth of July weekend reunion. People traveled from all over Oklahoma, the United States, Madagascar and Germany to attend. Eighteen arrived with their spouses and children. Some attended the reunion with their adoptive brothers, sisters and parents.
"This is a big family now," Smith said. "It started out as 23. Look at how much we've grown."
Emmy Verdin
Reunion members say a prayer at the 23 reunion. Missionaries, Gisela Huyssen and her husband Ulrich Huyssen adopted 23 Vietnamese children to American families at the end of the Vietnam war on Saturday, July 2, 2016 in Oklahoma City.
Second chance
Emotions ran high, from laughter to tears, as the 18 tapped into memories from long ago. One by one, the 18 passed around a microphone, sharing memories. Some focused on their adjustment to American life, growing up with their adoptive families or learning English. One remarked she didn't realize how exceptional her arrival to America was until she told the story as an adult.
A handful shared about their visits back to Vietnam, describing what the 23 left behind.
"Each and every one of us has a story," remarked Rostorfer, an Oklahoman now serving as a missionary in Madagascar.
Swapping memories was part of the healing process, explained Smith. A few of the orphans were as young as 4 when they arrived in Oklahoma City and recall few details. Others vividly remember seeing loved ones killed in Vietnam or finding grenades in their village. A few can describe arriving at the orphanage, brought by family in hopes they would escape the effects of war.
"I was 8, and I saw death," Harms said. "You learn to adapt, but at the same time, you know you don't want anyone else to ever experience it. People ask, 'How did you overcome that?' We had to grow up fast."
They learned resilience at an early age and were given a second chance at childhood. It's what binds them together, a connection that still remains strong to this day.
As the first day of the reunion came to a close, the 18 held hands in a circle and prayed. Their families circled from behind. Hands were placed on the backs and shoulders of the 18.
"[God] brought us here for a reason," said Stephen Curry, one of the 23. "The reason we were brought here is still unfinished. We can look at the sad things that happen in our life, but, of course, it happened for a reason. Everything happens for a reason."
Print headline: Resilient reunion, Four decades after arriving as orphans in Oklahoma City on the day the Vietnam War ended, 18 reunite to share their stories.