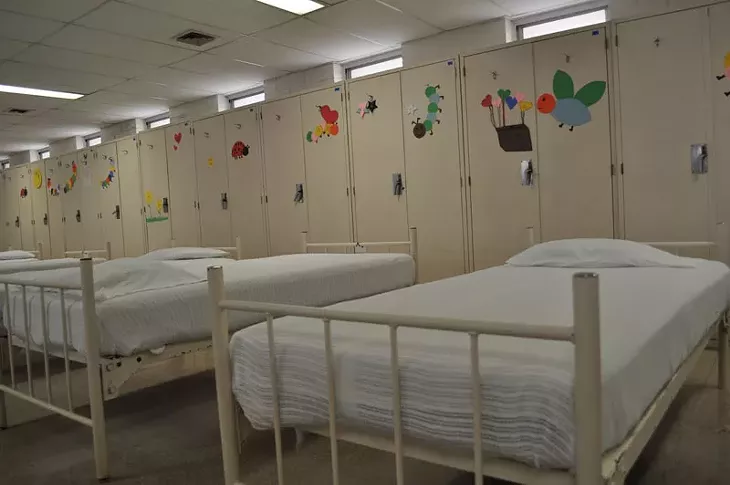 Provided
Each dormitory at Fort Sill can house 60 children who have been apprehended at the U.S. border.
Stripped of the politics, accusations of secrecy and policy debates, at the center of the on-going immigration crisis plaguing the nation are children desperate enough to risk everything just to touch American soil.
As the nation detains thousands of unaccompanied minors entering the United States from various countries in Central America, detention centers have been set up across the country – including in Oklahoma – in order to house, assess and place children and teenagers who entered the country illegally.
In a secure army barrack at the Fort Sill army base 80 miles south of Oklahoma City, nearly 1,000 children aged 12 to 17 are being detained as officials with the Department of Health and Human Services (HSS) work on possible reunification plans.
Members of the media were granted a guided and scripted tour of the facility on Thursday, which included sleeping quarters, the cafeteria, medical facility and intake center.
Cameras and recording devices were not allowed inside, but hand written notes were permissible.
Tour guides, which were officials with HHS, read from scripted sheets offering statistics and schedules for what the children experience during their stay, which averages 15 days.
The intake center is where children meet with bilingual case managers. Each case manager has an international phone that can be used to try and reach relatives in an effort to reunite children with family. The intake room included quotes in Spanish on the walls offering phrases of welcome and encouragement.
The dormitories are large rooms with 60 beds each and children are encouraged to decorate the room with coloring pages and other crafts.
During their stay at Fort Sill, children are offered basic math and English lessons, and there are also recreational and entertainment options, such as movies, music and sports.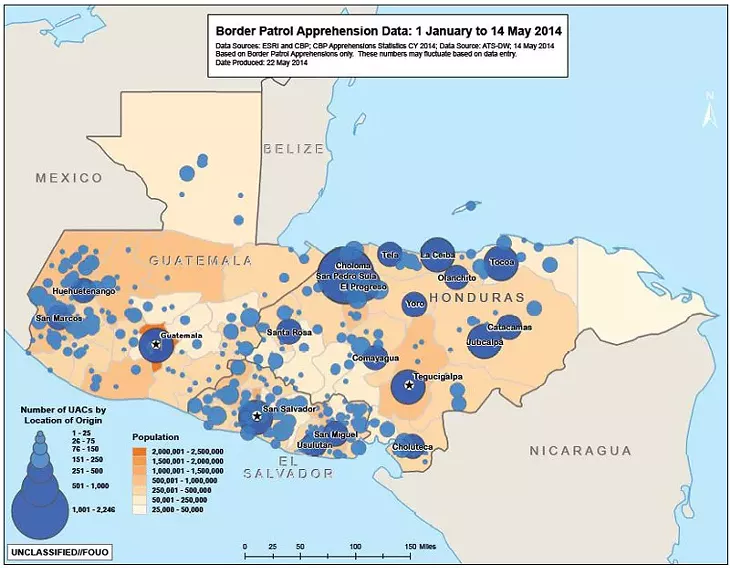 Provided/Pew Research
This map shows the origin for thousands of unaccompanied minors that are entering the United States.
How they got here
2014 has seen a dramatic increase in the number of unaccompanied foreign minors entering the United States. While 38,000 children were caught by the U.S. in 2012 and 2013, this year has already seen more than 60,000 attempts to cross the border, according to the Department of Homeland Security.
Fewer than 10 percent of these children are from Mexico
as Guatemala, El Salvador and Honduras account for the majority.
Poverty and violence in their homeland is the motivation for many to seek safety in the United States, HHS officials said during Thursday's tour. Some of the children have been victims of human trafficking while others were sent by their parents to find a better life.
What happens when they arrive?
Under HHS, the Office of Refugee Resettlement and the Division of Children Services are
charged with overseeing the Unaccompanied Alien Children (UAC) program
. Since 2003, when care for UAC's was given to the Office of Refugee Resettlement, over 90,000 minors have been cared for, with the majority of cases taking place over the past year.
Children apprehended by the Department of Homeland Security at the border are transferred to the care of ORR, which begins to make arrangements based on the unique situation of each child.
Children are given health screenings before being transferred to a short-term facility where immunizations are given and long-term plans are made. The children are then transferred to a long-term facility, like the one in Fort Sill, while reunification arrangements are made with relatives or sponsors in the United States.
Deportation
Unlike adult immigrants, it is tougher to deport children, especially those who come from Central America, HHS officials said.
"Every child will retain the right, like adults, to assert a claim of asylum or seek other protections,"Secretary of Homeland Security Jeh Johnson said Thursday in a hearing before the Senate Committee on Appropriations. "But, unless the child has been granted asylum or some other protection in this country – and the vast majority will not – he or she will be sent back and we seek additional resources to do that quickly."
The White House has also said it believes most children will be sent home.
"It's unlikely that most of these kids will qualify for humanitarian relief," White House spokesperson Josh Earnestsaid during a press conference this week. "It means they will not have a legal basis for remaining in this country and will be returned."
However, the White House has argued that a 2008 law signed by President George W. Bush makes it more difficult to send kids back to Central America without going through an immigration judge.
The issue has become a political football in past weeks as Republicans and Democrats argue over who is to blame for failed immigration policies and what the best reaction is to the wave of minors entering the country.
During the Fort Sill tour, a group of girls, no more than 16 years old, played a board game. "Hola," said one of the girls with a nervous smile.
It was likely these children were unsure where they would be sent next and what their future holds. It's also likely they were unaware of the political squabbles taking place at their expense.
The smiling girl looked back down to play her turn at the game. With clean clothes, a bed and three meals a day in a safe facility, for a few days at least, the United States was offering her what she couldn't find at home.