Jacob Threadgill
A shawarma wrap with falafel, tabbouleh, hummus, garlic sauce, pita bread and pickled vegetables
The biggest problem Shawarma & Co. has faced since opening its doors at 14600 N. Pennsylvania Ave. a little over a month ago is letting people know that it's a locally owned sit-down restaurant that wants to add variety to Middle Eastern street food.
Mohammad Abuobead operates Shawarma & Co. with his wife Yaqeen and brother Odai, and they opened the restaurant after Mohammad spent the first few years after college working in graphic design at a marketing firm. He designed the restaurant's sleek logo, and the family painted the restaurant. It's a former Capriotti's Sandwich Shop, and its sandwich station easily converted to the new restaurant's area to make wraps, salads and bowls.
"A lot of customers think we're a franchise," Odai Abuobead said. "But really, it was all [Mohammad]. He had all the design ideas from the stickers [on the ketchup bottles] and everything else you could think of."
It seems like a good problem to have. When most restaurants in their first few months are just trying to get customers in the door, the owners at Shawarma & Co. are, to their surprise, handling long lunch lines during the week and a steady business on the weekend.
"I've honestly thought about writing 'This is not a chain' outside," Mohammad Aboubead said. "The way it's set up, you might think it is fast food, but we operate as a sit-down. It's different than street food."
Mohammad and his brother lived in Jordan before moving to Oklahoma in 2002 after their father went into business with their uncle franchising IHOP locations. Mohammad said that while shawarma is one of the most popular street food items across the Middle East, it is usually only served with the option of french fries.
"We wanted to have more variety with different kinds of salads and sides," he said, noting that salads — like everything on the menu — are made fresh every hour. The restaurant serves four types of salad (Greek, tabbouleh, fattoush and Mediterranean) with wraps, gyros and bowls that can be filled with any combination of the meats spinning on the rotating spits: chicken and beef shawarma, chicken gyro and beef with lamb gyro meat.
Shawarma differs from gyro meat in that it is chicken or beef sliced and pounded thin, marinated and layered on top of each other before cooking on the spit. Gyro meat is ground and formed into a large block before cooking. It's a two-day process to slice and marinate the chicken shawarma, which is the restaurant's top-seller. It is served on a plate and wrapped in a Middle Eastern flatbread or in a bowl.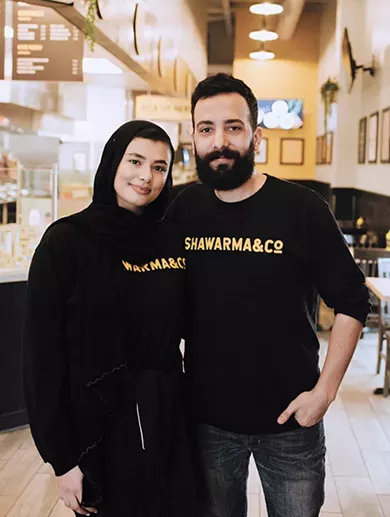 Alexa Ace
Yaqeen and Mohammad Aboubead operate Shawarma & Co.
"We serve it the right way, Arabic-style," Mohammad said. "It's almost like a sushi roll. It's a wrap that's been cut up with our flatbread and served with garlic sauce. The more Americanized way is when you get it in a pocket pita with all the veggies."
Like the chicken, the hummus is a two-day process. Chickpeas are soaked overnight before being combined with fresh tahini and other spices. Shawarma & Co. sells three varieties: regular, spicy and beruti, the latter of which blends fresh parsley into the mixture. The restaurant also has fresh baba ghanoush, stuffed grape leaves and labne (Greek yogurt blended with olive oil, lemon and spices) served with choice of pita.
Yaqeen Abuobead helped develop the recipes for the meat and falafel by inviting friends and family, including uncle Yusef Al Yassin, owner of ZamZam Mediterranean Grill, 3913 N. MacArthur Blvd., over every day for weeks to perfect spice mixtures.
"When Arabs come into the store, they tell us that it tastes like home," she said.
Yaqeen also developed a surprise hit for Shawarma & Co.: freshly made dessert crêpes. She pours the batter on a crêpe griddle and fills them with either Nutella or cookie butter and fresh fruit, and then chocolate is shaved off a nearby rotating spit to top off the sweet treat.
"We knew they were good, but we didn't expect the crêpes to sell this well," Odai said.
The business has been full of surprises for the Abuobeads, but the good kind. They said the support and lines of customers overwhelm them. Odai said they're working 105 hours per week to meet demand.
"We don't have time to go home," Yaqeen said.
"We don't have kids, so this is our baby right now," Mohammad added.
As Mohammad and Odai grew up in the restaurant industry, their first job was working at the family's IHOP location. The experience planted a seed of inspiration that led to a lifelong dream for the brothers, even as the elder brother started a career in graphic design and marketing.
"Since I met him [three years ago], he was talking about the business that he wanted to own; it was a dream of his," Yaqeen said. "He wasn't going to be happy unless he did this; I knew it."
"I had several business ideas, but I knew we could perfect this one," Mohammad said.
In the coming weeks and months, he said they're going to add menu items, including gluten-free options, but they're already talking about a future with a second location.
"We have a good positive feeling and feel like it is going to grow," Yaqeen said.