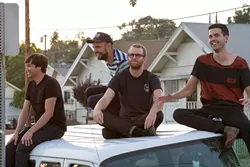 Scotty Cantino, frontman for Los Angeles-based band Francisco The Man, remembers where he and two of his bandmates met and formed the core of their current lineup: a roller rink.
Being underage at the time, he and his high school instrumental rock group played "shows at all kinds of weird spots" they could land, just trying to get their names out there, said Cantino.
Something clicked when drummer Abdeel Ortega and bassist Néstor Romero met that night, and after a few other musical detours, the trio formally came together in 2008. They take the name of a minor character in Gabriel Garcia Marquez's seminal work One Hundred Years of Solitude, that of "a musician traveling from town to town."
Seven years and a few lineup changes later, the trio is now a quartet, having added guitarist Brock Woolsey in 2011.
Last September's release of Francisco The Man's first full-length album, Loose Ends, available now on Fat Possum Records, sparked a multi-city tour that will bring them to Oklahoma City 7:30 p.m. Sunday at The Conservatory.
Cantino said he "hate[s] to self-label" his band, but the members' influences "are all over the place individually." He cited a variety of groups like Talking Heads, Funk Brothers, '70s-era pioneering punk group Television and Canadian post-rock group Godspeed You! Black Emperor as their influences and added that Woolsey's love of electronic music shows up in the group's sound.
Soft-spoken Cantino brings a ranging, borderline falsetto tenor and soaring guitar riffs to complement Woolsey's slightly subdued yet steady rhythms and builds upon the foundation of Ortega's heavy drums and Romero's bass lines.
Their deliberately slow, noise-pop sound on the album's first track, "You & I," is reminiscent of early Mazzy Star and Oklahoma natives The Flaming Lips.
Francisco The Man plans to tie up its proverbial Loose Ends as it kicks off its tour in Austin, play in Dallas and then Oklahoma City.
Cantino said he and his bandmates haven't seen most of the cities they plan to play in but are looking forward to meeting locals. He is looking forward to some good local craft beer and seeing what Oklahoma is like.
Listen to the band at soundcloud.com/franciscotheman.
Print headline: Tying up Loose Ends, LA-based band Francisco The Man plays The Conservatory for a rolling good time.