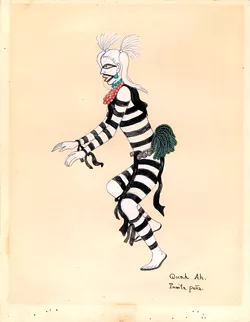 Tonita Peña challenged the traditions of female Pueblo artists with figurative works. | Image Fred Jones Jr. Museum of Art / provided
When the University of Oklahoma acquired a collection of more than 4,000 Native American artworks in 2010, one professor became especially interested in about 70 of them.
"I realized we had the nucleus of a major exhibition there," said OU art history professor and Native American art chair W. Jackson Rushing III. "I'd been thinking about it for years; I'd been thinking for about 20 years of doing this show, and finally, the timing was right."
Among the thousands of works donated to the university by influential Arizona art collector James T. Bialac were paintings by Pueblo artists Tonita Peña and her son Joe Hilario Herrera, enough to serve as the center of an exhibition spanning 65 years of American art history. Generations in Modern Pueblo Painting: The Art of Tonita Peña and Joe Herrera opened at OU's Fred Jones Jr. Museum of Art last month. Rushing — who interviewed Herrera before his 2001 death and Herrera's family about his life and legacy in subsequent years — said the role Peña, Herrera and other Pueblo Indian artists played in modern art has often gone unrecognized.
"They were two really important figures, not just in 20th-century Native American painting but just in 20th-century American painting in general," Rushing said. "Although in the world of Indian art, they were certainly well-known figures, the larger world of American art didn't understand their historic significance."
Peña, a self-taught artist who began painting watercolors of Pueblo life in the early 1910s, caused controversy in her small New Mexico community by breaking with tradition.
"Before the early 20th century, Native painting was always specifically for Native purposes, and the idea that you would make paintings on paper and sell them to people outside your village was a novel concept as a way of participating in the cash economy," Rushing said. "Historically, women didn't do figurative painting. They made symbolic and decorative paintings for utilitarian objects and for ritual objects, but … she was the first and only artist of her generation to do that kind of figure painting, so that was also something that was the source of some friction."
Though she avoided breaking longstanding taboos by only painting scenes from public ceremonies and daily village life instead of more private tribal rituals, Peña, who signed most of her paintings with her Pueblo name Quah Ah, still had to establish her own tradition as the only woman among the first generation of Pueblo watercolorists in the San Ildefonso Self-Taught Group.
"There were no models for what she was doing for a female professional artist," Rushing said, "so she had to invent an identity that helped her process all of that. She had to become a businesswoman; she had to negotiate relationships with her patrons at the museum, the cost of the paintings, all that sort of thing."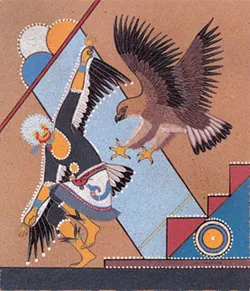 Joe Hilario Herrera's "Eagle Dancer" exhibits modern influences in its depiction of traditional Pueblo imagery. | Image Fred Jones Jr. Museum of Art / provided
Traditional influence
Her son Herrera, who learned to paint from her at a very young age, went to art school at the University of New Mexico, where a professor introduced him to cubism and art deco, which greatly influenced Herrera's own style.
"Herrera was smart enough to see the continuity across culture and time of these designs and forms," Rushing said, "so he invented what he called 'abstract symbolism,' and it's a wonderful synthesis of ancient Pueblo imagery and 20th-century imagery. They're so exciting to look at; they're just so smart and so beautiful."
While Herrera and his contemporaries drew inspiration from modern art, many other modern artists were equally influenced by traditional Native American painting.
"All through the 20th century, there were non-Native modern artists interested in Native American things, either subject matter or symbols or processes or values," Rushing said. "Almost simultaneous with that was the beginning awareness of Native artists of modernist practices in the arts. And so modernism and modern art was not monolithic. It wasn't the same thing everywhere at the same time. Modernism flourished not just in Paris and London and New York but in places like Santa Fe and Taos. The iterations of it away from urban centers of power were different. … We focus too much of our studies of modern art on the notion of the Euro-American male genius working in an urban center, and modernism is so much more than that."
Generations, open through April 8 in the museum's Nancy Johnston Records Gallery, is the first career retrospective exhibition for both Peña and Herrera and also features works by Romando Vigil, Geronima Cruz Montoya, Michael Kabotie and Julian Martinez and his grandson Tony Da and nephew Gilbert Atencio on loan from several public and private collections. An interactive display invites families and children to film personal video messages and write thank-you notes. Peña's works haven't been significantly featured in a major exhibition since the 1930s, and several of Herrera's later works are premiering in their first public exhibition.
"They both made works of art that preserved culture and extended it at the same time," Rushing said. "Culture can be sustaining, but if it isn't elaborated on or advanced or extended, then it becomes constraining. And neither of them wanted to be constrained. They wanted to be free to develop their art in a way that didn't break taboos but reflected their own unique vision, and I think all major artists have those same kinds of desires. They want to extend culture forward. They want to make new knowledge through their work."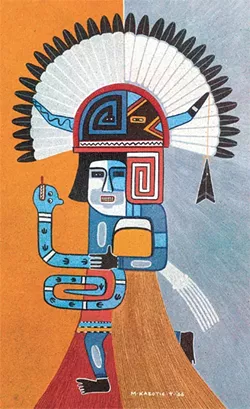 Michael Kabotie's "Guardian of the Water" is included in Generations in Modern Pueblo Painting at OU's Fred Jones Jr. Museum of Art. | Image Fred Jones Jr. Museum of Art / provided
Print headline: Native modernity, Fred Jones Jr. Museum of Art showcases works of Tonita Peña and Joe Hilario Herrera in a new exhibit.