In his long career as an art historian, Creighton Gilbert amassed an encyclopedic knowledge of Michelangelo and worked as The Art Bulletin editor-in-chief and an Italian Renaissance professor at Cornell and Yale universities. But in his spare time, Gilbert quietly amassed an extraordinary collection of more than 270 sketches and prints that serves as a through-line of art history from the pre-Renaissance era to the Bauhaus period. Works on Paper from the Creighton Gilbert Bequest brings together Gilbert's collection, which he donated upon his 2011 death to Fred Jones Jr. Museum of Art, 555 Elm Ave., on the University of Oklahoma (OU) campus in Norman. The exhibit, featuring works by Rembrandt van Rijn, James Abbott McNeill Whistler, Salvator Rosa and Edgar Degas, among others, will be on display at the museum through June 4.
Mark White, the Wylodean and Bill Saxon director of the Fred Jones Jr. Museum of Art, said the bequest came to OU thanks to former museum director Eric Lee, one of Gilbert's students who made a request for the prints in 2005. White said the collection of prints and sketches were mostly collected at a time before online databases and auctions took a lot of the mystery out of locating rare art.
"It's not really possible to do it now, but in the early and middle stages of his career, it was really easy to find old master prints and master drawings at used bookshops or antique sellers," White said. "Now, especially in the day and age of eBay and internet and Antiques Roadshow, it's harder to find those kinds of things, but there was a time in the United States when you could happen upon these things without having to go to a gallery or attend an auction. Now, everyone's looking for the lost masterpiece that's been hidden in the attic."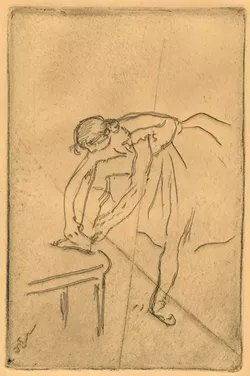 The collection spans six centuries of printmaking, with the earliest dating back to the pre-Gutenberg Press era. That piece, a narrative work announcing the dedication of a church, is the work of Lippo Vanni, a 14th-century Italian painter and manuscript illuminator. White said that the Vanni piece is likely part of a series; while the name of the church is not given in the Latin text, it's possible that it is named in another, still-missing print. However, there's a chance that, as part of this collection, a visiting scholar might identify it in the future.
As The Cultivated Connoisseur advances chronologically, the works begin to reflect the advent of the Italian Renaissance and how its lessons expanded throughout Europe. It can be seen in several works by 16th-century printmaker and painter Albrecht Dürer and his contemporary, Dutch printmaker Lucas van Leyden.
Perhaps the most valuable of the works is the Rembrandt, which characteristically displays the Dutch master's consummate skill at depicting light and shading. After this early print, White said printmakers continued to make copies of Rembrandt's work, even posthumously.
"There were prints still being made into the 19th century," he said. "Those prints vary in quality significantly, and there are scholars that can look at the prints and say, 'OK, this was likely made at this point by that person based on the ink distribution and how much contrast you find in the print.'"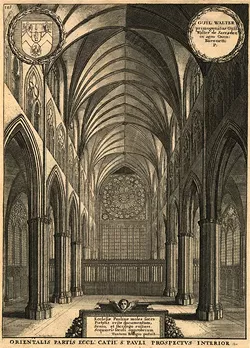 Each step in the printmaking evolution displays something new, whether it's the sense of depth and dimension in Wenceslaus Hollar's depictions of British cathedrals during the restoration of the monarchy, the satirical political cartoons of Honoré Daumier and Jean Ignace Isidore Gérard Grandville or the 20th-century pieces by Weimar-era German artist George Grosz and Chicago artist Leon Golub that capture societal malaise and creeping Cold War anxiety. Gilbert collected art, but it is art that reflects the expanse of Western history.
"This is about his ability as a collector to distinguish objects of art-historical importance and aesthetic significance," White said. "I think this bequest really provided us with, in many ways, a bolstering of our works on paper collection. We added a number of old master drawings and old master prints with this bequest. We now have some pretty engaging works, some of which lack attribution and provide research opportunities for the future, and for a university museum like this one, that's a useful thing."
Print headline: Printed history, A bequest by art historian Creighton Gilbert dramatically expands Fred Jones Jr. Museum of Art's print holdings.